Getting Google Play store errors? You're not alone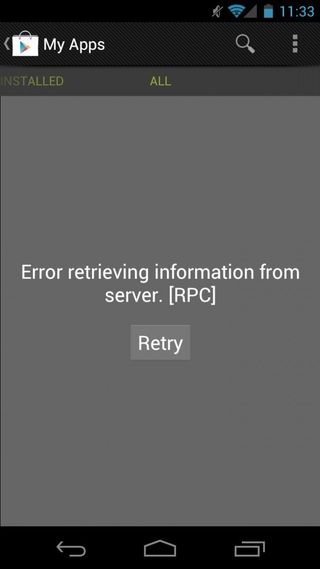 If you're having trouble accessing paid apps on your Google Play account, or seeing cryptic server errors when trying to browse for apps, you're not alone. We've been getting reports, some as old as three days ago about errors where paid apps aren't shown as purchased, both on the phone and on the web, as well as the RPC (Remote Procedure Call) error you see above.
We're pretty certain it's some sort of server glitch, and your paid apps are safe and sound in the Googleplex basement, but it sure is annoying -- I just got myself a Transformer Prime and want to set it up! We've pinged Google, and we'll let you know what they have to say when they get back with us.
Update: And things are better for us again, but we're still hearing a bunch of you are having issues. Hang in there.
Thanks, Johann!
Get the Android Central Newsletter
Instant access to breaking news, the hottest reviews, great deals and helpful tips.
Senior Editor — Google Ecosystem
Jerry is an amateur woodworker and struggling shade tree mechanic. There's nothing he can't take apart, but many things he can't reassemble. You'll find him writing and speaking his loud opinion on Android Central and occasionally on Twitter.
Indeed! I've been getting this error since the 20th march now and initially I thought it was because I've been trying different ICS ROMs on my Galaxy S2 and I filed a support ticket with Google. A few days later someone replied with a scripted response telling me that Play Store apps are tied to a Google account and I should be logging in with the same account and not anything else blaa blaa. I replied back clarifying a second time and with screenshots and have yet to hear anything back. I'm on Play Store 3.4.7 right now and this allows me to see my apps I have installed and apps I've paid for in the past but not installed currently and in the web Play Store I can also see my paid apps in My Orders page but on either, if I go to install a paid app it wants me to pay for them again. If I manually update to Play Store 3.5.15 then I cannot view my installed apps on the phone at all and get the RPC error shown in this article when trying to view the 2nd tab of My Apps. It's a frustrating problem.

Well I have heard many Miuiers saying that their Google server connection to play store fails sometimes and cannot be reconnected.
This is usually a small problem faced sometimes by me too...once it happened to my S3
I know it can be very irritating when it happens especially when we really have to use the store!!!!
So heres the steps to be followed:
1. Root required.
2. Download root browser
3. Goto root folder (slide the xplorer to right side from extreme left side)
4. Select etc folder and goto hosts
5. Open with text editor
6. There will be a server name written there like for example: 127.23.123.1234 google clients and stuff....
7. Add # before the ip address like this: #127.23.123.1234 google client etc....
8. Confirm to save the text.
9. Goto home and reboot fone.
10. VOILA!!!! Play store is working again!!!!!
Thanks

I was getting a general connection time out error.
Knew it had to be Google play as other apps were accessing data just fine.

I got a Invalid URI error earlier, not sure if that is related.

Getting to many Time out errors...

I have been getting those errors since I updated. Every now and then it works but only for a few weeks then the errors come back. The best way I found to battle this is uninstall updates. Then you can update and download any apps. Soon enough it will update OTA and work for awhile then back to uninstalling update again =P Hope this helps people who need to get their apps.

Yeah like my samsung galaxy tab 2 10.1 was working great untill i updated it like its was at 4.0.3 now at 4.0.4 and its terrible now my little google widjet dosent its wont install apk's

I've not experienced that yet. I did the GNB update as well as Adobe. I will keep an eye out. Just one though. ;-)

Also getting a error as follows.. "insert program name" could not be downloaded due to an error.(403)

No errors here in Germany but certainly freaking slow with updating/downloading apps.

Oh I forgot to mention I use a Galaxy Note.

Also, along with what has already been mentioned, I noticed some apps (paid or not) have not been showing up "to be updated" at the top portion of "My Apps". I've had to go to a number of apps to manually download the updates, rather than being notified, or just shown in Google Play that they need to be updated as they once were. This is not for all, mostly intermittently happening. Anyone else notice this? (EVO 3D, stock non-rooted) <---I know...don't even start with me.

My problem is when I download free apps... I'm getting an error saying "Error processing your purchase"... So, I can't download any free app....

Getting this in Guernsey, but only on my transformer prime with ics. My rooted HTC desire with sandvold ics is fine. Used a VPN on the TP to get around this. Looks like thus errors are location based.

On my Bionic, when I press "update" and then "Accept & Download," I get the message, "Error: Your order is processing, your item will be available in a few minutes." If I press OK, then it tells me "Starting Download," but never does. I was able to get around this for one update when DroidLife listed a link for an upgrade and that worked just fine. I would love to update my Google Maps!

Just started getting this this morning. Plus an unable to process your purchase error when I try to download a free game.

Just started getting them this morning as well.

Im starting getting them now.. just sucks that i literally just wiped and installed 4.0.4.. now i cant install anything

yes its same for me cant dwnld a single app frm play store whether its free or paid
google needs 2 fix dis ASAP

I was getting 'Could not be downloaded due to an error.(403) and (921)'. I send an error report to Google play support and they told me that I need to contact the developer of that app. Now to many people are complaining about the download error, now they have to look into this matter. I have a T-Mobile Samsung Galaxy S2 (2.3.6)
I was getting this error message 3 days ago.

Same for me....can't download any apps from Play store. Timed out connections and others.

hey guys its wrking go try it urself

I know this is repetitive but I am also unable to download or update any apps. Hopefully it get fixed soon. Be patient!

I just flashed a new ROM last night and got these errors (paid apps not showing as purchased, connection errors, ect) and thought it was me. Kinda glad to see that it's not just me :)

Mine still isn't working - Epic 4G Touch.

Wish the apps that i bought from Amazon Appstore never appeared as installed in Google Play. Maybe that's what they were trying to fix and they messed it up.

It started for me about two weeks ago. An app which I had purchased had an update. It also showed as purchased on the Google Android web page for my account. I tried to D/L the update and got the message that I had not purchased it. I then deleted the original app, thinking there was something screwey with the install, and just d/l the app again. Don't do that. It would not d/l anything. Contacted Google several times. All were canned responses that were worthless, "We know about the problem and are working on it." I've got a solution. Let everyone run Android Market while Goog does the futz around and gets something that will actually work. Who let this dog out?

go to settings and uninstall updates for the google play store / market. Worked for me, I guess until it updates itself again.

I thought this was just me when I was having problems last night,so I was trying to fix it.I read on xda forums to clear out the data,and turn off and on your device,which ended up working for me.

Some of the problems that people had here I've had them to. If anyone haven't tried this option have a try it worked for me. Go to setting, applications, manage applications, downloaded
Go to the play store app and clear cache and data. Hope this helps :)

My GF's Wonder is having this problem right now. Waiting for a fix from google.

Version 3.5.15 (latest) is not working at all.. Use 3.4.7 instead as a workaround. At least, you can download some new applications, but still is away of fixing this situation

My problem is fixed. talk to customer care of your mobile handset.

Hello.
I have a problem on my samsung galaxy s2 (model GT-i9100).
I cant download or update any apps on google play anymore, got this problem after the last update. When i try download this error message appears:
Can not download *name of app* due an error 406. Have tried to change my google play account, deleted cache, reformed the entire phone with no luck.
One of u guys GOT to help me, driving me crazy! (problem is with WIFI and mobile network.

Try to change account on play store app to a different one. Just go through the prompts, you don't need to sync anything so deselect all. Then switch back to your original account. This will force the system to refresh data into Google Services Framework. Did you happen to delete that data by accident?
A few friends had the same issue that is how I fixed their issue.

when i click on download its just downloading never dowloads i m using galaxy s2 plz help

I am using a LG E739 (LG MyTouch from T-Mobile) I am running Cyanogenmod 9 with ICS and all of a sudden every app I try to download gives me an URI error

Need help with this galaxy tab 2 10.1 its acting crazy Ok first i had funwith the tablet so upgraded it i began to have problems with at two weeks now real bad my google bar at the top of my tablet isnt working at the all when i get on the enternet its wont let me install apk files. When i try to download apps and games at the google playstore it will say llike cant download due to error 406 so reset my whole device deleted everything that was the first time i reseted it and its still has an error 406 ive tried to clear cache on my google playstore and every like that and force stopping and all that

hey guys,
My samsung s2 which i updated to icsrecently and the play store doesnt work with my local internet network but works with wifi,does anyone know how to fix this 'error 403' on playstore?

I am having trouble just paying for apps on the Play store. I have been able to buy apps in the past, but when I tried to buy TouthType to take advantage of the .99 cent sale, it keeps declining. My credit card hasn't changed, but info is the same, I have plenty of money in my account, etc. Anyone know why this would be happening???

i bought a new samsung Tab2 just 3 days back and iam unable to download any kind of app through my mobile network.. and through wifi am able to do it .. i cant understand why cant i download through mobile network its shows (402) error or (906) errors i tryed clearing catche and deleating my google account and re installing it... plz help me

hi i just got a new samsung smart phone and i try to download an app but it gives me an error498 please help :(

I have been having download errors from Google Play store for weeks. Certain programs won't download or update, some will. Get download error 498 or that there is not enough room to install ( but I do). Google was no help.

Did u work this out Pls help my doing the same :-P

i live in a french and dutch island, when i use the dutch internet it give me the same error, when i use the french one it workds find, try using a different internet company that might work

I got this on the original Samsung Galaxy Tab (SGH-T849): "angry birds seasons could not be downloaded due to an error" (498).

What is error 498? For a few days now my update fail due to this fault Pls help

To temporarily deal with the Error 498 problem, Setting>Applications>Manage Applications>Google Play>Uninstall Updates. This will bring your phone back to a point before the Error notifications began to appear. You can download Angrybirds Star Wars, Seasons Plaque Inc etc now.

removing updates didn't work for me either. wanted to install updates and failed.

I have been getting a diferent error when i try to download some apps i get this massage: (name of the app) ....cause of error 498
and i have tryed the factory reset and it dint work

This fixed my URI problem on playstore. For rooted phones only... also you must have cwm or twrp. Boot your phone to cwm or twrp, go to advance, choose fix permission. Reboot. Playstore issue fixed.... It seems that somehow there had been folder or file permission corruption happened i dont know when and why when installing an app using playstore. Hope this helps, this can save alot of time, rather than doing a factory reset of you android device.

My problem started about a year ago when my account was charged 46.00 for in app store purchase that I didn't authorize and I complained to google play store and went to my bank and had the money refunded back to me. Every since then when I try to purchase something it gives me the error message: Error processing purchase. [BM-CCH-17]. So I can't purchase any upgrades or anything. This is so totally frustrating. I wish I could purchase apps from someplace else for my tablet and cell phone. By the way I'm with AT&T if anyone can help me any advice will be greatly appreciated.

Hi...pls help...cannot download any applications @ google store...keep getting ' error...cannot retrieve information from server R..something with numbers dashed'
Also website keep crashing...ask to reload...thank you.

Me too. I keep getting 'Error installing app code -506.
Anyone know the cause / solution?
Thanks.

Hi sytauro, have you got the solution for error 506 . Please let me know ..I desperately need the solution for this. Thank you in advance.

This very thing happened to me tonight. We have WiFi, so I first made sure all that was working and turned on. Then I restarted my phone (Galaxy Prevail LTE). No luck, I turned the phone completely off and turned it back on. Still no luck. I was about to take the battery out for a few seconds (that always fixes everything, seems like!), then to my surprise, Play Store popped up on my screen. I think it's just a timing thing. It decides to go off for a bit, then comes back on when it feels like it. But I would definitely take the battery out for a few seconds if nothing else works.