The BodyBoss 2.0 full portable home gym workout package is down to $117.99 on Amazon. This is just one of two versions of the BodyBoss 2.0 on sale as part of Amazon's daily deals. The other version has dropped to $118.99. These two portable gyms are down from $179 and $199 respectively. The low prices are good for one-day only. The latter version comes with an extra set of resistance bands.
Get fit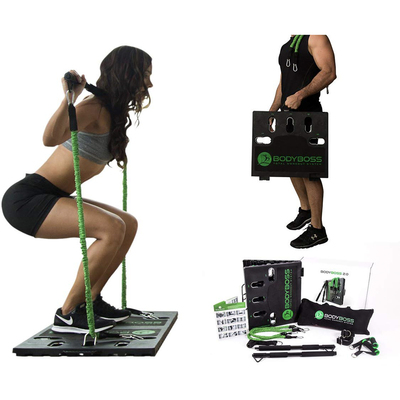 Simulates regular gym equipment. Get your upper body, lower body, cardio resistance, and body part focus workouts without leaving the house. Perform 300+ exercises and burn calories with the resistance bands. Get free workout programs, too.
$117.99 $179.00 $61 off
The deal given is no longer valid and we do not have a better one. However, we have found some similar deals
$119.95
$229.00
Save $109
The BodyBoss 2.0 is basically designed to give you all the workout of a regular gym without the thousands of dollars spent on gym equipment, the sharing of equipment with meatheads, or the regret of a monthly membership you never use. Plus, you don't have to waste money on gas or work so hard to find the motivation to get to the gym every morning. just walk to the edge of the bed and setup your new home gym in a pinch. You'll find workouts for the upper body, lower body, cardio rasistance, and body part focus all in one simple setup.
Attach the cloth-covered resistance bands to the fold up platform. Then use the handles, the collapsible workout bar, or the wrist and ankle straps to perform more than 300 exercises. Make them as hard or as easy as you want with the proper resistance. All you have to do is shorten or lengthen the bands with the platform so you get a fully customized and personalized workout. The gym also comes with a door anchor you can use to simulate lat pull downs, chest flies, and tricep extensions.
Amazon also includes a free start-up workout program. It's a completely optional add-on, but you can learn all the things you can do with the BodyBoss 2.0 plus some workout guides.
The BodyBoss 2.0 has 4.6 stars out of 5 based on 553 reviews.
We may earn a commission for purchases using our links. Learn more.