German HTC Sensation XEs apparently starting to get Ice Cream Sandwich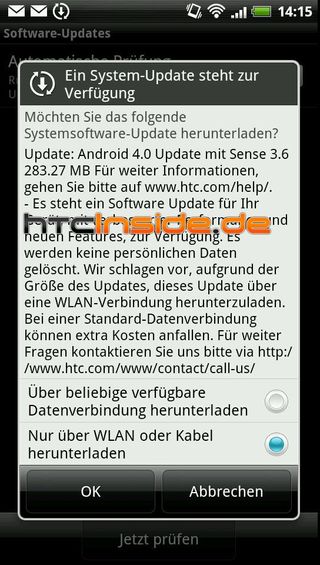 Update: Forum reports now indicate that the original HTC Sensation is also getting the ICS update, though for the moment it seems to be limited to Germany and Nordic countries.
Have a German HTC Sensation XE? Looking for your Android 4.0 Ice Cream Sandwich update? Tired of us asking questions when you know darn well where this is going?
That's right, boys and girls, it looks like the ICS update is starting to hit the Sensation XE in Germany, along with an update to Sense 3.6. You're not going to get all the features in the new Sense 4, but somehow we think nobody's going to turn this one down.
HTC had promised the update would hit by the end of March. So that we're seeing it drop in Week 2 is pretty promising. Other phones expected to get ICS this month are the HTC Sensation and Sensation 4G, followed by the Sensation XL.
Head into the settings and check for the update now!
Source: HTCInside.de; via BestBoyz
Update: Looks like the basic Sensation is getting an update, too!
Only in Germany?
Any news in other countries?

Samsung, I'm looking at *you*.

me three with my "pure google" nexus S 4G

And it is official. Skinned phones by HTC getting ICS before Google can manage to get their Nexus phones ICS. Way to go Google. Yet for some reason this is not news to any tech site. They are always quick to criticize HTC, Samsung, Motorola or anyone else for slow updates but when the almighty Google is doing the same thing not a word is mentioned.

So I guess HTC beat out Google themselves. My trust has been betrayed and I no longer trust the Nexus brand. To anyone who says its not a big deal misses the point completely. Not even a word was spoken...

What the hell are you talking about ?!?!?

What the hell are you talking about ?!?!?

He referring to the fact that the Nexus S hasn't gotten ICS yet. A big selling point of the Nexus line is since they are "pure Google" (i.e. not skins by manufactures or bloated by carriers) and they are updated "directly" by Google, they will always get updates first. In this case, apparently not.

So now it is official that Google is falsely advertising the Nexus S and 4G as "the first to receive software upgrades and new Google mobile apps as soon as they become available". Can we get a story on this finally.

Looking at you Phil. How about an article on Google's false advertising?

Why are you looking a Phil? Look, Im a Nexus S 4G owner, and to some extent, I share your concern. But Phil is running an Android site devoted to sharing the vast amounts to Android news that hits. Lately, there are mountains of it. He's not the watchdog over Google, or the carriers. He also has to maintain a cordial relationship with those players so he can get scoops on occasion. Like he says, when it arrives, it arrives. The only thing I would rather not see here is the sites push (during podcasts) for customers to buy Nexus devices, in terms of getting updates fast. Obviously that aint the case. And based on Verizon's handling of the Galaxy Nexus, they shouldn't in good faith, push it in terms of not having carrier bloat. It does. The update is coming. If you have an issue, organize, and take it up with Google/Your carrier.

If you want updates fast, avoid Samsung and Verizon.

Guys I have been to a German forum on HTC Sensation, seems that none of them (99% owners complain)have got the update. HTC says it was testing process and only few phones will receive the update and the actual update to all phones will be at the end of the month. NEXUS owners don't worry you might get the update earlier than HTC gets.

The Rezound is Verizon's CDMA/LTE doppelganger of the XE. Hopefully this means ICS is coming real soon.

The nexus s has received ICS the 4g has not. I'd wager Google delivered and sprint fumbled the OTA

you would lose that wager. sprint tech shane_m has been confirming on sprints community forum site that they're waiting on google. check his other posts, too http://community.sprint.com/baw/thread/82092?start=135&tstart=0

im hoping the rezound is next, we should be!

Go HTC!! Now please release us the kernel sources for us sensation rooted users

more screenshots please!!!!!!
Android Central Newsletter
Get the best of Android Central in in your inbox, every day!
Thank you for signing up to Android Central. You will receive a verification email shortly.
There was a problem. Please refresh the page and try again.