How to make your phone look like a Galaxy S9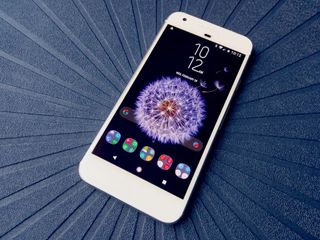 The Samsung Galaxy S9 is here, and with it comes another update of Samsung's software UI. This year is more of a polishing than last year's overhaul, with the S9's home screen sporting an array of geometric wallpapers, wireframe icons, and distinctive widgets. Even if you pre-ordered a Galaxy S9, it's not showing up for a few weeks. While you're waiting, why not get some of that modern sleekness on your current phone with our very own Samsung-inspired theme?
Wallpapers
I'm opposed to stock wallpapers on principle, but the wallpapers packaged with the Samsung Galaxy S9 are really enticing. They're somewhat diverse; some feature geometric patterns in various colors, but there's also a dandelion one, a few styles featuring the "9" branding, and some simple ones with faded color streaks. We've extracted all of the pre-installed wallpapers for the S9 and S9+, and there are 19 in total for you to choose from.
Download all the Samsung Galaxy S9 wallpapers
Launcher magic
Now, we can't get the Samsung launcher on non-Samsung phones the way that we can get the BlackBerry Launcher or the ZenUI Launcher from ASUS, but that doesn't mean we can't get what we desire from other, more customization-friendly launchers. There are a few things we're looking for here:
Folders: This is one of the few areas where third-party launchers can outdo TouchWiz itself! At least, Action Launcher can. Action Launcher has a wide, wide array of folder shortcut styles available, and two of those styles are TouchWiz and TouchWiz (outline). You can choose either of these options in **Action Settings > Folders & Shutters > Style to achieve squircle folders to match our squircle icons.
Swipe for app drawer: Samsung lets you open the app drawer in TouchWiz by swiping up or down anywhere on the home screen itself, much like the Google Pixel 2. For Nova Launcher, you can turn this on in Nova Settings > App & widget drawers > Swipe to open. For Action Launcher, you can turn this on in Action Settings > Shortcuts > Swipe up.
App labels: Samsung keeps apps labeled on both the home screen and dock. To turn that on in Nova Launcher, you'll turn on home screen labels under Nova Settings > Desktop > Icon layout > Label. You can turn on dock labels under Nova Settings > Dock > Icon layout > Label. In Action Launcher, you can turn it on for the home screen under Action 3 Settings > Desktop > Text Labels. You cannot turn on app labels for the dock in Action Launcher 3 at this time.
The other launcher requirement we have is that it supports third-party icon packs so we get some lovely squircles on our home screens.
Icons
No one icon pack quite gets the S9's blend of squircles and wireframe icons perfect, so I am going to offer you a few options and let you decide which one is the most Samsung-like in your eyes.
Graced UI, Aspire UX and Emptos icon packs
Graced UI (Free, in-app donations)

(opens in new tab)

leans all the way into the wireframe look, with wireframe takes on hundreds and hundreds of third-party apps, all on squircle icons. Most of the icons have solid colored icons, but some icons feature gradient squircles which allowing them to pop against colorful wallpapers and busy app drawers. The wireframe look can get a little hard to recognize at times,
Aspire UX S9($0.99)

(opens in new tab)

leans away from the wireframe look, giving you wireframe system icons while opting to be more faithful to third-party icons, adapting them to squircles rather than making them completely wireframe. It gives you the Samsung look without going completely wireframe.
Emptos($0.99

(opens in new tab)

is an icon pack that eschews wireframes altogether and instead opts for uniform white icons on transparent squircles. This allows the lovely wallpapers to shine through and present a clean take on the Samsung look.
Widgets
The TouchWiz home screen by default has two widgets on it: a Google search widget at the bottom of the desktop, and a clock widget top center. Google search widgets are a dime a dozen, and they're found on just about every launcher on the market today, but that clock widget takes a little extra work. KWGT Pro is a make-it-yourself widget engine that allows enterprising themers to make widgets however they want and then share their successful widgets with other users. One extra-enterprising themer cobbled together a series of smooth, Samsung-inspired widget presets into a pack and put it up on Google Play for other users to enjoy as S8 for KWGT (opens in new tab)
To use one of the widgets from S8 for KWGT, add a blank KWGT Pro widget to your home screen, then select the Preset you want. You can even adjust the colors or scale of the widget to better fit your wallpaper and theme.
Download: S8 for KWGT ($1.49) (opens in new tab)
Your turn
So, what makes the perfect S9 theme to you? Is it the Samsung wallpapers or the squircle icons? Is it the gestures or the widgets? How do you build your own Samsung theme? Show us in the comments!
Android Central Newsletter
Get instant access to breaking news, the hottest reviews, great deals and helpful tips
Ara Wagoner was a staff writer at Android Central. She themes phones and pokes YouTube Music with a stick. When she's not writing about cases, Chromebooks, or customization, she's wandering around Walt Disney World. If you see her without headphones, RUN. You can follow her on Twitter at @arawagco.
I took an angle grinder to the sides of my Pixel to duplicate the S8's curved screen, and now my phone isn't working, please help.

Hhhhaaaaaaaaahhhhaaaaaa!!

Goodness gracious. My sides hurt from laughing at this.

You should root it, that might fix your issue

Keep grinding until you hit the battery and then watch it go up in flames,

texn884 - He was just trying to make it look like an S8... not a Note 7!

Have you tried cleaning the cache?

Have you tried turning it off and on?

Bro a factory data reset should get you back in the game.....

Once you get that fixed, can you let us know how you sawed off the chin and shrunk down the forehead without breaking the phone?

Why would anyone want their Pixel to look like a Samsung phone, ever?

Not by the hair of your chinny chin chin?

Some people like the aesthetic? Kinda like how some people like how the Pixel looks and some weirdos like how the iPhone home screens look?

I was actually rockin' the purple Note 5 wallpaper for a while, and keep in my collection.
"...and some weirdos like how the iPhone home screens look?" gave my first laugh of the day! Why would you embrace an engineering compromise? The iPhone X just cries out "We tried to make it all screen, but couldn't!"

Colors UX Black Vastly prefer that over the stock Samsung icons

This article is funny because I have a Samsung phone and I'm lways trying to make it look like something else.

Can I interest you in some other themes then? https://www.androidcentral.com/halloween-theme-roundup

It's much easier to make your OG Pixel look like an iPhone. Just paste a fake round button on the chin.

Nah, it's easier and more subtle to edit the wallpaper so it has a low battery warning!

I've never had an issue with the look of TouchWiz. It was iPhone'ish, which I liked because I wasn't about to shell out the higher price for an iPhone... ... until the Samsung devices started costing as much, at which point I figured "what's the point." A lot of people brought phones like the Galaxy S Vibrant specifically because of the software Look and Feel and form factor, which was a copy of the iPhone 3GS (but with a much better camera and screen). The big issues I have with TouchWiz is: 1. It's not maintained as well as iOS (I'm not sure how other Android OEMs maintain their software - I have been off the platform for a while, now)
2. Related to the (...) in #1, the price of Samsung devices has skyrocketed, so it's no longer a "no brainer" to "settle" for it if you can't afford an iPhone. They cost the same, so you mind as well just GET the iPhone, instead. That's what I ended up doing once the prices got so close together.
3. It doesn't have any decent cross-device continuity features (Hand Off, etc.), and Microsoft's bolted-on solution is subpar (IMO).
4. The Duplicative Apps are confusing, and you have to do research just to decide whether or not you want to use one or the other. There are many of these. IT feels like there is 2 apps for everything preloaded on the phone.
5. It will come with Carrier Bloatware, guaranteed.
6. Shorter Support Lifecycle than an iPhone.
7. Their cameras tend to have Face Processing, etc. built-in, which is great if you're Asian... Not so great if you're African American and have to turn that off EVERY TIME you want to use the FFC, because they tend to turn it on every time you go into the Camera app.
8. Google. Sorry, but I have very little trust for this company. I'm hoping a miracle happens and someone can develop a good platform to break up this duopoly in the smartphone market - or some legislature is passed to put more power in the hands of the consumer. Right now, simply using an Android phone is agreeing to data slavery. I don't think that's right, at all.

I like things as they are, and I agree with you about Samsung's software but their prices for their phones are somewhat justified unlike the overpriced and inferior iPhone, in fact pretty much every Android phone is worth their prices with how powerful and advanced Android is along with the freedom, flexibility and customisation you have with Android. Oh and Google is far more trustworthy than Apple is and all the Android OEMs won't slow your phone down so you're forced to buy their latest phones, with iPhones you're a slave to Apple, with Android you get the best technology and you have freedom and control to make your phone truly yours, don't worry you'll soon be crying when the latest round of bugs come in iOS 12, I'm so glad I left that horrible company and OS and am using a real smartphone platform.

Yeah.... I'll get right on that... Along with a fake Rolex, maybe leave a fake banking app open on a date too... With a fake couple $100k balance.... Get several thousand fake twitter followers... The possibilities are endless. Oh.. that launcher you featured looks crazy busy.... Way too busy.... Oh , I know, it's so much better to bury your apps in sub app menu's.. stupidity.

I've heard better ideas on batshitcrazy. com

All stock launchers don't support folders? I guess I took it for granted with Sense. I didn't try it with my S7 Edge because I kept the M8 as my daily driver, and I just assumed it was a common feature.

They pretty much all support folders, but Action Launcher has better customization of the folder icon.

Ahh, grasshopper thanks you!

I have no interest in making my phone look like a Galaxy, as much as I like Samsung's recent phones, I don't like their bloated software, plus no matter what the Samsung knights say, Samsung isn't true Android, the Pixel is and I'll always want to make my phone look like a Pixel phone until I get a Pixel 2 XL.

This is great! Now I can make my 5" Sony Xperia look like a Galaxy s9. Then I'm gonna tell people that I left it in my jeans pocket and it shrank in the wash.

OMG!!!!! Now you don't have to buy a Samsmug phone...why.... well, besides the fact that they are WAY overpriced is the fact that you can make your poor, pathetic, non Samsmug phone look just like an S9! Talk about this being a Samsmug Fanboy site! ANd you complain about OEM's trying to look like Apple, and you encourage basically the same thing???

Ha. I have an S8 and took hours turning mine into a Pixel.
Android Central Newsletter
Get instant access to breaking news, the hottest reviews, great deals and helpful tips
Thank you for signing up to Android Central. You will receive a verification email shortly.
There was a problem. Please refresh the page and try again.