Samsung Galaxy S8 vs. Galaxy S7: Should you upgrade?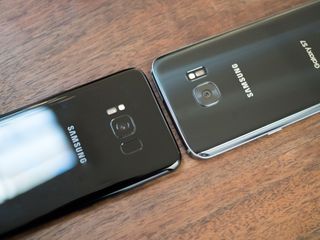 The hot new Galaxy S8 is here, and suddenly people with perfectly good Galaxy S7s are looking longingly at the order page considering an upgrade after a year (at most) with their phone. The Galaxy S8 introduces a fresh design, new hardware features and a few pieces of altogether new software, but that doesn't mean the Galaxy S7 feels like a fossil.
Let's take a look at the Galaxy S8 and see what you're missing out on, and whether or not it make sense to make the jump to the latest version.
Hardware, specs and features
Image 1 of 5
Image 2 of 5
Image 3 of 5
Image 4 of 5
Image 5 of 5
The Galaxy S8's hardware design may not be as mind-blowing revolutionary as Samsung claims, but it has definitely progressed nicely from its predecessor. The biggest changes are actually not altogether new to the Galaxy S lineup, but more so the function of Samsung is using the same design for both sizes of the Galaxy S8 and S8+. In 2016, the smaller Galaxy S7 was the "standard" or "flat" model, while the Galaxy S7 edge was curved and a bit more futuristic — now, both models adopt that future-looking design, and it makes the Galaxy S7 look a tad old by comparison.
The Galaxy S7's display is plenty large for its body size, but the Galaxy S8 really stretches things out to give you a ton of extra display for not much extra size. The Galaxy S8, despite being taller, is the same width as the Galaxy S7 — so there aren't many usability issues with bumping up to the larger size. In return, you just get more screen to look at every day. You also get a more modern on-screen navigation bar, finally leaving behind the capacitive keys — you can even switch the order to have the back button in the "right" place ... to the left of the home button.
Speaking of display, the Galaxy S8's is definitely a step up — Samsung improves each and every year — but the Galaxy S7 could easily still be considered one of the best panels out there. Aside from the nice-looking subtle curves that give it a bezel-free look on the sides, there isn't too much to be jealous about here.
When it comes to specs and hardware features, the Galaxy S8 doesn't exactly leave its predecessor in the dust. The new phone has the same rear camera experience, same 4GB of RAM, 3000mAh battery capacity, waterproofing, SD card slot, wireless charging and single speaker. The Galaxy S8 of course has a faster and more efficient processor and 64GB of storage, along with a forward-looking USB-C port, but none of that is game-changing over the already capable Galaxy S7.
Software and experience
A year on from release, the Galaxy S7 has actually kept up with the times having just received its Android 7.0 Nougat update. When it comes to daily use and the general look-and-feel of the Galaxy S8, things haven't changed much from that latest GS7 update. There's a new launcher layout and fresh icons throughout, but the main interface hasn't changed a whole lot. You'll find a tweaked camera interface, some features brought over that were originally in the Note 7 and a bit of tidying up all around, but not much altogether new software here. There's a good chance the fresh icons and launcher could come to the Galaxy S7 in its next major update, but this isn't something you should be upgrading your phone for.
Where the Galaxy S8 steps ahead is in its handful of new headline features — though each one is part software, part hardware, meaning they can't come back to the Galaxy S7 in full with a software update. Iris scanning and facial recognition are new in the Galaxy S8, and they're tied into the new sensors as a one-two punch of quickly getting you into your phone and then providing biometric security for proper authentication in the software.
Then there's Bixby, the on-device voice assistant interface, is more of a forward-looking feature than one that provides immediate utility, especially as Samsung continues to expand it to the entire interface and all built-in apps. While the voice assistant could technically come back to older models like the Galaxy S7 through a software update, the chances are slim — Samsung even includes a dedicated hardware button on the GS8 for Bixby, and that's something it can't add to previous phones.
DeX is the Galaxy S8's pseudo-desktop interface that brings your phone's capabilities to a larger screen, and this is also something that's going to stay on the Galaxy S8 line. The DeX dock is a USB-C peripheral, so it's hard to see that Samsung would go through the trouble of creating a different version for the Galaxy S7 — not to mention porting back all of that advanced software — even though the Galaxy S7's hardware could likely handle such features.
Bottom line
As much as we lust after the newest devices and want to have the latest technology, there's actually a good chance that your Galaxy S7 still does what you need it to do a year into its life. If you're still happy with the performance of your Galaxy S7 and don't need any of the fringe features on offer in the Galaxy S8, you'll feel right up to date there. The Galaxy S8's performance will be a little better and it has a larger, better display, but the battery life will shape up to be similar and the rest of the hardware features and specs are nearly the same.
When it comes to the software, the combination of subtle interface changes aren't worth buying a new phone for. And even if you're bullish on the future prospects of Bixby and DeX, you may not see the features of either platform being important enough in the near term to warrant jumping to the Galaxy S8 right away.
The only real changes that could get you to drop your GS7 for a shiny new GS8 are in the design and size. Perhaps a year on your Galaxy S7's 5.1-inch display is feeling a bit small and you want something larger — the Galaxy S8 has you covered there, and the display is fantastic. The Galaxy S8 is also just downright beautiful and feels futuristic. There's something to be said for that weighing into your decision.
The Galaxy S8 is going to set you back a solid $750, and your Galaxy S7 is probably only worth a few hundred dollars to sell and cover some of the cost. Only you know how much these handful of subtle changes are worth — but be sure to do the calculation before you jump to the Galaxy S8 from your Galaxy S7.
Andrew was an Executive Editor, U.S. at Android Central between 2012 and 2020.
I'm not a yearly upgrader, but last year I had to go from the S6 to the S7 for battery life alone. This year, I'll keep my "old flat" phone.

Yep, I'll hold onto my S7 until the Note comes out and we'll see what Samsung does then.

I agree. I'm switching carriers and just bought a note 5 for the new carrier in cash. Hoping the note 8 or 8+ (one can dream) doesn't explode and gives me a reason to move on.

They just caught on fire.

"It's a bigger upgrade than you might think" yet your conclusion in contradictory.

So true... There will always be naysayers.

Andrew's conclusions are always contradictory when it comes to Samsung products. His reviews are meant to sour you but are disguised as if they are supporting the product. This is why I think he is a worthless p.o.s. and ruins AC (along with those shameless plugs for Mint Sim)

You should meet all the people who comment on my Samsung articles saying I'm a shill for Samsung that never says anything bad about them :)

This is THE common AC: Never make a definitive conclusion.. even in their "best of" articles.

Major question: Upgrade to S8 or S7 from something older? Is the S8 worth it or upgrading to an S7 enough? I don't chase latest Android updates.

I assume that price is a factor in this case, and you're considering picking up a GS7 for like $450 now that they're getting cheaper? I think the GS7 can be had for a solid deal and is still a great phone ... but the question is whether you'd be better served by something a little newer. Still, if you want a high-end phone and are OK not getting updates for long, the GS7 is still a solid buy.

It will still get security updates for a good 2-3 more years. The S5 (at least in Europe) is currently on the march security patch and gets an update every single month without fail.

That definitely depends on your carrier. My Note 5 on Telus in Canada is still on the November 2016 security patch.

Yep, international Note 4 here and up to date with security. Excited to see what the next Note brings, but perfectly happy with this perfectly functioning phone.

Get the S7 instead. It's pretty much the same phone, battery life will be better, and will cost you half the price of the S8.

I recently upgraded my S5 to the S7, because Verizon dropped the price anticipating the release of the S8. So far no complaints and getting a year old model for a discount is never a bad thing.

I had a chance to play with the s8 and s8+ at best buy ,the reason I'm to upgrade is the design and form factor I like it alot ..

I will wait for reviews and a huge price drop probley near xmas. Until then stick with my s7 edge.

I don't see that happening. The S7 already dropped a lot. The S8 will have radio's for the new bands as well

And you have just gone against all logic to believe the S8 won't be severely discounted by Thanksgiving. You like to bet against 10 years of history, huh?!

i'll be upgrading as the s7 screen feels too small to me, my volume up button doesn't click anymore, and my screen is scratched...i don't care about the software experience that is slilghtly upgraded, or the new processor...if my s7 was the size of the s8 i wouldn't be upgrading

Isn't your phone still under warranty? :)(

we're on jump, so it's not a big deal to upgrade...and like i said, the s7 screen is too small after having come from the v10...if the s7 was at least 5.5 i wouldn't be upgrading

I try to not upgrade every year. I wasn't going to this year but my S7E is cracked and the paint on my home button is scratched, so I preordered the S8.

"Galaxy S7.....having just received its Android 7.0 Nougat update."
not received it yet! upgrading to S8 may be the only way you can get an unlocked version with 7.x

Ugh yeah, there is that issue for some models. I would say a vast majority have received it.

Interesting how they improved the camera

As a gen 1 Jump user i tend to upgrade along side Samsung's releases just because of SPay. Its hands down the best feature from any manufacturer.

By the way guys you can download the s8 touchwiz launcher and bixby and try it out , I've had it for 2 days now.. big difference in the launcher
Bixby not that big of a deal swipe left you get the cards but no voice action

Is there a way to download the bells and whistle to my note 5 that were on the note 7?

I usually get a new galaxy every year anyway. So this move was gonna happen anyway. After looking at the s8 in person wow just wow this thing is a whole new look and concept hell Yea it's worth it Posted via note 5 are gs7 edge the beast

There is no helping you! You are a slave to their machine. I mean that is the nicest way! ;)

Frankly new phones are so good it makes no sense to upgrade every year. Wait for 2 years, then you get a major change. The thing is same for all vendors, not just samsung.

This being a whole new phone like no other no way I'd pass this up. Already sold my s7 edge. Now I wait Posted via note 5 are gs7 edge the beast

I would upgrade solely on the removal of the physical button. The S7 and early phones look dated next to the S8! Its just a flat out gorgeous phone!

The S8 feels so much better in hand than the S7 edge.
The front of the S8 is beautiful with all that screen
Specs wise it isn't really worth it. Battery life seems to be an issue esp when they set it at 1080p default.

One thing I saw somewhere that I don't see anyone mention here is that they've brought back the ability to use a cord for TV output via HDMI.

I usually upgrade every 12 months, but this time I think I'll stick with my S7. After 9 months of ownership my S7 works great with no lagging or issues. The battery was replaced recently when I had a cracked screen replaced, so I'm good for now. The S8 just doesn't have any important improvements over the S7 that I need or desire. I wasn't too happy with the curved screen of the S6 Edge, so I'm not sure how the S8 would feel in my hand. and Finally, the placement of the finger sensor is just another reason for me to wait until the Galaxy S9 or the next HTC variation.

if tmobile offers free trade in like they always did, I'm going to take that even with bill credits for 2 years. even with $100 up front cost, I think I'll do it.

Haven't seen if the screen has gone RGB in contrast w the S7. Would love to see a good side by side review on this particular point.

If I had a option to upgrade I would choose 128gb s7 edge or G6
Thou I prefer flat screen with dual camera

I was never one to jump on the bandwagon of wanting smaller bezels, and simply based on pictures I don't think I like the looks of a long narrow phone that doesn't have much of a bezel. I'm definitely upgrading this year and I'm hoping HTC will release a phone with front facing speakers. If they do, and assuming they'll have the same camera set up as the Pixel, the Snapdragon 835, and USB-C, that'd be the phone for me.

I strongly suggest you play with one at best buy

Hmm not one mention that the S8 can make use of the GIGA LTE (When available).. So stay with the S7 and stay slow my friends. And for those waiting for the Note 8, well then wait. I will play with the S8 for a year, then side-grade to the Note 8 after giving it time to show it's abilities. Got stung twice, a little gun-shy here.... Oh did he mention Bluetooth 5? Lets you connect to 2 different BT devices at the same time?

My S7 connect to my headphones and Gear S2 at the same time... So what's your point?

New higher category LTE and Bluetooth 5 are so so so so so low on the list of importance in smartphones for 99% of the population it's not even worth discussing right now. For those who think that having gigabit LTE and Bluetooth 5 are important in 2017, there's nothing I can do to convince you otherwise ... and you obviously don't need any help making a buying decision :)

I can use two Bluetooth devices now with my s7, not the way you're meaning probably. I use my earbud and a speaker. I have no need to use two speakers via BT although my son has my old speaker I could try it out.

I don't see any point in updating. There is barely a performance boost according to geekbench, and I like a tactile home button.

http://www.androidcentral.com/its-2017-so-why-do-we-still-care-about-ben... i think Jerry's article explains that nicely

Yes! I can finally get back to my 6 month upgrade cycle again. Will definitely be getting the 8+ to hold me down till the almighty NOTE 8.

Was thinking the same this should hold me over till the beast is released, buuuut the 8 plus is something special Posted via note 5 are gs7 edge the beast

I'm in the same boat as you and am doing the exact same thing :-), though I did upgrade from the Samsung S7 Edge to the LG V20 when I had to go back to it after the Note 7 was forced out of my hands. The LG V20 was a great phone, but I can't want to get my hands on the S8+.

Party pooper alert! Let's think twice if we really always want to upgrade: https://www.facebook.com/greenpeace.international/videos/10154689435313300

Sold mine S7E for Mate 9 month ago, never looking back, the S8 is not an upgrade over S7E, let alone mate 9. Let's see what other phones bring this year, the S8+ is sexy but not really attractive in my eyes, knowing how well Samsung operates.

On the contrary, it's quite an update

Thinking about upgrading from my S6, but honestly my device still works like it's brand new. No issues at all. The FPS location is a non issue to me as my phone is unlocked with Smartlock when I'm wearing my Gear S3. I will have to play with an S8 to see if it's lust worthy lol.

Go play with one and then come back to us. Don't worry...we'll be here waiting lol.

Still using my S6 also, S8 has a tall screen, buts it's narrow, tiny tim battery will be trash, don't doubt me on this, it won't last as long as the S6 unless you dumb down the screen, I also will wait for the note 8, which has always been the premium phone for Sammy

Is there a reason to get this if I already own an S7E, V20 and Note 4, all of which are in Mint condition? I really don't think so. I purchased the V20 when T-Mobile had their flash sale in February. I'm not sure why. I got the S7E when it first launched on the T-Mobile BOGO, Netflix, Gear VR, Oculus deal. At the end of the day, the device I use everyday remains my Note 4. These purchases are really pointless and a lot of us are guilty of this. Hopefully, I can resist going forward. 😔

I'm probably in the minority as I'm always have to have the latest and greatest, so I upgrade every 6 months on Tmobiles jump program which they are keeping for existing customers but getting rid of the plan for new customers. WIth that said, I want the new GearVR with the controller, the desktop option to replace my very clunky and oversized laptop is fantastic, the faster and more efficient processor is a big sell to me, and the extra real estate is also a huge win, Bluetooth 5.0 which most people don't understand what that means like conntecting two devices at the same time, and finally the super fast Gigabyte network for Tmobile which will make all current networks look like they are crawling. I had the S7 edge and Note 7 (currently on the LG V20) and would update if I had the choice and wasn't on this Jump program....but that's just me :-).

So I have had a GS7 Edge for a year now thought about upgrading but I see no reason to. The finger sensor location is just dumb works great for those that hold their phone in their right hand and not so much for the left-handed holders makes it awkward to use it.

Can someone explain me of that glossy finish in metal frame of the S8? Are gonna be easy to get scratches? Like iPhone 7 jet black or what?

I'm sure the shiny polished metal will show blemishes easier than the hard brushed metal of previous versions ... but I wouldn't expect it to be particularly fragile. We'll have to see over time.

I just picked up an S7 off ebay, MINT condition, for 250 to replace my aging S5. It was a no brainer since it'll allow me to wait for the S9 with integrated fingerprint reader under the screen next year. I did stop by BestBuy to check out the S8 and it was gorgeous! They had this display with balloons and ribbons attached to each phone and a screen saver with these floating bubbles going up the screen... it was pretty freakin' cool. But that stupid fingerprint reader next to the camera kept me from pulling the trigger.

I'll hold onto my s7e and wait till I see the Note 8 and Pixel II later in the year, then I will make a decision between the n8, s8+, or the Pixel II

Right there with ya. Doing the exact same. I have a feeling the winner out of all of those will be the N8 but we'll see.

I have upgraded early based on whether the freebies/extras are good. This year, at least for T-Mobile, the offer to preorder is not good enough to justify it. I love my S7 edge too much to get rid of it for the S8 or S8+. $130 down to get a S8+ and all you get is the VR? S7 edge is a great device and will continue to be until at least the Note 8 IMHO.

And you have less to pay on it.

Just got an S7 at a low price. I'm a happy camper. Might see what the S9 brings next year.

Got an S7, I'm not interested in the S8. Partially due to cost, partially just don't see it as a big upgrade. I'm also waiting on the next Note.

Three key factors that would have me upgrading (from my still mint condition S7 running Nougat) would have been : an upgraded camera (maybe something like G6 with the wide angle camera), a bigger battery (at least 3400Mah) and better fingerprint scanner placement. So I think I'll skip this one. But I must admit it's a great looking phone with a very fast processor, most refined Samsung OS and features version, and beautiful display. I Think it would be a great upgrade to anyone coming from an S6 or any other OEM wanting to try Samsung for the first time. I think this one is the one to get for sure.

Keep in mind this generation forward will be able to use the new bands coming out.

S7 is still the GOAT imo, no need to upgrade unless you need the slimmer design and longer screen. S7 can easily last another 18 months but upgrade if you have the funds and desire the newer tech.

Wouldn't it make more sense to tailor these articles towards those with an S6 or any other device made MORE than 12 months ago? I don't know the percentages, but I would bet most people are closer to a 24 month replacement cycle... Unless the purpose is to give those with older devices a look at both so they can decide between the S8 and S7 (like the Mr Mobile piece). Of Course "most people" don't read this site so... carry on I guess?

Does this mean I should retire my Electric Blue Galaxy S5 ?

Heck no... because "electric blue"!

Lots of people coming from lots of different devices want to explore an upgrade to the new big phones. I wrote this one for those who are coming from a GS7, and if you look at AC tomorrow you'll see the same format of article in relation to upgrading from the GS6 :)

"Perhaps a year on your Galaxy S7's 5.1-inch display is feeling a bit small and you want something larger" I would gladly exchange it for a SMALLER phone. Not a larger one. Ever. So even if the S8 didn't have a bunch of disadvantages over the S7 - worse battery, terrible fingerprint scanner placement - the size alone was enough for me to immediately remove it from ANY consideration. I do NOT think the S8 is a real upgrade from the S7 and for anyone who asks me, I'll still recommend the S7 over the S8. Specially when the S7 can now be bought for a little more than half the price of the S8.

I am upgrading the first reason why is blue-tooth 5 pair to 2 devices plus 23 mts to s7 11 mts , low light on the camera and 1gb download speeds in Australia and phone calls over wi-fi

What's that? 23 mittens? 23 mitts? 23 mountains? 23 mints? Why are you talking in code?

I also found it could stand for Manitoba Telecom Services. But 23 of them?

I still haven't been able to find out what "...23 mts to S7 11 mts" means. Anyone?

I believe, he meant Bluetooth range in meters (S8 - 23 metres, S7 - 11 metres).

SOME sort of punctuation would make your comments much easier to read. Don't be so lazy. Show some respect to the other readers and use punctuation so we don't have to read it several times and try to figure it. People getting lazy online and forgetting all rules of grammar and using no punctuation or using things like "did u get 1 4 me 2 or was it 2 hard 4 u 2 get 1 4 every1 else 2 It's ok I 8 b4 I came just don't b l8 2nite."

Since the price dropped on the S7"s due to the S8 launch, I just picked up a new unlocked Edge for $500. DEX, less bezels and BIXBY aren't enough to make me want to take the plunge at the moment. I'll probably hold on to the Edge until the new Pixel or iPhone comes out.

I've had my s7 edge for awhile now and luckily I pay a small fee for a program from TMobile called Jump. It allows me to upgrade twice a year by paying off what i owe on my old device. I usually have a zero down to get my new devices because i pay my bills ontime for at least 12 months .. i do have to turn in the old device but thats ok with me. I pay about 22 dollars monthlly for the new device until i switch over again through the program. I cutrently have a order out gor the s8 plus. With a program that pays off each time you jump, why not upgrade? I do love this program!!

I "borrowed" Doc Brown's Delorean and went to April 4, 2018.
I logged into Android Central and found a new article: "The hot new Galaxy S9 is here, and suddenly people with
perfectly good Galaxy S8s are looking longingly at the order
page considering an upgrade after a year (at most) with their
phone."

It'll happen ... because people are always looking for the next big thing. Turns out a lot of people want new phones.

That's the entire business model of all things tech. If it wasn't for that, we'd still be on the Galaxy S1 in 2017.

So many people preaching about connecting two Bluetooth devices. We can already do this with the S7.

Actually I do it now with my S6. Have my Bluetooth headset and my Gear S3 connected at the same time. I'm not sure what the big deal is with Bluetooth 5.

Why does the dumb AC app not let us zoom in on the photos??.. via an S7 no less. Major fail.

Why do you guys always do this? Is the S8 closer in comparison to the S7 or the S7 Edge? Comparing the S7 to the S8 is nonsensical! You can't compare the two. Why would I want to see what a tiny and flat S7 looks like against the large and curved S8? When you compare devices, use more than just the model number to decide what to compare. PLEASE!

Why can't you compare last year's phone to its direct successor? Your complaint makes absolutely zero sense. That's like saying people couldn't compare the iPhone 5S to the iPhone 6 because the newer phone got larger ... well, it's still the successor, and people who bought the smaller of the two Galaxy S phones in 2016 may be interested in buying the smaller of the two Galaxy S phones in 2017. It's a logical progression and a logical buying decision for people to make. And just to really make this clear for you, the GS8 and GS7 are very similarly sized. The GS8 is 6.5 mm taller but 1.5 mm narrower than the GS7, and their weights are almost identical. How is that some massive difference that makes these phones incomparable? You do also understand that the Galaxy S7 edge is a larger device than the Galaxy S8, right? So by your logic, we couldn't compare the Galaxy S7 edge to the Galaxy S8 either because that difference in size would make the comparison ABSURD! The Galaxy S8+ is also larger than the Galaxy S7 edge, and by a wider margin than the GS8 is larger than the GS7. So what DO you want to be compared here? FWIW we are also doing a separate comparison of the Galaxy S7 edge and the Galaxy S8+. Can't wait to hear your complaints in the comments :)

I have the S6 and terrible battery life. I was holding out for the S8+ until sadly I heard Samsung left the IR blaster out again for the second yr in a row. Looks like that just saved me around 900 dollars.

So are you gonna keep it until Samsung brings the IR Blaster back?

I have a s7 edge and only upgrading to the s8+ is I just cracked my screen. Was planning on getting the note 8 but cant wait that long

Literally cracked my phone screen the night before the S8 announcement...Even though I said "i'll never buy an S7 Edge, look at that curved glass? Nothing can protect it adequately", and -- slid right out of my pocket onto my stone tile floor.
Honestly though, I'm going back to an S7. Perfect size.

My S6 still works fine. In fact, given that I still want a flat display and I'm not willing to buy a bigger phone, I would consider the S8 a downgrade for me.

In no way is the s8 a downgrade from your old s6. It's a better phone. Now your situation my not allow to upgrade are maybe you just don't like the s8...... but there not the same Posted via note 5 are gs7 edge the beast

I said FOR ME, maybe you missed that part. If it's worse in aspects that matter to me more, then yeah, it's a downgrade, better specs or not.

I could preorder now and actually save about $10 per month the way my plan is set up. S7 is chugging along fine and meets my needs at the moment so I think I'll see what September brings to the big phone party since I'm already eligible.

If the edge design is futuristic , and distorted content is the futur, i am in no hurry to get there. The s8 screen is in no way futuristic it is just design over function and a waste of a good screen otherwise

Agree. I have just been in a phone shop and tried the S8, S8+, S7 edge and regular S7. The one that looked and felt the best to me was the regular S7.

In the past I've purchased phones based on designs I couldn't resist, even if my previous phone was less than a year old (I'm not brand loyal). But that fingerprint scanner placement alone is enough to make me wait for something that wasn't cobbled together at the last minute.

I swapped my Galaxy Note 3 for S7 Edge last year and have been thoroughly enjoying it. I do miss the stylus and the note features though. So, I might pass the S8/S8+ and go for a Note 8 when (or if) it launches as the S8/S8+ doesn't feel like a serious upgrade from the S7/S7Edge.
As for the Dex, TeamViewer from any laptop does the job fairly well on my S7 edge (wireless too)

Actually, the S8's 64GB internal memory is what's making the choice for me. Samsung finally gave their flagship Galaxy S the proper specs.

Ikr that gb upgrade is a much welcomed edition couple that with the SD card, just sitting here waiting for my new beast to show up Posted via note 5 are gs7 edge the beast

Watch the Samsung Galaxy S8 and S8+ Launch Video here at - https://youtu.be/WVchnSUO0cg

To me this is a dream come true. With the Samsung Upgrade programme, last year I got the S7. Previously I had the S6 Edge. That was a gorgeous phone which had no problems at all and I gave it up instantly for the S7 because I wanted the VR headset. Have barely used the headset lol! Anyhow, I watched the Samsung unboxing last week and have been drooling ever since. I wasn't going to go for it thinking I would just ride it out with my S7 for another 12 months, but what changed my mind was that I am only operating on 32gb (no SD) and it keeps saying run out of memory. Yes I know I can buy a card but can't be bothered! So I'm gonna get the new S8 in Orchid Grey with its 64gb of onboard memory and less bloatware (which put me off Samsung for 2 years). It's also a lot slimmer for my delicate hands. Cannot wait to get my grubby pawprints on it!

My Galaxy S7 is working perfectly fine right now. I don't really see the need for me to upgrade and I agree with the article. Great camera, satisfying battery life. I really love the way the S8 looks, but there are a few things that I don't like about it. Like that dedicated button for their voice assistant (I am a daily Google Assistant user and I think it works beautifully) I am not really a fan of that and the placement of the fingerprint sensor. For now, I think i'll be good with my S7 (with Nougat update) and wait and see what the rest of the releases have in store. i think the Samsung has a lot to prove with the new Note release, and the new iphone from apple as well.

I have the S7 Edge, and installed the official Samsung S8+ APKs to make my Edge look, act, and feel like the S8+. I even installed the S8+ stock apps for the full experience. Aside from missing out on the 'infinity screen', and the software buttons - which isn't much to miss out on - if I were to hold my phone up to an S8/S8+, to the untrained eye - it looks and acts like I have the S8/S8+ ... I will wait for a Note version...

Just ordered an S7 edge In the past I've gone S4 and then S6 but this time 3 things have made me hold off the S8 1) Battery life.... Just can't believe it's going to be anything other than horrible with all that screen... 2) fingerprint sensor. This is how I unlock my S6 and I really don't want to ha e to be reaching up round the back of the phone to use this feature. Hopefully by the time I upgrade in 2yrs the S9 will either have this on the front or I'll ha e enough confidence in the retina scanner 3) Vodafone my carrier are offering only 1 bundle package to upgrade to the S8. £47 per month which is to much for me. With the S7 I can pay £42 and get 24 months subscription to Spotify and also a gear Vr... No comparison really.........

I'm looking to downgrade. I have the S7 now and am looking to move to the Blackberry KeyONE. Somehow I've managed to get worse with the onscreen keyboard over the years, and if I could make any upgrade to my S7, it would be better battery life (substantially better, not 10%, etc). I've never once felt the camera wasn't adequate, or that I really wish the phone would perform better. So, the spec bump to the S8 isn't really appealing to me. All of this has piqued my interest in the upcoming BB.

I'm fine with keeping the S7 this year. Unless my wife needs a new phone for some reason I'll probably have this another year waiting to see what the S9 offers.

I'll probably pass this cycle altogether bc fingerprint sensor is weird positioning, price too high and extra screen real estate nice but not essential to me. No upgrade to Camera or ram. Bixby? Yeah, no. My international unlocked GS7 Edge is great on nougat.

My S7 Edge has convinced me not to buy anything with a curved screen. It's driving me crazy. And it's starting to get laggy.
Looking seriously at the Blackberry KeyOne.

Wipe cache partition, wipe cache of all apps in the storage settings, get photos off your phone and delete apps that you don't use. I have a Note 5 and I have been lucky not to have any lag. Hell, my Note 2 prior to this Note 5 wasn't laggy much.

Why does the curved screen drive you crazy? I'm thinking about getting the S8.

Brand new Original Samsung Galaxy s8 and s8+ New Edition RED Apple iphone 7 and 7 128GB plus cost 550usd with 1year warranty. Serious buyer should contact us. Whatsapp CHAT or Call : +254703285513 or 00254703285513

I think i'm going to upgrade merely due to the fact that I owe 400 on my S7E, and they are selling for 400 or more online...so it's upgrading for nothing basically. Why wouldn't I do this?
Android Central Newsletter
Get the best of Android Central in in your inbox, every day!
Thank you for signing up to Android Central. You will receive a verification email shortly.
There was a problem. Please refresh the page and try again.