Galaxy S8 pre-orders were 30% higher than Galaxy S7's record number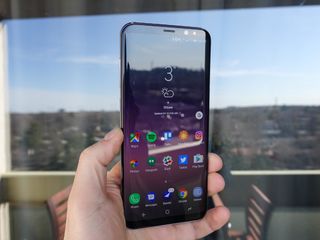 The Galaxy S8 and S8+ have been received very positively, and it seems consumers are responding by opening up their wallets as well. Samsung has announced that pre-orders for the Galaxy S8 and S8+ were a full 30% higher than the Galaxy S7 and S7 edge last year, which in itself was a previous record.
Tim Baxter, president and chief operating officer of Samsung Electronics America, released the following statement:
Pre-order volume isn't the only measurement for how a product will do over its lifetime on store shelves, but outpacing an already popular predecessor by such a wide margin is a great indication for Samsung as it fully rebounds from the Galaxy Note 7. Having pre-orders open for just over three weeks prior to launch certainly helped sales volumes as well, with a slightly longer than usual delay between announcement and full availability.
The important numbers will come with Samsung's earnings reports in the next two quarters, which should give us a full picture of how the mobile division has done following several months of sales.
Andrew was an Executive Editor, U.S. at Android Central between 2012 and 2020.
Good for them, Hope it does well and drives the price down of the S7Edge for me.

First time that I remember that the local T-mobile stores opened one hour before the regular opening hours, and I had to do a line before they opened in order to get mine before I went to work. Everybody on the line was there to get a new S8 or S8+. Sales will be a lot better than they expected or hoped for.

I wonder if any of it happens to be because Note 7 users have been waiting for a new device. The S8+ is big enough to replace the note if you didn't care for the s-pen.

How much of this is people starting to go the route of pre-ordering instead of waiting to buy when they are actually in store? I know there's a lot more promos now if you do a pre-order. Does this equal out to 30% increased sales overall also?

I would say that the preorder is due to contracts or payment plans being fulfilled and customers wanting to upgrade. I am holding my note 4 out and save some payment plan money until the note 8 is on preorder.

I wonder if any of it happens to be because Note 7 users have been waiting for a new device. The S8+ is big enough to replace the note if you didn't care for the s-pen.

A lot of people I know are going apeshit for this phone. Even iPhone users

Imagine that. And this, in spite of the fact that some phones have a pink tint (vs. LG G6 phones ALL having a blue tint) and that it's hard to remap the Bixby button. It's almost like consumers don't care about this stuff.

Well Bixby is essentually useless, and the tint didnt start happening right away, and is a small defect that you can get fixed by software or a free replacement (usually immediately through your carrier. So the high amount of pre-orders arent really affected. If it were something more serious like a touchscreen or light bleed issue, it could be very different.

Best phone I have had since my very first iphone and note phone. Game changing.

First time I l've ever preoreded a phone (and I've had a lot of phones) but it was worth the wait. I think what makes those high numbers more surprising is that it came shortly after the Note 7 debacle when consumer confidence was supposed to be low in Samsung.

With all the hype, my GS7 is looking really good. I mean, I put a new Slickwrap's skin on it and I only owe $120 to pay it off. GS8 can wait.

I don't think most of them are people who pay upfront

And that matters why? most people use device payment plans now anyway.

S7 Edge is garbage! Thats why there are more pre orders on the S8 IMHO. The S7 Edge is laggy and it's only 32 gb and I hate it! I loved the Note 7 and too bad they screwed up on the battery. I never wanted the S7 or any other choice of phone. I cant wait to see what the Note 8 has in store.

I don't know why bloggers are in a race to be Henny Penny. It's like they don't research business or industry hiccups before declaring doom and gloom (imagine that). The note 7 recall wasn't a debacle or any other adjective ascribed to the recall event. It was a recall. Sammy wasn't damaged, the consumer likes Sammy and Sammy will continue to sell a whole lot of phones. Some people won't like them, of course. But everyone who refers to the note 7 recall as anything other than a recall sounds foolish and immature.

I agree, in fact after the whole Note 7 debacle, it fuels my need for a Note even further and gains respect for the choice they made and what they were willing to sacrifice to ensure the safety of its consumers (and of course their main objective was to save their ass, but business is business folks). I will probably have a heart attack when the new Note comes out. I'm praying it doesnt have as much of a curve as the S8.. If they just slimmed the bezels like on the S8 and retained the same edge curve as the Note 7 and even lessened the rounded corners compared to the G6 and S8, I'd be sold. Even if it were the same specs as the Note 7. Having that S-Pen is a huge deal for me, and my life has been agony without it.

Consumers never cared about the Note 7 debacle and Samsung's rep wasn't really tarnished. If it weren't banned, people would still be buying them right now. In fact, people actually resented the fact that it was in fact banned. The only people who made a big fuss about the Note 7 was the press. Consumers have very short memories and will buy whatever is hot. It should be no surprise to anyone that the S8 (and future Note) will be hot sellers.

Yep. I would still be on a Note 7 if not for the ban.

I'd be all over it if it was Google's or OnePlus's hardware. Just no desire to use Samsung's proprietary garbage software

You mean software. I get it it would be really nice if you could still easily flash a phone once your finished with or don't like the original software/Skin. For those that care to do those sorts of things. Though in the past few years I have noticed that there is little difference between any of the software interfaces baring extra software applications. Then it is more taste driven opinion than practical difference. In the case of hardware delivery Samsung is unmatched at the moment.

When it comes to hardware I would agree. But I've seen too many times the effects that Samsung's firmware has on performance over time. That along with the poor UI aesthetics and update cycles make it a no go for me personally. After having used stuff that runs stock /near stock for the last 3 years I wouldn't want to use anything else running android

I had a rule of only sticking to unlocked devices for the past few years (Alcatel Idol 3, Moto X Pure, idol 4s). One glance at the s8 in the store had me breaking that rule right quick.

S8 sales are blowing up!!!!

Looks like Sammy's bad luck a few months ago has pretty much done nothing to affect the S8. I dig the phone. Looks really nice and early user impressions are positive.

No surprise. Hold and use one in store and one realizes they absolutely nailed these phones ergonomically​. And I thought my S7 Edge felt good. Wish I never touched the S8+. You would never think it 6.2 inches of screen perfection.

That's because the screen is much smaller than a 6.2" screen on a phone with a 16:9 screen ratio.

I never been one to follow the crowd. Still not.

Then I guess you don't own a smartphone.
Android Central Newsletter
Get the best of Android Central in in your inbox, every day!
Thank you for signing up to Android Central. You will receive a verification email shortly.
There was a problem. Please refresh the page and try again.