Samsung Galaxy S8 vs. Galaxy S8 Active: What's the difference?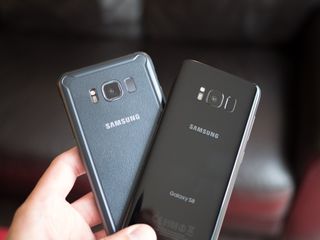 Samsung has continued the trend of releasing an "Active" version of its latest mass-market flagship a handful of months later, and the Galaxy S8 Active is the least compromised Active model yet. It thankfully shares a vast majority of the components, features and experience with a standard Galaxy S8 — and that's a definite selling point compared to the rest of the rugged phone market.
So how does the Galaxy S8 Active compare to its standard counterpart? We're here to lay out all of the differences, big and small.
What's the same
Image 1 of 2
Image 2 of 2
As we went into detail on in our complete Galaxy S8 Active review, one of the best features of the phone is that it behaves and performs like the standard Galaxy S8 in just about every way. It's built on the exact same platform of specs, with the same exact software features and hardware components. You won't notice a difference in daily use no matter which one you pick up, and that's wonderful.
The Galaxy S8 has its fans and its skeptics, but the general feeling on the phone is that it's fast and super-capable in terms of the raw number of software features it offers. Being an AT&T-exclusive phone (for now) you'll have to deal with some extra bloatware and small superfluous software changes, but you get that on an AT&T-branded Galaxy S8 as well. The camera continues to perform with the best in the industry, with a great consistency you don't always get even in high-end phones.
More: Samsung Galaxy S8 and S8+ specs
A Snapdragon 835 processor is still the top of the line, and 4GB of RAM is more than enough. 64GB of storage remains on the Active, and you keep an SD card slot as well. Despite the rugged exterior you don't have to deal with any additional flaps or port coverings, either — you even keep the 3.5 mm headphone jack. Its thick back case still gives you wireless charging as well. Even though it's more actively styled the GS8 Active has the same IP68 water and dust resistance, but that's still the standard we can realistically expect on mass-market phones.
What's different
Image 1 of 4
Image 2 of 4
Image 3 of 4
Image 4 of 4
You can probably guess that the biggest difference here is the external hardware design. The GS8 Active is indeed very rugged, and not in the way a standard GS8 can be tough with the addition of a big case — there's an extra bit of security about knowing that the exterior rubber and tough plastic is part of the phone. There are big bumpers on the corners, notable extra thickness throughout, a housing surrounding the camera and a tough plastic textured back that's easier to hold onto and so much more resilient than glass.
That, of course, means that the Galaxy S8 Active is also much larger and all-around tougher to use in one hand than the extremely svelte standard model. A Galaxy S8 measures up at 148.9 x 68.1 x 8 mm and 155 g. The Active? 151.89 x 74.93 x 9.91 mm, 208.09 g. Those are big change, particularly in width, thickness and of course weight. The Active is considerably tougher to wrap your hand around, and even though the casing makes you more confident in its robustness it's also a bit tougher to maneuver being 34% heavier than the GS8.
Completing the rugged streak of the GS8 Active is its display. It's the same great Super AMOLED panel as before, but now it's completely flat with flat glass to match. That definitely improves the ergonomics of the phone, eliminating accidental palm touches, but all of that usability is washed away by the extra thickness and width. The display is shatter-resistant, which is a claim not made on the standard GS8 and that's because the Active has a special plastic coating over its standard Gorilla Glass 5. The coating makes sure the screen won't shatter even when dropped from five feet, but the downside is the plastic is dramatically more susceptible to small everyday scratches (yes, like the Moto Z2 Force). Considering the number of people we see walking around with shattered screens it seems like they'd take that trade-off, but not everyone will prefer it.
Now, a pure and simple benefit of the Galaxy S8 Active: a larger battery. And not just a little larger, a whole 1000mAh larger — totaling 4000mAh, and making sure you really don't have to worry about battery life on this thing. Whereas the Galaxy S8 had to strike a balance in terms of size, weight and battery life, only making it a day with normal use, the Active can definitely take on a heavy day without complaining and leave you with some battery left over at the end of the day. It's one of the main reasons people are even considering the GS8 Active, and it is definitely a serious improvement.
Which should you buy?
Knowing nothing about a person's specific usage needs, if someone asks me which version to buy I'll immediately say, "get the regular Galaxy S8." Despite the massive improvement in battery life on the Active, the standard Galaxy S8 offers a much more well-rounded approach that is applicable to the widest number of people. It's beautiful, compact, easy to hold and truly feels like a high-end phone worthy of the price tag. It's also much less expensive, in the range of $150-200 less at this point — that's some serious cash.
But if you need to have a "rugged" phone and know for a fact that your Galaxy S8 will end up spending 100% of its life bolted into a seriously heavy-duty case, there's reason to consider buying the Galaxy S8 Active from the start. Assuming that the price difference isn't a big issue for you, the GS8 Active gives you the full daily experience of a Galaxy S8 without the worry of cracking glass on both sides of the phone. You'll have to deal with substantial added weight and some casual scratches on the screen protector, but in return you get massive battery life — that may be a calculation that works out for some people.
Andrew was an Executive Editor, U.S. at Android Central between 2012 and 2020.
The S8 active looks miles better than the all glass nonsense called the S8.

I agree, I bought the s8 once and returned it, then tried it again used off swappa and sold it few weeks later. The curved screen is a real turn off and finding a glass protector that worked was impossible. I don't like plastic protectors as they scratch immediately in my environment. Active looks good to me.

Try the "EverDigi S8 Edge Screen Protector" found on Amazon. Works like a charm.

If Verizon had offered the active I would have purchased in a heartbeat. Why, a flat display, ruggedness, 4000mamp battery. Exclusive's suck big time. I bought the s8+ for 540.00 with an upgraded s7edge. No regrets, but I would have preferred the active!

No mention of the 600 mhz band support?

One is available on every US carrier, the other one AT&T.

This is the first Samsung phone in the last few years that I am interested in. It just needs to get off the AT&T exclusive crap and get to Verizon. Wish they'd release a date for that.

Waiting to get for AT&T to lose it's exclusive is getting reaalllly OLD. The exclusive feels like mobsters are selling the phone right now "Eyyyy you won't see the phone unless you sign up for our protection, errr, we mean AT&T plan." Exclusives are a relic of a bygone era. I have no reason to switch from TMO when going to the death star will cost me 10 or 20 more a month, plus the hassle of switching. And getting a phone without the carrier bloatware is important to me and others.

I have this phone. It is phenomenal. The battery life is phenomenal. My only complaint thus far is that I am still on the July security patch. I hope att and Samsung get on it with the updates... If you want a flat screen workhorse with exceptional battery life then this phone is for you.

I just don't get it! If ruggedness is something that people want, why not buy a simple protective case. An armor case will provide exactly the kind of protection Active is talking about. Plus it will still leave front screen open giving best of both, neither a shatter nor a scratch!
To me only benefit is increased battery capacity, but again not something worth destroying the looks (permanently), living with scratches on the screen and a cumbersome design

Well a adding a case to a phone normally engineered phone with more fragile connections/components/frame is not the same as engineering everything in the phone from the ground up to take vibration, shock, dust and all the other stuff that the military standard deals with. There is a company in the UK(can't remember the name) that does this for the different phone mfrs and it really is a very specialized set of engineering skills. In no way can a case match what "Active" type engineering does for a phone, and I'm a guy who has always cases his phones.

An armor case will make the regular S8 larger, thicker, and with less screen to bezel ratio than the Active all the while having less battery. Also, part of an being "active" typically involves being away from a wall plug, so the increased battery capacity is quite important. The flat screen allows for cheap tempered glass screen protectors which are easy to apply and replace, negating the scratches.

Simple :
One will have cracks and scratches on it within 3 months unless you bury it inside an Otterbox and the other was built for living and using in the real world.
Samsung has done a good job actually creating a market for the Active, partially made up of angry suckers burned by the curved glass styling of it's Edge & S8 "snowflakes".

Why they make the active an exclusive I'll never know. If released with the s8 & + I would assume it would have sold boatloads. Exclusive's suck, plain & simple! Come Samsung put an end to this B S!

Hi ANDREW MARTONIK or anyone, does anyone know the VR capabilities of the S8 Active? I contacted AT&T support by chat and they said Samsung Gear VR was not. Is this true? Or is samsung coming out with a version of VR that the Active will fit and will install on the Active?
How in the hell can Samsung make a phone that has the internal specs as the s8 but with a bigger battery and not work with it's own VR or come out with one that fits? I have read that supposedly Google Daydream works on it, anyone with a phone that can confirm this? I wish that that reviewers would cover these questions in reviews for the S8 Active VR is becoming more important.

I just got the active8 and don't want to get the wrong case. I have Body Glove on the SAMSUNG-SM-G890A, active 6? but it's not long enough. Are the cases for s8 going to fit the active s8?
Also, isn't the tempered glass the same as active 6? After a year-and-a-half, I don't have any scratches on the old one that I can see. I'm just worried about breaking the new one even if it's supposed to be rugged. Thank you!

I happen to have tried all 3 variants of the S8 and couldn't have been happier to have chosen the best one; the regular S8.
Android Central Newsletter
Get the best of Android Central in in your inbox, every day!
Thank you for signing up to Android Central. You will receive a verification email shortly.
There was a problem. Please refresh the page and try again.