Galaxy Note 10.1 - 2014 Edition spotted in U.K. sporting 16GB of storage for £499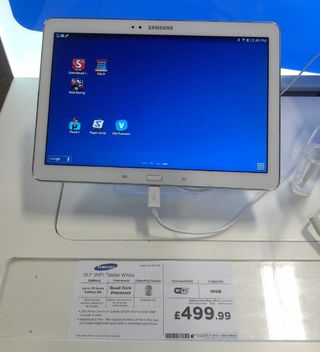 Tablet to actually go on sale to consumers next week
We're just over a week since the Galaxy Note 10.1-2014 Edition made its way to the U.S., and now the latest big tablet from Samsung is popping up at U.K. retailers. A reader has just sent in this image from a Currys/PC World in the U.K. where the tablet is up on display at £499.99 for 16GB of storage and Wifi connectivity. Interestingly the processor is listed as "quad core," even though the model hitting the U.S. is an octa-core (but we wouldn't be surprised if this was a typo in the end).
The tipster indicates that the store will actually sell you one starting next week, even though they're already on display this weekend. We don't have any other solid indication of pricing or availability at other stores, although some online retailers such as Clove have the tablet listed at £479.99 for the Wifi model.
Galaxy Note 10.1 - 2014 Edition review
Thanks, Jonny!
Get the Android Central Newsletter
Instant access to breaking news, the hottest reviews, great deals and helpful tips.
Andrew was an Executive Editor, U.S. at Android Central between 2012 and 2020.
Yuck, that touchwhiz is giving me a rash.... Posted via Android Central App

It's my first touchwiz device and it's not bad at all...This is an impressive tablet imo..much better than the nexus 10. I got the 32 GB one...16th is too small.

Way too expensive. 349 tops. Posted via Android Central App

And not half enough memory.

That is a lot more than my purse is happy with when you can get much cheaper tablets that are still good and future proof plus a decent or excellent stylus for not much more! Posted via Android Central App on my Motorola XT890 RAZR i

You appear to not understand what a digitiser does. Therefore this is not the tablet for you. Posted via Android Central App

Typical example of 1:1 $:£ We get ripped off so much in the UK :(

Yeah that really sucks for you guys. In our dollars that's over $600 isn't it? Posted via Android Central App

It's over $800. Posted from my pure Google Nexus 4 using the AC app.

It's like everything, we pay through the nose for the same product :( Over $800 for us which is absolutely insane... I just bought the nexus 7 32gb and that was equiv to like $390

Its $760 ish right now as you get between $1.50 and $1.60 for your £1, either way its far to much, my family always wait until they come over to see me in the states when buying phones/tablets/laptops, that's one thing I don't miss about being home in the UK, I just bought my kids an Xbox One mine here in Ohio is $499 like everywhere in the USA, because I had to buy my kids one from england the very same thing cost me $710 Posted via Android Central App

Very nearly bought a nexus 7 while in the states. Would have saved about £30. I didn't because there would be no warranty, no charger and the possibility of import duty. Posted via Android Central App

Chargers these days are nearly all universal voltage.
But in your case the saving isn't enough to take the risks.

Wow. That's a big difference considering the fact that the new Nexus 10 will be £319 if it follows its predecessor's pricing. Posted from my pure Google Nexus 4 using the AC app.

But where is it :-( Posted via Android Central App

Watch this flop... And hard!

Are we still talking about the Galaxy here? Ahem. Posted via Android Central App

Sadly, for the rest of the world, Android = Samsung/Touchwiz.

Only thing that will make this flop is price as it looks amazing and the specs are great. Simple launcher and touchwiz is away Posted via Android Central App

While I definitely agree that stock Android is light years better than TouchWiz, on the Note series it's worth the trade offs with the stylus present.

How much! And 16GB? What are Samsung thinking, you could get a surface or iPad retina for less! Utter insanity on Samsung's part. If it was half that it may be nearly competitive.... Dear oh dear. Posted via Android Central App

I still do not see the big reason behind me getting a new Note 10.1. My current one doesn't have the best screen, but aside from that, I am not certain as to why I should buy this. Howevee, this may very well have been made for newcomers rather than people like me. If so, the price is still a tad expensive. Posted via Android Central App

Yeah, new stuff is generally for people with two generations old stuff. Only a small group of fanboys buys every iteration of every model from a manufacturer. Though, I guess both the display and performance is miles apart between the Note 10.1 from last year and this one.

I'm with you guys. This is not enough umph for me to put a for sale sign on my current Note 10.1

Some folks are complaining here and having buyers remorse after STILL seeing lag on their devices based on some reviews I read on Amazon.. Folks are feeling $549.00 is too much for what you get.. And I have to agree..
This unit is seeing the Exact same problem the Nexus-10 did.. The thought was that the "State of the Art" Dual-Core A15's and 2 Gigs of Ram would make the N10 a beast.. but the 2560 x 1600 (4 Million pixel) pushing made it lag..
The Note 10.1 2014 is going through the same thing.. even with 3 Gigs of Ram.

I think the problem now is touch wiz. It's bloated. Posted via Android Central App

Terrible price for 16gb. I hope nobody buys it...... Maybe Samsung will realise it's about £100 too much Posted via Android Central App

It's about £200 too much IMO. It should be below the equivalent of $500. Posted from my pure Google Nexus 4 using the AC app.

They're the apple of android now, overcharging people for every product. Posted via Android Central App

I can't agree more. For that much cash I'd rather buy myself a laptop or a windows tablet. For very little more I'd get a VERY functional PC

You forgot to add a digitiser. After all it is the primary reason for the Note line. Any comparison that ignores it is dishonest at best and ignorant at worst. Posted via Android Central App

totally agree, as student who does a lot of note-taking and art digitally my note 8.0 is a godsend. I will however sell it as i find the screen a tad bit too small and the pixel density too low to make any serious art on it, and as i got it in the us i can sell it here in sweden for 100$ more than i bought it for

16 gb for £ 499 is a joke reason being is they come in high because the old 10.1 is still £460 for the 32 gb they must feel to get the most out of the old note 10.1 they have to hammer blow everyone with these prices they would need to reduce the price to about £ 349 and the new note take the old notes crown with the same price but I agree samsung is starting to annoy me. The fact am writing this on my old note 10.1 is killing me.

Please go to you nearest grammar hospital, aka Education center for immediate help.

Please go to you nearest grammar hospital u thick fuck.

16g? Honestly, would it really kill them to bump it too 32? Especially considering the price they're charging, insane! Posted via Android Central App using the brilliant HTC One. Also I like bananas.

We are at a time in technology where 16gb of storage should be outlawed.. for any device... Posted via Android Central App

thats what am saying 16gb is not enough for devices now they should start making 32gb the minimum from now on Posted via ACA on LG G2

thats what am saying 16gb is not enough for devices now they should start making 32gb the minimum from now on Posted via ACA on LG G2

thats what am saying 16gb is not enough for devices now they should start making 32gb the minimum from now on. Posted via ACA on LG G2

Amazon Germany have it for £450 equivalent
They often ship these from the UK anyway.
http://www.amazon.de/Samsung-Edition-Toucshcreen-Megapixel-Android/dp/B0...

Thats a much better display now, the Note 8.0 display wasnt exactly something impressive

16gb model still on these days, I cant believe it! They should be at least 32gb. Android+touchwiz+etc take 5gb atleast! 699 euros here. Posted via Android Central App

Available to buy from John Lewis Now at £479.95

too expensive for a wifi only tablet: / Posted via ACA on LG G2

The pervious version had the option of a keyboard dock. The new one lacks the USB3 connectivity of the phone and has no major accessories even show yet. At this price, for 16Gb, with some lag issues . . . NO WAY. My Transformer is still much more useful. A keyboard dock is a must for me. The Note 3 phone is a compelling option, but the tablet needs drastic fixing and a better price. Awesome A C

Pretty expensive for tablet standards, and it has Touchwiz... shudder. Seems Samsung are getting greedy, first the Gear, now this, what next?

What other tablets have a digitiser? Posted via Android Central App

I've played about with this new Note 10.1. I think its great in some aspects, very slim and light and the S pen is even better than previous. But Touchwiz still lags! Not even a little bit, either. Shame. Posted via Android Central App

Such a shame that despite the impressive specs it still lags like hell... Samsung need to start optimising their software as stock android is beyond smooth. I've used Android devices for years and only stick to Nexus devices now because you do get the 'best experience'. I wish multi window was an android function not samsung one though :( especially on tablets.

I just wish that Android had native support for digitiser pens. Nexus Note, anyone? I imagine a few Note users would be rooting their devices if Google embraced these digitisers. Posted via Android Central App

Ouch.. How much? Stick with the Nexus tablets me thinks. Posted via Android Central App

No member of the general public in their right mind would spend £100 more on this than the 16gb retina iPad, and no Android aficionado would consider this above the other equally good or better and cheaper options that are here/coming. So what's the point? Posted via Android Central App

Sorry to be a prat mate but I for one will pay for a 32Gb version, at top dollar. I'll add a 64Gb microSDXC, download NovaLauncher and I'll be happy. I'm coming from an iPad 1, with a pile of unusable accessories after innumerable IOS revisions. I'm looking for a productivity machine and IMHO this is it. I don't swipe screens at twice to three times a second, I'll disable smart screen and transition animations. That should sort lag. Again, IMHO Samsung are pushing productivity envelope in exactly the right way. 3 years iOS is enough for me. Even the ripoff prices do not deter me, especially when you think of Surface, Surface 2 and 64-128 GB iPad 4 prices.

A productivity machine ? Good luck with that. If productivity is what you are looking for, take a more serious and honest look at the surface2 pro, not another revision of a failing samsung tablet line. At least then I would take you seriously. You know what will happen here.. In 1-2 years, this tablet will be yet another abandoned samsung joke running a bloated touch wiz version of android , all chugging along due to the crud that accumulates in android over time and the ad hoc updates that may or may not drift your way. No different to their phones (S3 and S4 owners will end up the same) You may be prepared to get ripped off by Samsung for this junk but the vast majority of people will gladly look elsewhere. A super fast , sleek, retina iPad 5 with unrivalled build quality due out in a couple of days for 100 less makes this tablet look ridiculous. I'd even take an iPad 4 over this. Samsung has zero credibility in the tablet department to be taken seriously.

"just say no to aijpaddy, people"

Just what does the surface cost for say 96 or 128 GB? IPad 5? Any micro SD expansion? Any pen, by default? The answer pal, is nada. I'll always respect Apple and Jobs for kicking it all off. That's all though. Gold iPad and fingerprint ID? You can keep that sort of bling, mate. Multi-window on anything you've mentioned? Again, nope. What have you got left? Sweet Francis of Assisi, that's what. Cheers, and mine's a large Scotch with Ice while I'm running multi-windows and taking notes with best display.

The price i think should be at launch £300 if you have scanned the tablet market this would be in keeping with the specs that this here tablet has in comparison to other tablets available, this in turn would mean many more would rush to buy this Samsung 10.1 2014 edition, that said if you look at the retail price for said ipads then it doesnt look to bad and it will come down in price as all tech eventually does, i dont personally get most people's gripe with touchwiz it aint to the point its unbearable cmon folks over exagerating, however that said Novo which i use is alot better in terms of customization and it runs smoother, This is a smart tablet and i for one will make the purchase when its available for £300 as to me thats my fair price. Posted via Android Central App

If it really is laggy, that is a problem. The Note 3 seems to work better. I suspect the 10.1 needs some firmware work before it is safe to even consider it. Awesome A C

over here it's 16gb wifi octacore 840$ - 616€

den kostar bara 5500kr på netonnet och 4400 om man köper från tyskland, 1€=8.5kr http://www.amazon.de/Samsung-Edition-Toucshcreen-Megapixel-Android/dp/B0...

Saw the 16GB on display in Currys yesterday (20/10) for 499GBP. Today I saw 16GB in store in John Lewis (21/10) for 479GB. Think also you get free 16GB MicroSD card, and extra year of guaratee for free (Offer valid until 31/10) - but that might only be on the SGN Tab 3 10.1 (?) The big question is if Google's new Nexus 10 is going to be better value for money / better experience than the SGN10.1,2014Ed....???

What an age we are living still 16Gb tablets and 4 years of development wasted. It shoud have at least 32Gb or 64Gb of memory i know there must be sd card slot but comoon why cant you add more memory its not that pricy.

What is it with Samsung-bashing? Nexus 10? Built by Samsung. Note 3? Pretty good by most folks standards. I'll agree 499 for the 16GB at Currys/PC World is daft but 438 at Amazon? In the States, the 32GB version is a dollar dearer than the 32GB iPad4. How can you be so acidic about 8 cores, 3GB, 300dpi plus, multi window and classy pen. OK Flipboard screws the refresh but you don't have to use it. Anyway, what about Windows 8.1 for Surface RT? BSOD, that's what! IOS 7? Really? I'm coming from iPad 1 and the GN 10 '14 spec is IMHO phenomenal. The 16 GB iPad runs out of storage real fast nowadays. Random crashes - yep. For me, the 32gB version of the Note with 64GB microSDXC and NovaLauncher will be joy. Ohh? Got to go, the nurse is coming to put my straitjacket back on.

Wait for the Galaxy Note 12.2

Yep I agree, the 12.2 will do more justice to the S-note and multi-window facility. That could make me wait for the 12.2 instead of 10.1. Exciting time for productivity tablets.