The Fitbit Ace is Fitbit's first fitness tracker for kids and costs $99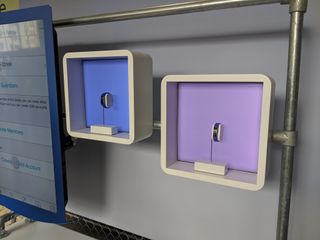 The Fitbit Versa is Fitbit's most prominent product in its spring lineup, but it'll also be joined by the company's first fitness tracker made specifically for kids — the Fitbit Ace.
The Fitbit Ace adopts the same general design found with the Fitbit Alta, meaning it's got a small digital screen on the front that's surrounded by a comfortable silicone band. The body is smaller compared to the Alta and is intended to grow with kids as they get bigger, and its waterproof design means you won't have to worry about the Ace being worn in the shower.
You'll find 5+ days of battery life on the Ace, and it accurately tracks steps, active minutes, and sleep. Kids will get reminders to get at least 250 steps each hour, and per the recommendation of the World Health Organization for kids between 7 and 17, the Ace will encourage users to get 60 active minutes each day.
Kids will get rewards and collectible badges for completing specific challenges, there are 10 different clock faces available to change up the look of the Ace, and it's available in two fun colors: Electric Blue and Power Purple.
Young ones will be able to sync and view all of their data through the Fitbit app like adult users, but they'll be grouped under new family accounts that Fitbit's also launching alongside the Ace. Stats that kids view are altered (for example, they won't see how many calories they've burned), parents can choose who their children can accept friend requests from, and you can enable a kid view on your main Fitbit app to see how much activity and sleep the little rascals are actually getting.
Why is Fitbit releasing the Ace in the first place? 1 out of 5 kids in the United States are obese and 2 out of 3 kids are inactive every single day. With the Ace, Fitbit wants to cut those numbers down.
Per Fitbit Co-Founder and CEO, James Park:
Pre-orders for the Fitbit Ace are live right now, and it'll be made available at Amazon, Best Buy, Kohl's, and Target in North America. Pricing is set at just $99.95.
See at Fitbit (opens in new tab)
Android Central Newsletter
Get instant access to breaking news, the hottest reviews, great deals and helpful tips
Joe Maring was a Senior Editor for Android Central between 2017 and 2021. You can reach him on Twitter at @JoeMaring1.
They should have included GPS tracking.

There's only 1 kids fitness band you need and it's the Xiaomi MiBand2.
It's 35 bucks and does everything a fitbit does. It's also the only band that is svelte enough for rough housing kids, and has dozens of different unbreakable bands you can use, many with kid designs. This fitbit band looks bulky at the top.. remember kids have small wrists. I never understood why they always tried pushing those large ass watches as kids items: https://images-na.ssl-images-amazon.com/images/I/71j-m6iDsCL._SX522_.jpg
What kid is going to wear that all day? I find the mi band to be a great band for an Adult as well. I have one and my kids all got one for Christmas. They wear them religiously and are extremely motivated when they see the step count to push further. Plus it has heartbeat sensor and its open API so there are additional apps that let you get vibration and visual alerts for any app you want. I use mine a vibration notification for when I get a text, email, call, or my home security camera detects motion. There's truly no point in making any newer bands that don't have a face.. especially for a cost higher than $50. They also have a successor with a face called the amaze bip .. same open api but has a larger face. Only $80... I can't see anyone paying more than that these days for a fitness band. Give it up fitbit..

The Xiaomi MiBand2 looks like the same size as the Fitbit Ace, but the MiBand's module seems like it would be easier to dislodge from the band than one in the Ace. People will go with the brand they're more familiar with or trust more. That's why Apple can overprice phones and people still buy them. I'm not saying Xiaomi's products aren't good, but until they're a household name they won't have much of a foothold in the US. Their Mi Mix phones are very interesting.

My daughter likes her Garmin Vivo Fit Jr...probably because they have several Disney themes and built in games. Cost was $60...and the built in games are fun. T

So...it's just like every other Fitbit but with a smaller band?

Is this sad that it's needed? I think so, not sure though.

I don't think it's needed, but they're trying to sell it

I would order one right now if they included tracking. My son has autism and flight risks are common in people with autism. This would be very beneficial to parents and children alike.
Android Central Newsletter
Get instant access to breaking news, the hottest reviews, great deals and helpful tips
Thank you for signing up to Android Central. You will receive a verification email shortly.
There was a problem. Please refresh the page and try again.