Zizo cases for the Galaxy Note 8: Rugged, stylish, and a little bit weird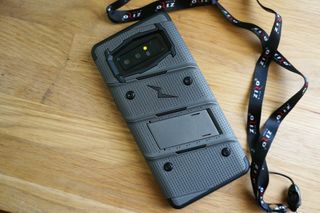 Starting at over $900, the Galaxy Note 8 is as expensive as flagship phones come. Keeping the Note 8 protected at all times will likely require a case rugged enough to withstand everything that life throws at you along with a tempered glass screen protector, too.
If you know you'll need that full protection Zizo shipped us their full line of cases for the Note 8 for us to check out so let's dive in!
Bolt Series case
The Bold Series case is Zizo's flagship case. It comes not only with a tempered glass screen protector but a 360-degree swiveling belt clip holster and an optional lanyard you'll need to install before inserting your phone.
The angled ridges on the back seem to indicate this case was designed to be held in your left hand — your fingers naturally find the ridges, and the plastic rivets are interesting touches. On the inside is a grid of shock-dispersing channels that will help keep your phone unharmed after a nasty drop.
This is a rugged, dual-layer case that also includes a reinforced kickstand on the back. Along with the screen protector and all the other includes accessories and features, this is a great value at just $18.
See at Amazon (opens in new tab)
Proton Series case
Combining the views provided by a clear case and the rugged bumper of a heavy duty case, the Proton Series case is perfect for anyone who loves the idea of a clear case but also doesn't want to skimp on protection.
It's actually a three-piece case that is easy to install but tricky to remove your phone from in our experience — better than the alternative when we're talking about accessories designed to keep your phone safe. The bumper is textured to ensure good grip.
This case includes covers for the charging port and headphone jack, and is available in six bold color choices — all for just $14.
See at Amazon (opens in new tab)
Retro Series case
As the name implies, the Retro Series case has a look that feels reminiscent of a classic car or retro diner. Zizo sent us the Baby Blue/Silver version and it certainly lives up to its name.
It's got a simple and elegant design on the back, with the ridged silver section doubling as a pop-up kickstand complete with magnetic closure. Also hidden under the kickstand is a card slot for hiding a credit card or ID — it's a really clever use of space. The bumper also features stylish ridges to help with grip, but it also may remind Star Wars fans of the design of Kylo Ren's mask, especially on the Black or Gray/Silver cases.
Even the inside of this case is stylishly designed, with an interesting pattern circles designed to help with absorbing shock. You can get yours in your choice of color for just $17.
See at Amazon (opens in new tab)
ATOM Series case
The ATOM series case is proof of the old adage that less is more. This is the most minimalist case in the Zizo arsenal, and feels the most rugged thanks to the premium aluminum bumper and the slick locking mechanism at the top.
It's a simple and elegant design that feels really well-built. Even the clear backplate feels sturdier than other cases we've tested. There's a thin strip of TPU between the aluminum of the case and the front lip provides protection for the screen.
If you're looking for a minimalist case that's also incredibly rugged and literally feels cool in your hand, grab the Zizo ATOM series case for just $22.
See at Amazon (opens in new tab)
Static Series case
Zizo has once again done a great job with the Static Series case, striking the balance of being rugged while also maintaining a slim profile.
Zizo sent us the red version of their Static Series of cases, which reminds us of a Ferrari with its sleek scoops and other design elements on the back. The design also features a kickstand that blends in nicely with the case when not in use.
It's available in six different color options and is one of the best values offered by Zizo at just $11.
See at Amazon (opens in new tab)
Shock 2.0 Series case
Another sleek and stylish case with a clear backing option, the Shock 2.0 case features a toned-down design with aesthetic flourishes on the back but otherwise clean and smooth surfaces around the bumper.
The buttons appear to be made of metal and contrast well against black or any of the five other color options available. As always there's shock absorbing grooves along the inside of the case and ample cutouts around the ports and S Pen at the bottom. You can get yours for just $17.
See at Amazon (opens in new tab)
These are our favorite Zizo cases but you can browse through everything that Zizo has to offer for the Note 8 they have to offer by clicking through below
See Zizo on Amazon (opens in new tab)
Android Central Newsletter
Get instant access to breaking news, the hottest reviews, great deals and helpful tips
I have the red and blue Bolt cases just to mix things up a bit. Having large hands the relative bulkiness of these cases are no hindrance to my using the Note8 and since I'm a shell-holster w/built-in kickstand devotee from way back the Zizo Bolt case is a natural for me.

Little to thick for my n8 but they do look nice

Looks big too when clipped to my belt and worn on the outside of my clothing; getting into small-tablet territory riding on my right hip. As I'm tall, 6'7", it seems in-proportion to me.

Ikr I ware a belt holster mainly when I'm at the gym . I'll buy a cheap holster on ebay just for the belt clip an through the case out , my spigen armor fits perfect

I like that choice also. I have their Neo Hybrid in Gunmetal with an Encased top-clip holster which is an easier draw than the Zizo but (slightly) trickier to re-seat by feel alone. The Neo is quite slim and form-fitting and feels more 'wieldy' than the Zizo; but for the daily bump and grind I typically go with the Zizo. When 'manners' are the order of the day I'll put the Note8 in the Neo which is arguably more elegant now that I have compared them side-by-side.

The Bolt and Static Series appear to be a little too wild for my taste. I prefer smooth lines and and a bit more symmetry from top to bottom.
I personally wouldn't rock a case like that for everyday use or in a business environment. To each his own though.

DON'T buy the bolt case... It's texture is like nails on a chalk board and the little nut things sticking out on the back make it rock back and forth unevenly... I hate the case with a passion. It's just so terrible...

My only problem with the static was there is NO!! Screen protection what's so ever. The lip is so minimal that a drop in the right way would send this phone running to be repaired. It is very nice and minimalistic but without having that lip for some protection I was too scared to keep it on my phone for long...I ended up trading it in for a Spigen Tough Armor. Much more of a grip to the phone and still maintains the minimal size and yet has a decent lip for screen protection.

I have the Retro case in the same color as the article. It's a good looking case with good protection but the sides are too large for my taste. I prefer a slimmer edge. I also have a Zizo Nebula model that has an ID slot and a magnetic zippered money/coin wallet that covers the ID. The glass screen protector that comes with the Zizo cases is really good with full adhesive and good connectivity.
Android Central Newsletter
Get instant access to breaking news, the hottest reviews, great deals and helpful tips
Thank you for signing up to Android Central. You will receive a verification email shortly.
There was a problem. Please refresh the page and try again.