HTC Nexus 9: First leaked image emerges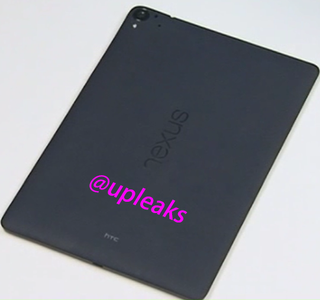 After months of rumors and leaks, we're now witnessing the first leaked images of what may be the upcoming Nexus 9. The image, leaked by @upleaks, features the Nexus branding as well as an HTC logo at the bottom and what appears to be a more squarish form factor than most Android slates.
In the top left there's a rear camera with LED flash, along with a couple of extra notches of unknown function. Down below is what appears to be a microUSB port. So nothing too shocking, but it lines up with what we're expecting to see from the upcoming Nexus tablet, which is likely to launch with Android L
We can also make out that the device will feature a similar matte-style finish at the back as earlier Nexus tablets. As for the internal hardware, it is rumored that the Nexus 9 will feature NVIDIA's Tegra K1 chip. Although an exact launch date hasn't been confirmed yet, the tablet is expected to make an official debut sometime later this month.
What are your thoughts on the design of the Nexus 9?
Source: Twitter (@upleaks)
Get the Android Central Newsletter
Instant access to breaking news, the hottest reviews, great deals and helpful tips.
Harish Jonnalagadda is a Senior Editor overseeing Asia at Android Central. He leads the site's coverage of Chinese phone brands, contributing to reviews, features, and buying guides. He also writes about storage servers, audio products, and the semiconductor industry. Contact him on Twitter at @chunkynerd.
"What are your thoughts on the design of the Nexus 9?" HTC, just take my money, already.

Yes. Take his money and give me the device! Posted via the Xperia Z4

Please let it be reasonably priced. Hopefully somewhere around $300 Posted via Android Central App

It will, it has to be. It's plastic and it has an awkward resolution.

Got tired of waiting and bought a LG G Pad 8.3 on the cheap. Posted from my LG LS970 via "The Force"

What did u pay? Posted via Android Central App on The Nexus 5

Just looked on Amazon, and there are some pretty cheap used LG G Pad 8.3's, starting about $150 or so. That's pretty good.

Not bad 8.3, is a nice piece of kit, I'll only get $150 for my QHD Nexus 10, but if I couldn't wait, I'd get the shield tab, with 4G, mainly 4G, because of the 32 GB of flash. But I'll wait for the 4X64, ie., 64 bit chip, OS, core apps, 64 GB flash option and 192 GPUs, in Nexus 9.

$198.99 at Sam's Club. The LTE Verizon would be nice too after it's rooted, loki patched and debloated. Stick a T-Mobile sim in it and life will be good. Posted from my LG LS970 via "The Force"

The "N" in Nexus looks kinda wierd....half there. Still cool though. Maybe a prototype?

seems like a normal "n" with some reflection on it.

Pretty sure that's just cut off due to the pink @upleaks stamp

What he said Sent from my Nexus 5

My thoughts are I just woke up to this and it's a great thing to see while sipping my coffee. Posted via the Android Central App

You know it's a promotion when only a blurry image of the backside is "leaked"....

If this "more squarish form factor" is true - then i am out!

If this is a 4:3 aspect ratio then I'm definitely out to. I wanted to get a Nexus tablet, looks like I'll have to wait at least another generation.

It's 16.9 ratio... It Just has ultra huge bezels for boomsound speakers :-) Posted via the Android Central App

I sure hope you meant 16:10...

I agree, it looks more like the aspect ratio of an iPad mini but I must say I prefer that for most web use. I find the web is still better (and most reading style apps) for 4x3 as well as photographs. Video is the only time I find myself wanting 16x9

credit cards at the ready!

IMHO 16:9 works good with 7" like the nexus 7. But everything that's bigger than 8" 4:3 is way better for browsing, games and so on.

I think it's 16:10 for the Nexus 7.

"NVIDIA's Tegra K1 chip" Can someone tell me

Tell you what? Posted via Android Central App

if its a good chip? sorry i mean the N7 2012 got a tegra chip but the 2013 gotta Qualcomm Snapdragon S4Pro i don't know what that means but it seems that the n7 2013 is better

Of course the Nexus 7/2014, is better than the Nexus 7/2013, there'd been 12 months of technological advancements, but remember the breakthrough, that having a dozen GPU cores was, now we have 24 months of advancements and 192 GPU cores, in 64 bit chip, OS, core apps, will be just as big a leap. Loved my 32 GB 2013 Nexus 7, my sister still has it and the 3G 32 GB 2013 N7, I recently got her, she refused to upgrade to the 2014 N7, I offered her, as a free upgrade, K1's graphics, are desktop like. Posted via the Android Central App

Gonna be awesome. 64 bit Tegra K1 " Denver " chip :)

Definitely can't wait for this tablet!!
As I'm a student who would primarily want to read or take notes on it I think 4:3 would work well for my needs.
I'm hoping for a really good screen and that its not too heavy.

It reminds me of an ipad, don't know if I like it yet. Need to see the specs Posted via Android Central App

Now I wish I had a Fire Phone so I could use Dynamic Perspective to look at the front... Posted via Android Central App

lol, right ;-) that was a good one

It's look like an exact stretch design of the Nexus 5 just with HTC label on it ( in the same spot as the LG on the nexus5) even the camera and the round corners...

Was expecting a metal alloy back cover, DEVASTATED Posted via Android Central App

I'M THROWING MONEY AT THE SCREEN BUT NOTHING IS HAPPENING

That's because your using Paypal, on a joint account credit card, lol, ha, ha !! Posted via the Android Central App

I'm still happy with my Nexus 7 and Nexus 5. They still feel fresh. I'll pass. Posted via Android Central App

Yup, but the nexus 10 is too old, I'm pretty excited about a new full sized nexus tablet.

oh, you dont actually HAVE to buy all the latest gadgets you know..

I don't believe you :-) Posted via Android Central App

If it's a 2012 Nexus 7 like mine, I don't see how you can pass. That device is getting a bit sluggish for me sometimes.

Me too Sent from my Nexus 5

Does yours have a charging issue? Mine is taking too long to charge. i've had it take 17 hrs once and it was OFF half the time. Other times even 8-9 hours and still doesn't charge. different cables and plugs don't make a difference,.

2012 n7 should have been recalled. Only automobiles get recalled. I was also "lucky" to have gotten a first run ps1 back in the day. Posted via Android Central App

need to see front...front × 4.3 = take $ now! Posted via the Android Central App

Darn, I was hoping for the aluminum finish like my HTC One M8. Posted via Android Central App

How can you tell it isn't an aluminum finish from that grainy pic? Is it the matte look? The M8 has a black aluminum finish you couldn't tell if a picture like the one above was taken.

He said that because the last couple Nexus devices have had that soft touch back. It's not a leap to assume that this will also be soft touch. It looks exactly like the Nexus 5 and Nexus 7. Not to mention that if it was an aluminum finish on the back, there'd be some kind of reflection, but as it stands the only reflection is on the 'n' in "nexus"

I was basing it off if what I can see in the picture and the fact that the article also indicates that it looks like a matte finish. Aluminum is pretty easy to spot. If it comes out and it is aluminum, I suspect that this device will likely have been a prototype of sorts. Posted via Android Central App

I guess so. I just find ironic that we are discussing a 2K screen device and we are left to squint at a low res pic like we are looking at s big foot sighting. All these picture leaks look like they were taken on my flip phone from 2000. Posted via Android Central App

A tablet with LED flash? Finally. I can't wait Posted via Android Central App

It's also on the Galaxy tab pros and galaxy tab s series Posted via the Android Central App

Didn't know that. Thanks for the heads up. The Xoom had it and I used it often. LED flash comes in handy. Posted via Android Central App

My 2 year old (almost) N10 has an LED flash & front facing stereo speakers & a 2560x1600 screen. Its still quite fast & works great. As long as the battery holds out & it gets Android L, I'm sticking with it. Posted via a beautiful Ebony backed Moto X on Verizon or the amazing Nexus 10 using the Android Central App

Yea it's a great tablet but I feel that it's struggling a bit now. When it came out 2012 it was pretty spectacular with that lovely screen it has... ;-) Posted via Android Central App on my LG G2

Don't get to excited, it is an HTC camera... they do leave something to be desired with their camera designs. I'm an HTC fan, and I could care less about a camera on my tablet. Take my money now! :)

I would LOVE to see a device with a snapdragon 108 :P Posted via the Android Central App

Not really using Nexus 7 much...prefer laptop still...Either the Nexus 6 or another One+ are big enough for me. Posted via Serenity

Headphone Jack on top.... Son of a b#tch Posted via the Android Central App

Best part about the on-screen buttons... any side can be the top! So just flip it upside down and continue using it.

I'd like headphone jack and USB on same side for less clutter Posted via the Android Central App

Headphone Jack on top... Son on of.... Posted via the Android Central App

Looks good by me! I look forward to seeing what they price this at. If the price is right I plan to pick one up!

looks like blown up next 5

Nice. Exactly the design style I was looking for. It seems 4:3 looks pretty certain at this point. All good stuff. Google, HTC, you have my money. Posted via the Android Central App

I hope it isn't 4:3 ratio. My iPad 2 all over again.... 3:2 ratio is the best, not too square, not to rectangular. Works good in portrait and landscape. Only devices that have it are nook hd+ and surface pro 3. Posted via Android Central App on 1+1

Well, it certainly doesn't look premium, so the price better stay reasonable. Posted via Android Central App

Looks like I will finally retire my Xoom (Omni Rom), which has soldiered on longer than I ever expected.

Same here, but on Cyanogen 10.0. It's either this or the Z3 tablet compact.

I'll probably retire my Nexus 10 even though nothing will ever top that bad boy. Posted via Android Central App

I'm throwing money at the screen but no Nexus 9 is appearing on my desk as a result. :-(

You're the second person to say that. Unfortunately neither of you were funny...

Seems like the perfect upgrade for my 2012 N7.
But I'm worried about off the bat app compatibility with 4:3

I wonder if they went 2k display for this one? I'd be good with 1080p just please please have boomsound speakers! Posted via the Android Central App

I just hope I can copy files (photos) from an OTG attached SD card to the external SD card!

Then you'll be disappointed. This probably won't have an SD card slot Posted via the Android Central App

Wow - so maybe the Nvidia Shield or stick with my Note 8 which I can use My Files on

Note 8 is pretty good Posted via Android Central App

Yes I know - maybe I should keep it as it's pretty new and it works well. I've used it on a 3 week vacation with no issues or need to use a "real" PC. I am going on a long trip next spring - 6 weeks in S America - which I'm a little nervous about using a tablet the whole time plus I'll be shooting and pre-filtering lots of raw pics. Thanks.

I decided to get an nVidia Shield Tablet LTE instead, as I doubt Gamestream would ever come to a Nexus tablet. Plus, I'm not a fan of large 4:3 tablets. Posted via the Android Central App

It is too big, but 64 bit, 64 GB option, why wouldn't gamestream, be on it, Nvidia wants the trade, still shield tab, very beautiful, think it has a micro SD card slot, where you can drop a 128 GB card. Resale will be easy, if you change your mind with 32 GB and 4G. Posted via the Android Central App

Gamestream will come to Nexus 9, as an app, but if you change your mind, you'll get great resale, on a 32 GB, 4G, 192 GPU core tablet, I want 64 bit chip OS, core apps and 64 GB option. Posted via the Android Central App

I definitely want a Nexus 6, but may be tempted by this also if it is great pricing.

Dear HTC, - Samsung already stole my tablet money: Galaxy Tab 8.4 with Google Now Launcher. Unless L is really compelling on a tablet, I fear I won't have enough excuses at hand to purchase this wonder. Best of luck, I love you Sincerely
Lars

Had hoped for a new Nexus 7 tablet
I need a new tablet, so maybe I'll buy the Nexus 7 (2013) before it's removed from the stores...
Or maybe I'll buy the Nexus 9 - not sure...

Maybe I should just get the Nexus 6, and use it as a tablet lol :)

So it shouldn't be as expensive as earlier thought. No metal body. Definitely doesn't look like its made with high end materials. So still hoping for that $300 price. $349?

Nice I'll be giving my N7 to the wife and upgrading Posted via the Android Central App

I'm glad to see they've kept the same [relative] design as the 7 and the 5 with this release. I'm not sure what's up with the 6 at this point.... LOL

I agree, they should definitely try to stick to a recognizable design language. Every other brand has design elements that make it stand out from the crowd. HTC with the speakers, Samsung with Apple's home button ;) LG with the rear buttons. My AC App signature lacks a witty comment.

I'm hoping for a metal front, as I quite like the Nexus soft-touch backs, but also like HTC's metal builds. Interesting.
I'm perfectly happy with that 4:3 screen!

There has been talk of a keyboard cover from HTC. Perhaps that is the reason for a notch.
I love the idea of a keyboard cover, so will be watching carefully.

Hmmm... Looks like an iPad and that's not a bad thing, more stealth though... Can't wait to see some hands on videos...

Is it going to be 4:3? Looks awful. The black bars of doom n5

I'll dream even higher. Hopefully they launch it with a new, super fast, wireless charging pad. I'd buy it, even if not using standard Qi.

It doesn't have everything I want so this will surely suck and the device I bought in its place is better because I'm tech savvy and say so.

I see what you did there. Let me try: I happen to want this so what you say is only subjective and relevant to you. I'm also tech savvy and more reasonable but also don't want my choice to feel invalidated. Posted via the Android Central App

Obligatory Deez Nutz response!

I'm a sucker for Nexus devices and know will be buying this even though don't use tablet that much. Interesting they went for plastic back instead of metal like M8.

Probably a matte plastic like the Droid DNA to reduce the cost!

Metal backs on tablets dont feel right. They are too cold for one. Its not as noticable on a phone that is in your pocket all day. Second, the added weight makes it fall from a drop with a lot more force. Third is the price. Probably would add another 75 bucks to the price.

Content on Google Play Newstand would have to improve before I'd consider getting an Android tablet. Fir example, National Geographic is far better on the iPad than on Android devices. Posted via Android Central App

I desire very much as long the price is reasonable. Posted via Android Central App

Please there be a stylus :)

I really want to buy this, but I have never liked tegra devices. Had a transformer Prime, and then the original nexus 7 and they are always underpowered for day to day tasks like web browsing. and there have always been bluetooth issues. Maybe there will be an LTE version with a qualcomm chip in it.

I was all over this before I decided I'm going with a phablet. I don't have a real need for this anymore so that money will go to smartwatches. I'm good with just a cast/mirror to my laptop or tv from my phone.

Looks fake Posted via Android Central App

Wow HTC Desire S»HTC Desire HD»HTC One S»HTC M8 (Naked)

This screams photoshop to me. I'm withholding judgment until I see more.

ANOTHER freaking screen ratio to update all our apps for? Please be joking.

I have a feeling this is a fake.. looks way too much like a blown up Nexus 5..

Love it. Can't wait to get my hands on it! Bring it to the UK quickly! Posted via Android Central App

I'm surprised no one has mentioned those 2 black dots up near the camera. Sensors? And if so, for what?

Looks dumb. Just a large N 7 2013. I want one because I have the 2012. I'd prefer a really new design. AC App via Nexus 5

Hmmm. I reeaaly hope this is not the nexus 9. Please tell me that google is not going to follow in the footsteps of crApple and deploy a device with a 4:3 ratio... What the?? I love my nexus 10 with its 16:10 aspect screen and have been waiting to update to this for 12 or so months. Not going to happen if this is the new tablet. Moving to Samsung..... Android=16:9/16:10 IOS=4:3 (for tablets at least) NOT HAPPY......