Firefox now available on Fire TV with support for YouTube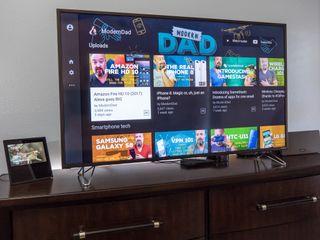 At the beginning of December, Google made the announcement that it'd be pulling its YouTube app from Amazon's Fire TV devices on January 1, 2018. Google's reason for this was due to Amazon not selling products like Chromecast and Google Home, and while Amazon's since started selling the former of those two things, Google's yet to revoke the YouTube ban.
Assuming Google does follow through and remove YouTube from Fire TV, Mozilla already has a workaround to ensure you can keep watching all of your favorite online content.
On December 20, Mozilla announced that it'd officially launched its Firefox web browser for the Fire TV. This enables users to go to their favorite sites like Instagram, Google, Pinterest, etc., but as Mozilla hints at multiple times in its announcement post, it's also a great way for "watching web video."
This is, of course, referring to the fact that you can watch YouTube on Firefox, and based on the screenshots Mozilla has shared, the YouTube web app you can access through it looks a lot like the app that's currently available for the Fire TV.
Firefox for Fire TV.
Mozilla says Firefox for Fire TV will work on 2nd generation Fire TV devices and newer, and although it's being targeted for U.S. users, anyone can download and use it.
Amazon Prime Video finally makes its way to Android TV
Joe Maring was a Senior Editor for Android Central between 2017 and 2021. You can reach him on Twitter at @JoeMaring1.
Google can probably do some browser/OS fingerprinting and still block YouTube via Firefox on Fire TV. Google probably has the fingerprinting under development if it isn't already finished.

I thought they removed YouTube support, because the amazon app was doing some type of work around to not show ads?

Quote from the Google spokesperson: "We've been trying to reach agreement with Amazon to give consumers access to each other's products and services... But Amazon doesn't carry Google products like Chromecast and Google Home, doesn't make Prime Video available for Google Cast users, and, last month, stopped selling some of Nest's latest products. Given this lack of reciprocity, we are no longer supporting YouTube on Echo Show and FireTV. We hope we can reach an agreement to resolve these issues soon."

So a browser that can install things without direct permission is a good thing? Or are we forgetting that they installed software in people's browsers the other day? I'd sooner sideload gnucat or iceweasel or something over Firefox anything. Any privacy stance they had is gone by a company that admits they can install random plugins in a browser without my direct opt-in.
Android Central Newsletter
Thank you for signing up to Android Central. You will receive a verification email shortly.
There was a problem. Please refresh the page and try again.