The Fi Fit Quiz lets you quickly see if Project Fi is right for you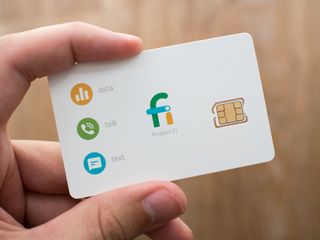 Google is making it easier for consumers looking to switch from their current carrier to Project Fi. The Project Fi website now features a Fi Fit Quiz, a tool that lets you figure out if the MVNO is a right fit for you. The tool lets you enter your home pin code to determine if Project Fi is available in your area, and lets you get an estimate of your monthly bill should you make the switch.
You can select the number of people on your plan, amount of data consumed per month, and the cost of your current plan. You'll also be able to see if your device is compatible with Fi — the service only works with Pixel and Nexus devices, so if you don't have a Fi-ready phone, you'll need to factor that into your decision to switch to the MVNO.
The quiz gives you a breakdown of the coverage map for your area, as well as a sample statement with net savings. If you don't have a Fi-ready phone, you'll be able to pick one up directly from the page. Overall, it's a nifty tool if you're considering switching to the MVNO.
Interested in seeing your potential savings? Take the quiz from the link below.
Get the Android Central Newsletter
Instant access to breaking news, the hottest reviews, great deals and helpful tips.
Harish Jonnalagadda is a Senior Editor overseeing Asia at Android Central. He leads the site's coverage of Chinese phone brands, contributing to reviews, features, and buying guides. He also writes about storage servers, audio products, and the semiconductor industry. Contact him on Twitter at @chunkynerd.
Not good for data hungry users

Yeah. My partner uses Fi, and it's great for her because she uses around 4GB a month. I use 24-28GB a month on average, so T-Mobile is a much, much better option for me.

FYI.....stay far away from anything that associates itself with Sprint!!!!

When I had Project FI, it worked great both when connected through Sprint or T-Mobile. The reason to stay away from Project FI is price. Two good reasons to go to Project FI are if you travel internationally frequently in countries where Project FI has service or you live in a rural area of the country with poor cellular service. My sister and her grown children live in SW Wisconsin. They have been happy with Project FI b/c they finally have good service as Project FI switches between 3 carriers in their area.

Been on Fi for over a year ...the new unlimited data plans sound great but I don't need to be paying a 60 dollar plus a month bill ...my fi bill has been 27 bucks a month. That's a huge savings over the year. I've had no issues with the service and the fi app and customer service has been great. Hopefully Google keeps Fi around.

MintSim costs a LOT less if you prepay for a year.

I would use it, if they allowed Samsung phones.

I am using a Galaxy S6 active right now on fi since my Nexus 5X went into bootloop and they don't have any refurbished in stock to replace it. I hope to wait until the new Pixel is announced before deciding what to do going forward. It appears with the phone I am using now that i don't get the network switching functionality.

My understanding, which voids Fi support warranties, is that a non Nexus or Pixel phone will work only on T-Mobiles Network. Do you still have wi-fi calling? That seems to be one of the questions about using an unsupported phone. I need a little more storage (for reasons that didn't exists when I bought my Pixel) and am considering another phone but I've been happy with Fi as I'm not a huge data user and found the automatic connection to open wifi to be spotty and in many cases these networks just slow things down so I'm OK losing that feature as well. I was a T-Mo customer before Fi so I'm familiar with the coverage. I will say that Fi was a dream in Mexico where I had strong service and no addl charges for data. It was exactly as if I was at home.

You can use any unlocked phone. Text call and data works but not mms or WiFi calling and stuff. It needs the fi app to do that and only in supported phones it will do that. I use in nexus 5x and s6 and I don't get mms in s6.

FI Fit Quiz is not useful. I don't travel internationally. I use more than 5GB of LTE Data each month. I used to have Project FI but now have MintSim.
For 10GB LTE data (plus unlimited talk and text), I pay $27 a month to MintSim (actually prepaid 1 year in advance after a 20% off sale). Project FI would cost me $70 with just the 5GB of LTE Data and much more for 10GB (over $100). Yet the FI Fit Quiz said I should try Project FI - it did warn me that Project FI cost more but it was still worth it. What!

FI Fit Quiz is not useful,,,,,for you. It is useful for others, which is kind of the point of the quiz.

But the quiz said it was useful (it said that I should try Project FI). So it is advertising masking as a fake quiz.

Only good if you don't use data

It shows that I'm not going to save anything. I think the quiz is a start but could be better.

IMHO, Project FI is good for:
1. People who travel frequently to countries supported by Project FI.
2. People in some rural areas where carrier switching improves their service.
3. People who don't mind to waste money - there are other alternatives that are much cheaper - MintSim when prepaid for a year. The quiz is a advertising posing as a fake quiz.

"The quiz is a advertising posing as a fake quiz."
Kind of like you trolling M***S** posing as a commenter?

Nope, just a happy customer of MintSim - having tried both Project FI and MintSim. And it is a fake quiz - I entered what my existing service costs and even though Project FI was more than twice as much - the quiz still recommended Project FI (and I told it that I didn't travel internationally). I am annoyed that other companies are overcharging compared to MintSim - and anyone who wants to save money should consider MintSim.
Disclaimer - I am retired and receive no payments from anyone for any of my comments or recommendations. I worked in the oil industry and later in higher education during my working career.

It'll recommend Fi to anyone, it's an ad. I would be willing to bet that if you said your monthly service costs you $3 a month the quiz would still recommend you try Fi.

Yes, it's a promotional tool. I guess I'm a little shocked that this comes as a surprise.

Project Fi was a REALLY good idea. But, with unlimited options going and Fi pricing unchanged, it's just not an option.

I use mms all the time and wifi calling helps in under metal roofs which happens often.

It would not work for me because the coverage map at home says it would be 3g service

If one is usually in locations with WiFi, there is no data charge. We use Project Fi and are very happy with it. Switching from T-Mobile our bill dropped to less than half.

More people would use their service if they didn't require Nexus (ooops) - Pixel devices. I'm sure this is a Beta testing in a few years it will open up to more devices...then Google is gonna take down VerHizon and then...The white house - they have already infected your mind, phone,bathroom, food, and now Google will effect your heart. It's all in the rhythm California dreamin,

It's requirements for the phone are a bit onerous, I suppose if you are inclined to use a Pixel or Nexus then that takes care of half the problem. But what about the paltry amount of data you get? There are more generous offerings from any number of MVNO's for the same amount of money or slightly more. $10 per GB seems like extortion.