Everything You Could Want Is Packed In This Smart Wallet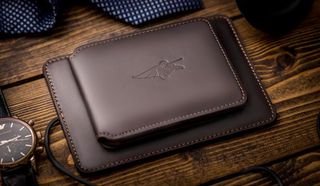 We're living in an increasingly cashless society where even your debit, credit, and loyalty cards are starting to go digital, too. That might make that leather wallet in your back pocket feel pretty obsolete, but that doesn't mean that all wallets are made equal in 2018.
The Volterman team has been working on a lineup of the most technologically advanced wallets you've ever seen. These slim and lightweight leather wallets include useful features including a built-in power bank, GPS tracking, a distance alarm so you never leave your wallet (or phone) behind, and even a tiny camera that becomes active when you set your wallet to "Lost Mode" in the Volterman app — available for Android (opens in new tab) — that will snap a picture if any would-be thieves.
Volterman wallets are made of premium leather or faux leather (you get to choose which you want) and feature a sleek and stylish design. There are three styles to choose from: a basic Cardholder wallet, a more traditional Bifold wallet, and a larger Travel wallet that's big enough to stow away your passport. All the high-tech features are included in each model, so no matter which style you opt for you'll get one all the cool features, including wireless charging functionality!
You can get the Volterman Cardholder perk with a $115 pledge, the Bifold wallet perk with a $169 pledge, or the Travel wallet with a pledge of $179. You'll save up to 40% off the retail price for these wallets so it's quite a deal for a futuristic wallet that you'll cherish for years.
This is the first Indiegogo campaign by Volterman which has already raised nearly $2.5 million and have already started shipping to backers — but you're still able to pledge to get your own. Volterman has been active on their page responding to backers and they seem to be set to support their products for the foreseeable future.
Occasionally we find some really cool Kickstarter projects that are so cool we feel the need to share them with our valued readers.
Marc Lagace was an Apps and Games Editor at Android Central between 2016 and 2020. You can reach out to him on Twitter [@spacelagace.
LOL this is so stupid. My personal opinion.

After the superbook fiasco, no more kickstarter for me.

Would have been better to start the article stating it was a kickstart style thing... Screw that... The explicit attempt to trick people is what makes me say no to this... Otherwise I might have at least looked at it... But nope. If it isn't in the stores I'm not getting it. Not paying 200 dollars to be an alpha tester...

This is exactly what I would have wrote.

Charge my wallet?? No thanks..

One would have to put it on a charge card, get it, then charge it. LoL.
The card slot only, would make sense as, their would be no money left to put in it. LoL!!!

I was one of the first backers of this product on KICKSTART and after loosing all my money with the PLASTC fraud campaign, I started to have my doubts about these guys and after the 3rd delay I decided to ask for my money back. Although they were not willing to do it first, they decided to give me my money, so I am happy for that, at least they are not thieves like Ryan Marquis of PLASTC. But the product changed a little from the original concept (still changed), the deliver dates are also very unstable, there are things of the whole functionality pending (like the web site), in general, I don't know why ANDROID CENTRAL consider this a complete product, even if it is cool, that doesn't mean that they deserve the "free advertisement" that they are getting here.
Android Central Newsletter
Get the best of Android Central in in your inbox, every day!
Thank you for signing up to Android Central. You will receive a verification email shortly.
There was a problem. Please refresh the page and try again.