Here's every game you can play for free on Stadia without a Stadia Pro subscription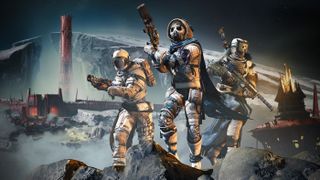 (Image credit: Bungie)
There are still lots of misconceptions surrounding Google's cloud-based gaming platform, Stadia, even after over a year of availability. Despite what you might think, Stadia does not require an active subscription to use. Instead, the Stadia Pro subscription offers optional perks such as 4K streaming and a robust catalog of free Stadia Pro games as long as you remained subscribed. But it's not required at all. You can just go buy the games you actually want to play like you can on PS5, PC, Nintendo Switch, or Xbox Series X.
That being said, also just like all of those other platforms, there are some games on Stadia that are 100% free to access and play. In fact, two of these free games are on my overall list of the best Stadia games. You don't even have to buy any hardware to do so if you've already got a smartphone or PC that can access a web browser like Google Chrome or Microsoft Edge.
Free Stadia games
Here is the full list of every free game on Stadia that you can access and play even without a Stadia Pro subscription. It's only three games right now, but they're all worth checking out.
Game builder
Crayta: Starter Edition on Stadia
The game-making game
Think of Crayta like a combination of the world-building and game creation tool set of something like Roblox, but it's distilled down into an accessible and appealing format with Fortnite-style visuals. You can crack open the editor via web browser on Stadia with a keyboard to really get into the nuts and bolts or just hop on for some quick and easy fun with friends. Crayta is whatever you want it to be, so it's a great endless supply of fun at no charge on Stadia.
Loot and shoot
Good luck, Guardian
The ability to play Bungie's popular first-person shooter on your phone is one of the most exciting things about Stadia. The base game and plenty of zones are free with your Stadia account so you can test out the mechanics and explore the game's strange worlds on your own or with friends. Once you've honed your skills, you can start getting competitive with PvP or buy some of the expansions to keep the adventure going.
Dropping bombs
Bombs away
Super Bomberman R Online is a multiplayer-focused battle royale-style version of the classic Bomberman formula that pits 64 players against one another in a massive map to battle it out and be the last bomber standing. It even features a litany of iconic character skins from the wide range of Konami properties, such as Snake from Metal Gear Solid, Pyramid Head from Silent Hill, and even Castlevania characters.
You should expect the list to keep growing over time. Additionally, Google sometimes offers free-play on otherwise paid games for a limited time that you should keep an eye out for as well.
What else is there to play on Stadia?
Between these three games there is plenty to do on Stadia at no charge whatsoever. Whether you're down for some first-person shooter excellent in Destiny 2 or just want to hop between custom-made game worlds in Crayta, you can't really go wrong. But once you get tired of those three free games, there are tons more to play on Stadia.
Everything you need
A good way to start
You can play games on Stadia without any fees or hardware charges on your phone and PC right now, but grabbing the Stadia controller is your best option for couch gaming via Chromecast. With support for Android, iOS, web browsers, and of course Chromecast, the Stadia controller is a great option for enjoying all that Google's cloud-gaming service has to offer no matter which device you're on.
Be an expert in 5 minutes
Get the latest news from Android Central, your trusted companion in the world of Android