The EU opens a full-scale investigation into Google's Fitbit acquisition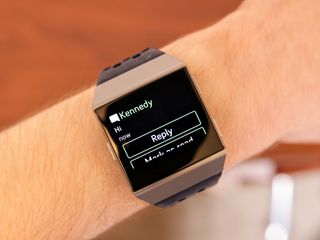 (Image credit: Android Central)
What you need to know
The EU will now investigate Google's $2.1 billion Fitbit purchase over a period of 90 days.
The body has concerns over whether Google could use wearable data to boost its online ads business.
The EU will also look into whether Google could degrade the experience of rival smartwatches and bands on Android once the purchase is completed.
The EU is opening a full-scale investigation into Google's Fitbit purchase, the body announced today. News of the impending investigation was reported last week by CNBC.
The European Commission is assessing the purchase over concerns that Google could use data from Fitbit users to build out its already formidable advertising business. It believes that data collected from wearables appear to be such an advantage or personalised ads that Google's rivals would never be able to compete if the company chose to integrate that data.
Executive Vice President of the European Commission, Margrethe Vestager, said:
Naturally, Google doesn't see it that way. The company says it did purchase Fitbit to boost a business, but that was its nonexistent hardware wearable business.
Writing on the Google Blog, SVP of Devices and Services, Rick Osterloh said:
Osterloh further reiterates Google's pledge of "devices, not data," but that wasn't enough. Elaborating on Google's earlier reported pledge not to use wearable data for ads by siloing it away, the Commission noted that it was "insufficient to clearly dismiss the serious doubts identified at this stage as to the effects of the transaction" and would not cover all the data Google would gain as a result of this transaction.
The Commission will also investigate whether Google could and would "degrade the interoperability of rivals' wearables with Google's Android operating system for smartphones once it owns Fitbit." It's hard to see Google doing something to interfere with Samsung devices without also severely damaging their relationship with the manufacturer. It's also hard to imagine Samsung or any other large Android OEM taking any such move lying down.
Then again, that is what the Commission plans to look into. The investigation will take up until December 9, 2020. Until then, the merger will remain on hold.
Fitbit Charge 4
Probes notwithstanding, Fitbit still makes some of the best wearables, and Charge 4 is one of our favorites. it blends style and sportiness with good battery life for a fairly low price.
Android Central Newsletter
Get instant access to breaking news, the hottest reviews, great deals and helpful tips
The EU Commission should block it on privacy concerns alone. No one in their right mind takes Google's word as good. Specially when they love to lie and bully their way through things (as we saw in the recent hearings in the US).
Of course Google purchased FitBit to harvest user health data. And of course Google will use it to sell people ads even if disguised as "services".
Google is a privacy threat to European customers and it should have been broken up a long time ago. Hopefully that can happen now with the help of the US. The Commission

Ah, European Comossions... Anti business socialist disgrace.... There is plenty of competition in wearables. The truth is all watch brands harvest data. For example, I have the Samsung Galaxy Watch. I can't add the Samsung weather app to my watch unless I agree to hand over my location data which in the the terms and conditions, it will sell to third parties.... There is no opt out of selling your location data... So I don't use the app. I check my local weather using a different app on my phone. What the commission should ask itself is why would you block Google from data, when every other manufacturer is doing exactly the same thing? While it may make some people uncomfortable, the reality is consumers receive a plethora of free to us mobile software in exchange for personal data... No company is really that interested in the human details of your life, they just want to sell you more stuff.
Android Central Newsletter
Get instant access to breaking news, the hottest reviews, great deals and helpful tips
Thank you for signing up to Android Central. You will receive a verification email shortly.
There was a problem. Please refresh the page and try again.