Essential Accessories for Moto Z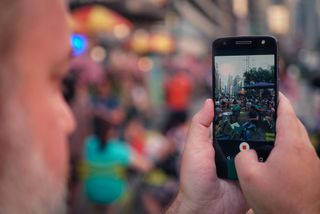 The Moto Z is a great phone, but it's even better with perfectly paired accessories. Here are the add-ons you need to know about.
Moto Style Shells
Moto Style Shells are the solution to when you want to change the look and feel of your Moto Z on the fly — they just snap on to the back of the phone and magnets hold them in place. You can quite literally have a day look and a night look for your phone if you feel like it.
As of this writing, the shells come in three textures — fabric, faux wood, and leather — with six varieties to choose from, including crimson ballistic fabric, washed oak, black leather, and more.
Just don't rely on them to provide much protection, since they don't cover the phone's edges — they just cover the back. That being said, they do keep the phone's back from heating up too much. You can grab one for about $15.
Tudia TPU Bumper Shock Absorption case
The Tudia TPU Bumper Shock Absorption case is not going to give you much protection from drops, but its flexible TPU composition will give you something to hold on to, which is a good thing because the Moto Z is an exceptionally thin phone.
It comes in clear, as well as several other colors, so whether you just want some extra protection that you can wrap around one of the Moto Style Shells without covering it up, or you want a different look, you have options.
If you're not looking for heavy-duty protection and/or you want a clear case that shows off your Style Shell, try the Tudia TPU Bumper Shock Absorption case, which starts at under $10.
NXET USB-C Charge Dock
If you're tired of having to fuss with USB cables everywhere, then the NXET USB-C Charge Dock is for you. It doesn't take up much space on your desk, or wherever you typically charge your Moto Z, and since it's USB-C, it will work right out of the box without the need for adapters.
While charging, your Moto Z will remain totally accessible, so you can swipe through your notifications, check the time, or play some tunes one-handed. It also lets you place your phone at three different angles, so you can always find the most comfortable view for you.
It is important to note that the NXET USB-C Charging Dock does not support fast charging, nor is it a wireless charger; however, it's a great option if you have limited space. It also supports USB 2.0 transfer speeds when connected to your computer and it'll run you about $20.
Cambond 6.6 foot USB-C cable
Do you keep misplacing your charging cables? Grab an extra one for charging or data transfer. This one from Cambond is 6.6 feet long and braided, so not only is it helpful for the aforementioned, but it's stylish, too. The cable's covering will also help it withstand fraying a bit longer than your average cable.
These cables are available in gold, black, gray, and silver. You can choose between USB-C to USB-C and USB-C to Type A, and they range from $10-$12.
TYLT Y-Charge
Find yourself often on the road accompanied by a dead smartphone? When your Moto Z and your extra Power Pack die, charge them both with the TYLT Y-Charge.
This car charger features two USB 2.0 ports and charges up to 4.2 Amps. You can charge other devices along with your Moto Z, too, and the Y design helps so that both you and your passenger won't get your cords tied up. The TYLT Y-Charge also comes with one-year limited warranty and it's available in four colors starting at $10.
Bose QuietComfort 35
The Moto Z family does not have a headphone jack. While it does come with a USB-C to 3.5mm adapter, having to lug around another cord that you can easily lose is less than ideal; a much better solution is to use Bluetooth headphones.
Featuring top-notch sound, an impressive battery life, best-in-class active noise cancellation, and extended listening comfort, you can't do better than the Bose QuietComfort 35 for Bluetooth headphones.
The QC-35 can last up to 20 hours on a single charge, so you can keep listening all day without worrying about your headphones dying out on you. And what's more, its Active EQ adjusts tone and balance automatically so that regardless of the volume, you'll hear every sound with almost no distortion.
The headphones start in at $350 a pair.
Moto Mods
Moto Mods are Moto Z add-ons that add to or enhance the functionality of the Moto Z phones. They are very easy to install and use: just snap them onto to the back of the Moto Z — that's it. They're held in place by magnets, so mounting and dismounting them is simply a matter of breaking the magnetic seal.
JBL SoundBoost Speaker
The JBL SoundBoost Speaker snaps onto the back of the phone and turns it into a miniature boombox. Yes, party like it's 1989, but without the acid-washed jeans, big hair, and bulky stereo.
With its two speakers pumping out sound at 3W each, you'll be bopping to the beat with no distortion, and with its built-in battery, you can enjoy your tunes for an extra 10 hours. The best thing? You don't have to worry about pairing or setting these up: just snap the speaker mod into the back of your phone and listen.
Grab a JBL SoundBoost Speaker if you like to rock your tunes without headphones, or if you want to pump out the jams at home or anywhere. We won't judge if you bring out your (or your parents') old parachute pants or bangle bracelets.
The JBL SoundBoost starts at $100.
Moto Insta-share Projector
When you want to share those photographs of your last vacation to Disney World or your expedition to Chichen Itza with your cousins, you can pop on the Moto Insta-Share Projector, another Moto Mod, and voilá! You have a 70-inch projector that transforms any flat surface into a gigantic screen.
It really is that simple to use: just snap it into place, aim it at an available wall, and you've got a huge screen on which to display photos or watch Netflix. The kickstand it comes with can adjust to any angle, so you can position the screen however you like. You'll also love the additional hour of projection time you get before the Insta-Share Projector starts using your phone's battery.
Whether you want to share pictures at a family get-together, or you want to watch the latest blockbuster on Netflix with friends, the Moto Insta-Share Projector is a must-have accessory for your Moto Z.
The Moto Insta-share Projector starts at $250.
Incipio offGRID Power Pack
As our own Phil Nickinson said in our review of the Moto Z, the Incipio OffGRID Power Pack is the Moto Mod that he would buy right away. According to him, it's well worth the money for that extra bit of juice.
The 2,220 mAh battery pack boosts the life of the phone by up to 22 hours and comes in designer options from Kate Spade New York and TUMI. I don't think Phil gives a hoot about that, but you might care about that sort of thing. There is also one that will recharge wirelessly.
The Incipio offGRID Power Pack starts at $90.
Hasselblad True Zoom
Wish you could see more gains in your smartphone lens, bro? The Hasselblad True Zoom is the latest Moto Mod and, like its name suggests, it offers true 10x optical zoom.
Once you snap it on, the Moto Z is transformed into a literal point and shoot. Use the shutter button to snap your photo and the zoom wheel to get close up on an object. The Hasselblad True Zoom Moto Mod also offers xenon flash so that you can shoot your pals even in the dead of night. When you're not using the True Zoom, you can stow it away in the included carrying case.
The Hasselblad True Zoom starts at $250.
Coming soon
More mods for the Moto Z family are coming your way later this summer! At present, we're waiting for the release of the second-gen JBL SoundBoost 2; Moto TurboPower Pack, which adds an extra 3,490mAh battery; Moto Style Shell with both PMA and Qi wireless charging capabilities; and the Moto GamePad, which adds two analog stick and a set of buttons for playing games on your device.
Updated June 2017: We've added a link to where you can pre-order the new Moto Mods coming this summer, as well as updated a few of the links in this article.
Get the Android Central Newsletter
Instant access to breaking news, the hottest reviews, great deals and helpful tips.
Florence Ion was formerly an editor and columnist at Android Central. She writes about Android-powered devices of all types and explores their usefulness in her everyday life. You can follow her on Twitter or watch her Tuesday nights on All About Android.