Essential Accessories For Google Pixel and Pixel XL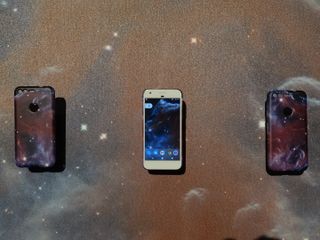 So you've just dropped a chunk of cash on a shiny new Pixel or Pixel XL — or maybe you're a longtime Pixel user who's been enjoying the phone since launch. In either case, a complete loadout of accessories is important.
Google has a wide range of first-party accessories for its first own-branded handset, and we've also rounded up some top essentials from elsewhere. Take a look!
Daydream View
OK, OK. This is a good deal larger (and a bit more expensive) than your traditional smartphone accessory. Nevertheless, Google's Daydream View headset is something you should definitely consider buying alongside your new Pixel. Google's new phones are the first to be fully Daydream-certified, and ready for use with Google's new VR platform. Here's what Russell Holly had to say in his review:
Daydream View doesn't have a huge number of apps or games right now, but the situation will only get better, and quickly.
See at Google Store (opens in new tab)
Google Live Cases
Google sells a range of traditional silicone cases for the Pixel and Pixel XL, but for just a little extra you can grab a Live Case. These are made of the same materials, but are customizable with your favorite photos, places (through stylized maps) or artworks. A tool on the Google Store website allows you to customize your Live Case to your liking.
The concept has been around for a while through Google's Nexus program. And Live Cases are a great way to make your Pixel or Pixel XL unique to you.
See at Google Store (opens in new tab)
Anker PowerLine USB-C to USB-C cable
Most USB-C phones charge over a USB-A to USB-C cable. Google's phones are a bit different — like the Nexus 5X and 6P, the Pixel's boxed charger is a USB-C brick, so you need a USB-C to USB-C cable like the one boxed with the phone.
These are still relatively hard to come by, so you might want to pick up a couple of spares. Anker's PowerLine C-to-C cable is a good cheap option for a reasonable long (3 foot) backup. And it also comes in black or white, so you can match the color of your cable to your phone.
See at Amazon (opens in new tab)
Anker PowerCore+ 26,800mAh USB-PD battery
The Pixel charges using the USB Power Delivery standard, and it's not easy to find batteries with this tech built in. That's exactly what you'll get with this Anker power bank, though, along with an enormous 26,800mAh capacity that'll see even the larger Pixel XL through multiple recharges. In fact, there's so much power and capacity on offer here that the Anker PowerCore+ 26,800 can even recharge USB-PD-compatible laptops, including Apple's newer MacBooks, and some Chromebooks.
This is a hefty power brick, but if you're going to be away from a wall plug for more than a day, you're guaranteed peace of mind and speedy charging with this model.
See at Amazon (opens in new tab)
Google 22.5W USB-C charger with USB-PD
Your Pixel will charge fastest with a USB-PD compatible charger and cable, and this is exactly what you're getting here. Google's 22.5W wall plug uses USB Power Delivery for faster charging, and comes bundled with a long 1.8 meter USB-C to USB-C cable, so you've got a reasonable amount of range while your Pixel is plugged in. And best of all, there's two ports, so you can charge another device from the same brick while your Pixel is plugged in.
This isn't the cheapest Pixel charging option, but you're guaranteed to be getting the official, Google-sanctioned wall plug here, which is capable of charging your Pixel as fast as possible.
See at Google (opens in new tab)
Chromecast
Even if you're not tempted by the flashy new 4K-capable Chromecast Ultra, the older second-generation Chromecast is well worth investing in. Google's year-old streaming dongle plugs into your TV over HDMI, and is small enough to be tucked behind your set. It's powered by a microUSB connector on its base.
Content up to 1080p is supported, with many popular streaming apps having built-in Google Cast support. For those that don't, Chromecast also lets you mirror the screen of any Chrome browser tab, or Android-based smartphones. Alternatively, the fancy new 4K Chromecast Ultra will go great with your fancy new TV.
See at Google (opens in new tab)
Anker USB-C to Micro-USB adapter (2 pack)
If you're moving from an older Android phone to a Pixel or Pixel XL, chances are you've got a mess of old Micro-USB connectors lying around. Anker's Micro-USB to USB-C adapters are small enough to fit in a wallet, and will let you use older cables with your Pixel.
See at Amazon (opens in new tab)
Android Wear Smartwatches
Android Wear smartwatches can you show you notifications, help you keep track of your fitness, and even run full-blown apps. Newer Android Wear 2.0 devices can even make payments using Android Pay, thanks to built-in NFC, and connect independently of your phone thanks to LTE support.
Check out our rundown of the best Android Wear watches to see what's worth buying.
See at Google (opens in new tab)
More: Best Android Wear smartwatches
Your favorite?
Do you have a favorite accessory not listed here? Let us know, and we'll consider adding it!
Update, July 2017: This list has been updated to include a new USB-PD power bank, and to recommend Google's Pixel C dual-port USB-PD power adapter, as the Pixel model is out of stock.
Get the Android Central Newsletter
Instant access to breaking news, the hottest reviews, great deals and helpful tips.
Alex was with Android Central for over a decade, producing written and video content for the site, and served as global Executive Editor from 2016 to 2022.
Man, I wish the cases would go live already, I have my live case designed and ready to go. Already have an extra charger on order. Can't wait for next week.

Don't worry about any of that stuff. The most critical accessory for a pixel and pixel xl is a high limit credit card.

if ur in the us, how much is it if you tac on a two year plan?

I'm getting my pixel tmrw, but hey the phone comes with two cords and a micro to usbc adapter, idk if u still want another charger but i was going to get one until i learned that

The Anker USB stuff is a must have good quality for price

saving up my money for that pixel xl. while the 128gb is on back order I'll have some time to get that money together!

Daydream VR is free with a Pixel phone "while supplies last".

Yep. I am going to sell mine to bring the cost of the Pixel down a little.

Yep, Google sent me an email that I'll be getting the Daydream free. I'm patiently waiting.

Benson Leung is frowning at you for recommending the adapters unless they have current limiting built in, and most don't.

Do 10 seconds of research and notice that the mentioned adapter has a 56kΩ resistor. This equates to your "current limiting built in".

The charger listed is available in the US for order via google's website now.

Pus if you have pre-ordered you get the VR headset for free. Not a bad deal. Got one case on pre-order from Amazon, but the live cases are where it is at. Love mine on my 6p,snug as a bug.

Spigen cases. So far, it looks like they will be offering 3 different cases (Rugged Armor, Liquid Crystal, and Ultra Hybrid). I sure hope Diztronic offers a case for the Pixels, but they are never 1st out the gate in offering TPU cases.

Long time Diztronic fan myself, back when they weren't even called Diztronic... Tho I've been using a red Cruzerlite the last two years on my N5, with the black Diztronic serving as backup and for very formal occasions. I like Cruzer's older designs with the patterned Andys or the circuit, not crazy about the one they're showing for the Pixel but I might try it anyway. What's with the weird/pastel/muted color choices of some of the first available cases on Amazon?

@impulses: thanks for the tip--and reminder--about Cruzerlite cases :-). I have a circuit case for my N7 2013 that works great.

@impulses: just remembered why I prefer Diztronic to CruzerLite -- CruzerLite likes to leave the volume and power buttons open while Diztronic keeps them covered. Then again, Diztronic offers 3 colors and CruzerLite offers like double that.....decisions, decisions :)

Actually, for the last 3 years or so Cruzer usually has one model with covered buttons and one without. The Bugdroid Circuit for the Pixel has button holes, the Androidified covers them. It was exactly the same on my Nexus 5. I've come to prefer them covered as well, just feels better if it's made properly and that side of the case ends up less floppy.

You rock. I'll revisit the CruzerLites!

Sigh. Just figured out that I like the Bugdroid Circuit design better than Androidified....Maybe I'll make do with open buttons on occasion.

I kinda like it better too, but I've been using it for so long on my Nexus 5 I'm ready for a change... Open buttons was never too much of an issue on the Nexus 5 since power and volume are on opposite sides... I remember it weakening the case more on my EVO LTE.

I'm a little OCD so closed buttons to keep out the dust is what I'm interested in. :-) But, if I consider it as a "change of clothes" for my phone and not the case that will stay on the phone for a year or two, I can live with open buttons to get a fresh look on occasion. :)

The Diztronic cases will be available "in about a week".
http://i.imgur.com/BTjU25e.jpg

The Live Cases do not cover the top and bottom rims of the phone. If you drop it, it'll get all scuffed up. Not thanks!

Because I pre-ordered the Pixel, I received an email from Google saying that I was eligible for a free Daydream VR.

Anker has been really disappointing lately when it comes to USB-C.
* No USB-C chargers with more than 1 more port (so i can charge my phone + battery)
* Only 1 USB-C PD charger, but it's huge and not a portable solution
* Batteries with USB-C are gigantic 20000mAh... (they now 2 models of that same capacity)
* The USB-C batteries don't charge over USB-C, but only via slow 2.4A 5V.... (Their non-USB-C batteries do charge faster) Ideally, I'd like Anker to come out with:
* USB-C charger with 2 USB-C ports, with both supporting PD of 18W+ each - that way I can charge both battery and phone)
* USB-C battery of 10000 mAh that has 2 USB-C ports, both supporting PD input and output - (that way I don't have to read small print to see which port is for charging)

Agreed, tho the bifurcation of Type C charging between Qualcomm Quick Charge and USB PD standards probably hasn't helped matters. I'd like a slim phone sized battery like my current Astro Slim 6,000, WITH a built in cable, that last detail plus the thin fun factor makes it so much more usable on a daily basis. I guess I probably won't need it as much with my Pixel as with my Nexus 5, so a more brick like battery could do, but I've really gotten used to carrying the phone in one pocket and battery in the other pretty seamlessly (and stuffing them both in one when charging with minimal bulk). Not to mention it's easy to hold both phone and battery together... I'll probably just get by with an adapter and slower charging until i find what I like... And resort to Benson's spreadsheet for some decent non Anker chargers, I think he has some Aukey models listed.

YES! I've had the same one and it was perfect. However, when I got my Nexus 6p, I had to retire it. The battery would stop charging when using the USB-A port with my Nexus 6P. I got their small 10000 charger instead, but it charges my phone very slowly.

I agree with you... I really like Anker too, but they're really slow at coming out with USB-C accessories. I'm looking for a USB type-c battery pack too and found this one below. It looks like it has all the ports covered and you can charge your phone via type C and charge the battery pack via type C. But it's a little on the big side I kind of wanted around a 10000 battery pack. https://www.amazon.com/gp/aw/d/B019IFIJW8/ref=ox_sc_saved_image_3?ie=UTF...

Can anyone recommend a dual USB Type C wall charger that supports fast charging? I can't seem to find any on Amazon. Trying to charge both my 6P and the Pixel at the same time.

@drewc: You ALREADY have your Pixel??? [....turning green with envy]

No... Lol but I like to plan ahead.

Oh. Hehe. When you said "TRYING to charge both my 6P and the Pixel at the same time" I thought you meant you already had the Pixel in hand :)

Google has an older dual Type C charger but it won't charge two devices at the absolute fastest speed. Outside of that it's skin pickings right now, it's even hard to find a decent in spec PD capable one with Type C + A (outside oh that bulky 5 port by Anker)... There's a bunch on Amazon but most are wildly out of spec and/or underpowered. I'd just get an extra 18W Google charger, $35 sounds steep at first blush but considering it comes with a GOOD 6ft cable and the considering the price of decent and well vetted accessories right now, it's actually not overpriced at all.

Are you referring to this one? https://www.androidcentral.com/e?link=https2F2F...

Yeah, it's a solid charger, I might've bought that one instead of an extra single port 18W (the one that comes w/the phone) had I known at the time that the Pixel was capped at 15W max. That dual port changer will provide a max of 15W per port but 22.5W max total with both in use... It'll auto balance so with two phones that can take 15W and are both <50% battery (when they charge the fastest) you'll end up charging at like 11W on each. Still comes with a good six foot cable which goes some way towards justifying the cost IMO.

Hi there, you seem to be very knowledgeable in these matters, can you recommend me or refer a source about the most efficient way to charge and prolong the battery life on this Pixel phone?

I hope someone will offer a camera case with Lens, similar to what I have from Samsung for my Note 7! One similar to what's offered for the Motorola would also be acceptable.

No car charger? That's really what I need.

Nekteck on Amazon is the best one overall IMO... Normally I'd balk at chargers with built in cables, but you can get it with the Type C cable either coiled or not and it's so cheap that it's easy to forgive (pretty well built tho, all metal). It's one of the few decent chargers that has an extra A port and keeps both in spec without any other issues. The Vinsic is smaller and lets you use your own cables but it's not shielded as well (more interference with radios and even tire TPM sensors) and the Type A port suffers when both are in use. Only real downside to the Nekteck is it'll "only" do 15W with the Pixel XL, not 18W (regular Pixel is capped at 15W anyway), still plenty fast and faster than using an older Type A charger tho. If you want a fully PD capable car charger that can do 18W and beyond for stuff like Macbooks take a look at Belkin's, single port and much pricier. Tronsmart has a decent one but there's multiple revisions and the first were out of spec, I wouldn't mess with that. Aukey's new dual port PD charger looks promising, I believe Nathan K has one in for evaluation.

Thanks for weighing in on this. I've been searching for a car charger for my Pixel and since my phone max's out at 15W this should be perfect. :)

It looks a lot like the Tronsmart design. I haven't had any interference issues with my Visnic charger, in fact it looks almost exactly like the Monoprice offering, and their stuff is usually problem free. P.S. just looked at the updated spreadsheet from Benson Leung and Nathan K, and they don't recommend the Nekteck charger.

I ordered one off of Verizon when I bought my Note 7 so they still might be selling those car chargers. It's a USB type C

Was it made by Belkin? They look really nice but they're spendy ($40). But accessories bought through Verizon are always spendy.

I wish they'd have a mophie battery silicon rubber type case built for the pixel like for iphone. I like the one my cousin has for his phone. Maybe in the future.

Just bought a beautiful white leather folder type case for my Pixel XL Looks rather good! It's a Tetded and although not cheap it compliments the phone.

PSA: the Anker USB 2.0 Powerline cables linked here are okay, not the greatest charge cables (more voltage drop than others, not useful for higher powered Type C devices like Macs), but perfectly safe and serviceable for the price. However, at least one of their USB 3.0 cables underwent a recall, so keep an eye out for that... The phones come with a decent fast data cable so I doubt most people are buying pricier 3.0 extras. MORE pressing however is the fact that the PowerLine+ USB 2.0 model (red braided, comes with a pouch) is actually significantly worse despite seemingly being a step up in their lineup. It either points to bad decision making or inconsistent QC. Google Nathan K's review on G+ for details. Avoid the PowerLine+ model IMO (~+~) specially longer runs which could likely cause slower charging; and remember that Google's 18W charger comes with a *really* nice 6ft cable which goes a long way in justifying the price. If you need a really solid 6ft charge cable but *don't* need a spare charger just get Apple's 2m charge cable, honestly, best there is and you won't do much better for the money by cheapening out. For 3ft cables and/or USB 3.0/3.1 cables you have more options... Fast 3.0/3.1 cables (even short runs) will still run you around $20 just like long (6ft) 2.0 cables tho, no way around it right now unless you wanna risk a $650+ phone to save $10 on a cord.

The cables I picked up are iOrange for USB A to C, and Monoprice for USB C to C. The iOrange have a nice braided design, and Monoprice have always put out good products. The only reason I went with iOrange for the USB A to C was the Monoprice versions were sold out when I got my 6p.

You forgot an important one: a moderately big wallet.

I've written this on a different article, but I'm starting to think I need to write it on everyone that I see, since I haven't received a response yet. Why are these articles recycled? I'm ok with it, but PLEASE indicate what is new or changed! I have a pixel, so I'm interested in "essential accessories", but from what I can remember, this is the 3rd installment of this article and nothing has changed. In the future, I would appreciate the article have (Update: this is what has changed since the last time) somewhere within the article, so that I can quickly find the new information. Thank you!

Isn't it usually included in the bottom of the article? "Update, July 2017: This list has been updated to include a new USB-PD power bank, and to recommend Google's Pixel C dual-port USB-PD power adapter, as the Pixel model is out of stock."

I'll be checking these out. My Pixel XL is scheduled to arrive tomorrow

Who makes a good Type-C battery charger around 10,000 mAh? I don't want to carry a 20K mAh around.

I'm more interested in a screen protector for my Pixel. From the reviews, most glass screen protectors suck because it doesn't cover the entire screen. It leaves a gap between the usable part of the screen and the edge. I'm stuck using an OtterBox Defender as it has a built in protector. I want to get a thinner case but still have a good screen protector. Any suggestions?

I'm using one from Spigen. It comes with a frame for the non-screen portions to overcome the whole curved glass issue. Edit: Amazon link: https://www.amazon.com/gp/product/B01MSM5IAA/?tag=hawk-future-20&ascsubt... "Spigen Google Pixel XL Screen Protector Tempered Glass / Full Coverage / 9H Hardness / Case Friendly for Google Pixel - White"

Those live cases look cool but they don't seem that protective tbh

I have one. The live cases are nice looking. They are also as slick as owl sh*t. Buyer beware, and keep a good grip.

I have a live case. They do look nice. They are also as slick as owl sh*t. Buyer beware, and keep a good grip. Aaand no, they are not really that protective, it's more of an aesthetics thing.

how about desk stands? any suggestions?

Regarding the Anker PD Battery, it evidently doesn't offer optimal support for the profile used with the Pixel/Pixel XL. Per an email from Anker in response to my inquiry: "As per our testing result, our PD compliant battery PowerCore+26800 PD can only charge the Google Pixel phone at 5V output instead of 9V through the PD Type-C port. Therefore, the charging speed will not be the same as its original 18W adapter. The charging output current from our PowerCore+26800 PD to Google Pixel is around 5V/2.5A from the Type-C PD port. So far it is our fastest battery to charge the Google Pixel XL phone which takes around 2.5 hours or so. "