Enter Android Central & Mint Mobile's Ultimate Pixel 2 Giveaway!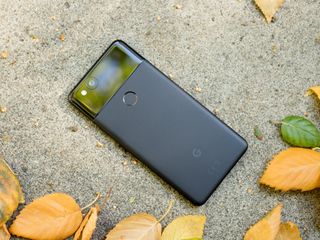 Android Central is teaming up with Mint Mobile (opens in new tab) for the Ultimate Google Pixel 2 Giveaway!
One lucky winner will receive their choice of either a Google Pixel 2 or Pixel 2 XL. That's not all! A great phone deserves a service that provides awesome and reliable LTE data along with unlimited text and calls.
Thanks to Mint Mobile, the winner will also receive a prepaid SIM card good for one year of paid service that includes 10GB of data per month with unlimited talk and text. We're big fans of Mint Mobile, thanks in part to its low-cost plans and nationwide 4G LTE coverage (opens in new tab). For savvy shoppers, it's the perfect service to pair with any unlocked phone, including the Pixel 2.
Now on to the giveaway!
THE PRIZE: One Android Central reader will win their choice of Pixel 2 or Pixel 2 XL and a year of service from Mint Mobile!
THE GIVEAWAY: Head down to the widget at the bottom of this page. There are several ways to enter, each with varying point values. Complete all of the tasks for maximum entries and your best shot at winning! Keep in mind that all winning entries are verified and if the task was not completed or cannot be verified, a new winner will be chosen. Please note that while the giveaway is open internationally, Mint Mobile only provides service in the U.S., and no substitutions for that part of the prize will be made. It's up to you to determine if the phone will work on your carrier. International winners will be responsible for any customs fees incurred during shipping.
The giveaway is open until November 15, 2017, and the winner will be announced right here after the closing date. Good luck!
Great international giveaway, thanks for the chance! Cheers :)

Happy to see another international from this awesome network :)

Happy to see another international giveaway from this awesome network :)

happy to see an international giveaway
i hope i win it
it could be my first phone
wish me luck

I'd love to win a new Pixel phone. Thanks for the entry.

Mint is on Tmobile network and they do not have nationwide 4g lte service only in towns outside of towns you get 2g and 3g service.

Give me the big one with the blue screen!

The XL only has that choice, and I would certainly go with it if I had the choice.
But that is just my preference.

So would an international winner still receive the SIM, which they could potentially gift or sell to someone in the US.
Since that isn't available outside of the US, then I would assume the phone itself is unlocked and the SIM not tied to that handset in any way.

Thank You Michelle for organising this lovely giveaway! Your heard work is so appreciated :D Also big thanks to AndroidCentral & Mint SIM for sponsoring this! Would be a lovely honour to own this device. (or even a sticker from Google lol) Keeping the fingers crossed :)

I'm really not trying to be stupid here, but I'm generally confused. The question asks if Mint Sims come with Unlimited Text, Talk, and Data. On their website, it says they do, but a certain GB is listed for each plan. So is it yes, or no? I think I've answered both ways for the first 2 days.

I've been wondering the same thing... But since the question states talk, text, & data, I said no.

Hey @TechNut79. Im probably reducing my chances of winning by doing this, but i wanted to be the 'nice guy' lol. Hopefully this helps explain a little. As the website says, you do get Unlimited Talk, Text & Data. So thats the first thing. The second thing regarding picking a certain about of data for each plan relates to the amount of 4G LTE data speeds you get. So if you pick the 2GB of 4G LTE data per month. Once you go over that, your speed will be reduced for the rest of the month but you never get cut off. Make sense? It does seem a little confusing at first but sometimes reading a little slower helps.

Thank you. But I hope that wasn't a jab at me at the end there because I did get it, but didn't. I mean I figured yes, but so badly wanted to answer no. I've answered no only once. Kinda stupid question to ask for a contest, but oh well.

The last sentence was definitely NOT a 'jab' at you in anyway. :) I was honestly asking if what i was explaining made sense. Im very used to speed reading and often miss valuable information so thats why i suggested reading slowly since you sometimes pick up things. Hope you have great day.

Thanks for helping out Matt! :D

Anytime. Michelle :)
It's always nice when you have an opportunity to help someone. Making their day better makes my day better :)

Sorry you think my question is stupid TechNut79 lol. It's really just to make sure that people are actually spending a minute on the website and looking around, vs just getting an entry for clicking a button. It's not like a test or something. :P

Stupid was probably the wrong word to use there. I usually have no trouble with them, but this time it tripped me up. I looked at the site quite a bit and even apparently entered wrong once or twice and by mistake this afternoon. I don't expect to win, but it would be amazing.

So Michelle, if we answer "wrong", does that entry not count?

As long as it's a valid try, and not like "I want to win" or "ao8fjao8wf" or some other garbage, it counts. :)

Michelle, has the winner been picked already?

Gimmie this crappy phone with extra large bezels, no microsd slot, no wireless charging, no headphone jack, and crappy screen. I'll put it on ebay so fast your head will spin.

I could use a new phone as my current one is always running out of memory and not enough RAM. The pixel looks good to me.

Thank you for treating us like we are something thanks

wonderful and exiting giveaway!!! waiting for the lucky day!!! good luck everyone!!!

I'm actually going to try mintsim 3month plan with 10gb per month $75 worth a shot

I'm getting a little sick of T-Mobile...good to know about Mint!

Mint uses T-Mobile towers, though. If you're having issues with T-Mobile coverage, you'll find the same with Mint.

Hey! Pick me please, thank you!

Good Luck to all ! Living in the
Woods is very hard to get a signal, so this would help so much

would be nice to win a flagship device!

Awesome contest and I would love to win the phone. Been using Mint sim service for about a month now and I am very happy with the service and of course the price!

Free is the only way I'd want want of these phones.

Do we have to use mint sim haha

Would be a nice Xmas gift.... For me of course lol

I would definitely love to get the Pixel 2. Right now, I'm rocking the Samsung S8.

Nice giveaway, thanks AC and Mint Sim 👌

Looking to upgrade one of my devices in the upcoming months. Would be nice to win said upgrade.

Yea baby, I like it a lot.

Love the camera on the Pixel 2. Be great for seaside shots!!! The only issue is the SIM as I live in the North East of the UK, but won't be any hassle getting one from my local supermarket's phone shop!

Great giveaway, I would love to own a Pixel 2 but it´s too expensive for me. Thanks for the chance! Cheers

I could never use one my phone is about to fall apart really love Google I've never had a chance to own a Google phone please pick me :-)

Missed a day or two but otherwise getting my entries in. :)

My daughter would love it, and since we already use Mint all she has to do is move the sim card

When you get it do not forget to get a LAYER for it :) visit www.layercase.co.uk

What model would everyone go with if they won?

Regular Pixel 2 in blue or white. A friend has one and it's way better than I expected.

I was messing around with both in store the other day and I love the way the Pixel 2 XL felt but I know there have been a slew of problems. As horrible as it sounds the Pixel 2 seemed really small to me which is probably my biggest issue with it.

Any indication from AC when the winner will be announced?

I want to know this too - it's been almost a week now...

Has someone forgotten about this company.
Android Central Newsletter
Get the best of Android Central in in your inbox, every day!
Thank you for signing up to Android Central. You will receive a verification email shortly.
There was a problem. Please refresh the page and try again.