Ematic announces 7-inch Jelly Bean tablet for $79.99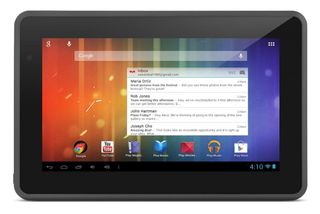 A new contender has entered the ring in the fight for your budget dollars. Weighing in at only $79.99, the 7-inch Genesis Prime is the company's first certified Google tablet. Apps like Chrome, GMail, Maps, and YouTube will come preinstalled thanks to the tablet getting Google's approval. The specs you get are definitely in line with the price: 1.1 GHz processor, 4GB storage memory, VGA front facing camera, and a battery life of 4.5 hours.
The scale reflects this tablet's featherweight status, with an official listing of just 0.59 lbs -- more than 2 oz less than the Nexus 7. The device comes with an HD video player, however the actual resolution of the screen itself is not listed. On-board storage gets supplemented with an included 5GB of cloud storage.
It doesn't get much cheaper than this for a certified Android 4.1 tablet. You can pick one up at Amazon (opens in new tab), although there is quite a wait for shipping at this time. Hit the break for the full press release.
Source: Ematic
Android Central Newsletter
Get instant access to breaking news, the hottest reviews, great deals and helpful tips
Some how I don't think this will be very pleasant to use.

That's a rather large bezel.

wow $80. that's less than a usual bar tab for me. i would like to see some reviews first though. it's not a lot of money but i hate wasting money/time/space/thoughts on junk.

If this tab gets decent reviews, I could see this as a great gift option for younger people

it's almost disposable at that price. great for young kids to play with and destroy. or maybe as a second tablet for travel with no worries if you break/lose/gets stolen. 4GB storage is a concern. how much is available? my 32GB G-Nex has 28.13GB "Total" and 26.77GB "Available" and i don't have that many Apps or much media on it. would the lower resolution be a concern for the average user? when would you notice?

The screen resolution is 800x480. http://www.ematic.us/tablets/egs004

It's got an SD Card slot. good enough for my kids. just got to get that app that installs to SD card.

Same screen resolution as the HTC One V?

Where is the link to purchase such said product and when can we purchase it?

With those bezels it's probably the size of a 10" tablet.

its tablets and devices like these that make the apple people and others think that android sux. all these super low end bottom of the barrel devices are giving android a bad name.

Maybe to you. It's because of cheaper and low end devices why the Android OS is more widely used than iOS. There is a huge global market for low/mid-ranged phones. One of the things that make Android great are all the options... With apple, you get.. well Apple. The Galaxy S3 proved to be a successful phone with high end specs,and many people are now familiar with that name.

this is an $80 tablet not the $600 GS3. this device and others like it does not make android better. the galaxy S3 was in the same price range as apple stuff so it should perform comparibly to the iphone. apple people buy tablets like these to try out the android experience, then they see how horrid it is and stick with apple. i had one of those elocity cruz things, worst experience ever. all it did for me was get my blood pressure up and make my impatience more impatient. my blood pressure is goin up as i'm starting to remember that craplet. i almost want a lobotomy so i can forget all about it forever.

This is what we call a "disposable" tablet.
And of course the experience would be terrible - you get what you pay for.

It doesn't say what kind of cpu it is. Allwinner a10/a13 don't have Jellybean roms, my guess that it is probably an Rockchip RK2918... In any case, this is a cheap throwaway tablet. $80 is not bad if you want to give it to your kids.

In my experience, on the inexpensive tablets you generally cannot install apps to the SD card. You can put data, music, movies, pictures, etc. Apps will not move there even though the "Move to SD" button is visible.

From what I have researched JB will not let you move any apps to SD card which could be an issue. This looks to be a winner for a kids tablets. I am getting my 9-4 year olds one each... if they break it I will not be too worried. If I gave them a used Nexus 7 and they break it then I would cry.
Android Central Newsletter
Get instant access to breaking news, the hottest reviews, great deals and helpful tips
Thank you for signing up to Android Central. You will receive a verification email shortly.
There was a problem. Please refresh the page and try again.