EE plans to have 95% of the UK covered with 4G by 2020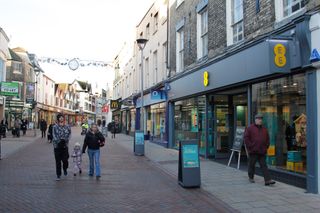 EE has announced (opens in new tab) the UK mobile operator is set to increase 4G coverage to 95% and bring back customer support to within country borders. The company will introduce 600 new positions across the UK and Ireland, which should please customers who both expect and appreciate customer support based in the UK.
By 2020 EE hopes to have around 95% of the UK covered with 4G with a focus on eradicating parts of the country that have next to no signal coverage. With the backing of BT post-purchase, the mobile network will have the resources to ramp up network enhancements and extension. All customer calls will be answered within the UK and Ireland by the end of 2016.
Ermmm we are still waiting for full coverage of 2G and 3G so what's the rush with 4G? We'll see the same pointless statement regarding 5G coverage in 6 years time. Not impressed.

Agree, I still struggle to get a 3G signal in the centre of my town. And I don't live in a rural area. Posted via the Android Central App

Pretty sure they won't be adding to the 2g or 3g; any further coverage is for 4g only but time will tell whether they succeed... Posted via the Android Central App

Surprised it already isn't. We are talking about the size of California aren't we?

Not quite that simple. There are rural areas and plenty of islands around Scotland that just lack infrastructure of any kind.

Apparently the CIA website used to list the land mass of the UK as about the same size as Oregon.

That doesn't include Ireland. Posted via the Android Central App

I love the first sentence! The grammar is awesome. Posted via the Android Central App

You do seem to. That was your first sentence.

Hey that's the sane EE store photo you used years ago. I was curious about where it was then. If it's north of Watford or Huntingdon though I'm out.

It's Ipswich, I recognised the Christmas lights before the street. 3, EE, O2 and Vodafone are all next to each other with maybe an odd shop in-between.

I cancelled my rolling contract with Three a few dsys ago. Customer service outside the continent who lie to you, won't fulfil a simple change of plan without you calling back tomorrow, increase the rate even though other operators acknowledged the rate and it's online. Then spend 20 minutes apologising for keeping you so long when it was only 2 minutes, then put you on hold for 5.

I'd be sceptical of any claims by EE, I live in the Midlands, for the most part I get 4g lte traveling around, not at home, sales rep in the shop says "oh yeah you'll get 4g easy where you live"...
Also asked in the shop about wi fi calling, apparently my Nexus 6 won't do wi fi calling .?!.. and would I like a new Huawei N6p... 10 minutes later with some patient explaining and another sales rep and finally they agree I can get wi fi calling with my N6.
Not my favourite company. Posted via the Android Central App

To be fair, that isn't a problem with EE. Go into any phone or electronics shop and you can almost guarantee the employees won't have any idea what they're talking about. Take them off their script and they're screwed. It's best to assume I'm being sarcastic. if I'm ever serious I'll type "/s" to make it clear.

I find it so interesting that such a tiny island doesn't have full LTE coverage by some carriers. Then again, I have no idea the technical and governmental hurdles involved in doing so. I do remember having full 3G with T-Mobile there a few years ago when I visited. I had a full signal on a boat on Loch Ness for crying out loud. It was glorious.

Tiny island? That's relative, I'd like to see you walk it. There's many tiny towns in the UK where a couple of dozen people live tens of miles from any real infrastructure. Hard as it may be to believe, we're not all crammed into London. I wonder if there are any dirt farmers in rural Iowa that have trouble getting a signal? Iowa is smaller than the UK, so presumably the whole state has full coverage? It's best to assume I'm being sarcastic. if I'm ever serious I'll type "/s" to make it clear.

Don't go looking at the Verizon map. or the att one. While IA isn't 100% covered... it is pretty impressive.

Yeah, EE's coverage map looks pretty impressive too. That's what coverage maps are for. But what does Johnny Potatoseed say when he's out in his field? It's best to assume I'm being sarcastic. if I'm ever serious I'll type "/s" to make it clear.

Is this another one of those times where your arrogance gets in the way? Posted via the Android Central App

Do they mean 95 percent of area or population? I live in the country and have no 3 or 4g coverage with EE, yet the missus has a 3g net 'dongle' from three and that works fine at home. Posted via the Android Central App
Android Central Newsletter
Get the best of Android Central in in your inbox, every day!
Thank you for signing up to Android Central. You will receive a verification email shortly.
There was a problem. Please refresh the page and try again.