Echo Show gives you a reason to actually use Amazon Prime Photos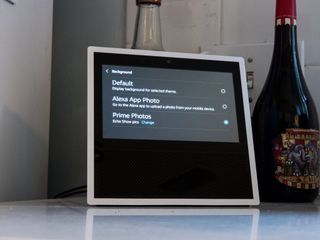 There are too many ways to manage your photos online. That's a good thing, actually, because choice is good. It's just that I've never had any reason to use Amazon Prime Photos, and so I'd never bothered taking a look at Amazon Prime Photos.
Turns out it's actually pretty good. Probably not as good or use as Google Photos, or Apple's own scheme. But it's definitely something you should check out at some point.
And if you're one of the early folks who has a new Echo Show, you'll definitely want to fire up Prime Photos.
A couple reasons for this: First is that if you actually take any pictures with the Echo Show (not that there's any real reason to do this, other than the novelty of it), Prime Photos is where they'll show up. So it's at least worth keeping an eye on that, because kids do the darnedest things. (Also: Stickers!)
But the better reason is because you can turn the Echo Show into a digital picture frame. Here's how:
First, you'll need pictures. I'll assume you have some somewhere and can upload them to Prime Photos on your own. You'll also need one of the following: Prime Photos on the web, the Android app, or the iOS app.
Log in to Prime Photos, and go to "Add." Then choose "Create Album." I gave mine an easy name — "Echo Show Pics" — so I'll know what I'm sending to the Echo Show.
Add pics to that album!
Now head on over to your Echo Show
And that's it. While the Echo Show is still a pretty poor appliance for headlines that actually matter, I'm loving it as a digital picture frame.
Get the Android Central Newsletter
Instant access to breaking news, the hottest reviews, great deals and helpful tips.