Deal: You can still get the HTC U11 for $599 with these codes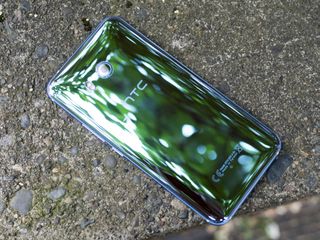 If you've been on the fence about picking up an HTC U11, HTC's still trying to make the decision a bit easier. HTC's early bird pre-order codes to knock $50 off the price of an unlocked U11 are still running, even though the phone has been on sale for a few weeks now. With a code applied, the U11 is a smooth $599, which is a completely reasonable price considering what the phone offers.
You don't really have to do much to get this $50 discount. Just head to HTC's website (opens in new tab), add an unlocked phone to your cart, then click the "Have a Promotion Code? Enter it here." button and enter AMAZINGU11 to get $50 off your order, no strings attached. There are several other promo codes floating around, and many of them may still work, but the one we can validate for sure is listed here.
The U11 ships for free, or you can use some of that $50 savings for 2-day shipping for $20 if you're impatient (we wouldn't blame you one bit).
So, have you decided on picking up a U11? Let us know in the comments below!
Get the Android Central Newsletter
Instant access to breaking news, the hottest reviews, great deals and helpful tips.
Andrew was an Executive Editor, U.S. at Android Central between 2012 and 2020.
Anything work for the Canadian site?

LOVEU11CA might work. I just called HTC and asked them for one for Canada. No problem!

I want to like this phone but the price coupled with the lack of carrier availability just killed it for me.

Works on all carriers. See prior AC articles.

I wouldn't go that far. OnePlus was able to produce a phone with the same chipset and more RAM for anywhere from $100- $200 less when comparing prices at launch. They did the same thing last year

And a crappy camera, and lesser audio, and no waterproofing...

I'll give you the waterproofing and better audio, but saying it has a crappy camera is just idiotic. The difference between the cameras on the two is minimal, just like on all high-end phones to come out the last 6 months. The OP5 also has a notably larger battery. You can go back and forth comparing all high-end phones, but IMO the U11 doesn't have anything that justifies it being $200 more expensive than the OP5. Not with the hardware the 5 has

I'll take AMOLED over LCD any day. To me AMOLED is far superior, but it's a preference thing

I prefer AMOLED also, but this u11 LCD is something special. Just as good as AMOLED.

Actually I have both and side by side shots of the exact same scene the better pic always goes to the HTC U11. Oneplus 5 camera isn't crappy but it's nowhere near the U11 or S8+.

I'd still go for the U11. It's a better overall phone in my eyes. I don't see any real need for 8GB of RAM and I honestly prefer trading that for extra water resistance and a better overall camera experience. The camera difference might be minimal at first glance, but I feel that HTC eeks out a win in low-light, video quality and audio recording while recording video. For a mere $60 more on sale, the choice is a no-brainer for me. There was a time and place where the OnePlus phones were undeniably cheaper than all of its equivalent-specced competition. While the OP phones are still cheaper for their specs, the gap is narrowing, and we're getting more and more compelling options for either less or just a touch more. Of course, if raw performance is your bag, then the OnePlus is definitely for you. Although for me, the U11 is the better fit for not a lot more.

Done. Paid cash like I always do.

What happened to HTC flexible payments?

they do 24 month financing through PayPal Credit

Thanks, now I can cancel my backordered S8+.

The HTC U11 is currently the best performing smartphone ever. Beats all including iPhones, Samsungs, LGs & Pixels. http://www.antutu.com/en/doc/110020.htm Moreover, according to many reviews it has the best sound, photo & video capabilities. And the natural colors of the bright QHD LCD display are gorgeous. And the HTC U11 can still be purchased for $599 or better.

Where is it 599? No codes work.

You can get £50 off via HTC Club in the UK. Takes a few days for your membership to activate though. Really really tempted by a red one...

Andrew Couldn't get my Amazing Silver 'unlocked' with a Sprint SIM # activated because the IMEI for all unlocked HTC U11's are not (white) listed on Sprint's IMEI database. Moreover HTC & Sprint indicate the ROM for the Sprint version is different. I had to return for full refund the Amazing Silver' unlocked' HTC U11. I don't want Sapphire Blue so I have no choice but to wait and hope for more Sprint color options. Due to legacy, I believe HTC has more devices activated on Sprint than any US carrier. Both HTC & Sprint are foolishly (imo) suppressing sales and activations. They don't have to carry all the SKU's in the Sprint stores where associates primarily sell iPhones and Samsungs. Simply make the same four color options available on their Websites. Any suggestions?

Ditch Sprint or Verizon and get on T-Mobile or to some extent AT&T. You can use any device you want with just inserting a SIM without any of this activation crap from Sprint or Verizon,

Several times considered T-mobile & they've improved in the San Diego and coastal Southern California region over the past couple of years. Might just check them out again and switch.

I live in Murrieta and drive all over SoCal and into Mexico. I finally switched from Sprint, whose coverage has actually gotten worse in the last year, and so far so good. Not as good traveling to Arizona or in southern Alabama where I am this week, but much better around Southern California.

Thanks for your actual experience. I've read the HTC U11 has better RF signal acquisition due to glass over metal which should be true for all carriers, I think. I'm still on the fence with unlimited at $55/mo (never been throttled) and Sprint's network improvements. http://newsroom.sprint.com/blogs/sprint-perspectives/celebrating-a-year-...

Ordered mine a couple hours ago. No point in getting next business day shipping, since this is Friday anyway. When I find out the delivery date, I may take the day off work :b

Looking forward to getting the discount along with a 445.00 trade up for my old HTC One M8!

The code doesn't work. Does anyone have one that works?