Droid 3 appears headed for Verizon stores on July 14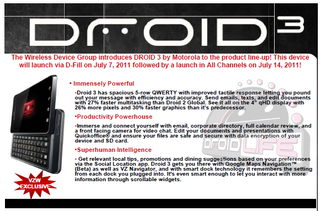 If you've got a hankering for the latest iteration of the venerable Motorola Droid, it's looking more and more likely that we'll see it here in the next couple of weeks. The latest round of leaked Droid 3 material shows a July 7 direct fulfillment (aka shipping) date, with in-store availability on July 14. Specs remain the same as what we brought you yesterday, with a 4-inch qHD display, dual-core 1GHz processor, five-row sliding keyboard, but no LTE data.
We can't help but wonder after last year's low-key launch of the Droid 2 (which was quickly replaced by the Droid 2 global), will Verizon throw a parade for this one? Or just settle with another press release? Either way, look for official word (and official pricing) next week.
Source: Droid-Life
Boo hiss. Bring on the Bionic.

I also love how all the bulletpoints in that leak are pretty well worthless. Full calendar review? So what. Google Maps Navigation? Not a Droid 3 selling point. QUICKOFFICE? HOLYCRAPWHERESMYWALLET. :|

hmmm July 7th, you dont say...

Just what the world needs another 3g phone watch the sheep line up for it though hahahaha

baa baa I seem decided on this upgrade as of now. There really isnt a another that can offer me the look, feel, and qwerty slider of this phone.. there's obvious disappointments, severely in the 512MB RAM department, and likely a locked bootloader (hopefully it will eventually be unlocked like the atrix). Many gripe about the pentile screen but for me personally, even the lower clarity by comparison to AMOLED, probably wont bother me much as long as there's a reasonable clarity. Im not much of a reso/pixelphile. so if there's an obvious rejection of support for the device from the dev community (like a lack of support for the D2G) or if there are some obvious really screwed up thhings abt the phone that's suddenly revealed, then I would have to reconsider.. but otherwise, I'm loving thee physical aspects of the device.

I'm not sure where everyone is getting the 512MB RAM spec. I've been following this on the usual sites and haven't seen any evidence that it will be 512, only speculation. If someone has an authoritative (relatively speaking of course) source for that info, can you share?

Oh my Goodness. Did someone say "World Phone"? Well, I had better pay my early termination fee, dump Sprint, and Go to Verizon before July so I can get this phone and a tiered pricing plan. NOT!!!!!! LOL!!!! Nice phone though. Why can't we have some version of this on Sprint? We have the XPRT. Just call it something else and give it to us. :-)

Boo Hiss all you want at those who are willing to pick up the only Droid slider on Verizon, but you also FAIL to recognize not everyone is in a 4G LTE market or will have it in their market for another year or more. The current crop of 4G LTE phones are not exactly stunning, in fact most are outdated hardware with a faster radio but poor battery life. What is really worth waiting for is the phones due out spring/summer 2012 when you will have full display now capacitive buttons and ICS and 720p displays. Nothing says 2011 than getting ICS on an older GB phone and still having the old capacitive or physical buttons. If you have unlimited today, you will have it on July 7th and will have it again when you pick up the ICS phones next year. By then the real 4G LTE phones will be out.

I couldn't agree more. Just because a phone has LTE does not make it a good phone.There're still valid reasons to choose an EVDO Rev.A + WiFi device,for this year at least.Verizon's showing everyone they're serious about their LTE network rollout.(Unlike Sprint's "dead in the water" WiMax expansion.)Just need the battery and energy-efficient processor technology to catch up.Since the Merge never showed up,even at VZW indirects,the Droid 3 looks like the clear choice for people wanting a physical keyboard.I also think the D3 could be the best 3G Android device Verizon offers until the Samsung Function shows up.

I hear the standard response to phones that are not 4G all the time: "Not everyone lives in a 4G area." That's true of course, and relevant, but most of us who aren't, will be within a year, so I'm not sure that's the best reason. I think there's a better one. I live in a 3G area, but my phone is 4G. However, 4G is just down the road and I'm under 4G coverage quite often. The truth is that the vast majority of what I do simply doesn't benefit from 4G. I'm sure Netflix works better on 4G than 3G, but frankly I wouldn't know. When I settle down long enough to watch it, I'm invariably in Wifi territory. 3G has no problem keeping up with all of the routine things my phone does, from Exchange to Pandora. I've even used my phone as an internet modem a half dozen times when my ISP was down so I could work from home. I believe the most frequent benefit people get from 4G is the ability to show their buddy the notification bar saying "4G" and gloat. That's a great benefit, don't get me wrong, but probably not a game changer.

Unless it went on a diet from it's Droid 2 days and dropped 20 pounds it's a no deal for me.

I imagine that the device and SD encryption is software only and has no hardware assist, thus taking some additional battery hit?

personally i was one of those waiting and waiting on the merge that never showed up!!
this phone seems pretty decent in specs again the RAM is a bummer but then again im in real need for a smartphone (got myself a bb Bold just to tide me over) but i am not a big fan of the all mighty massive touch screens i enjoy actually typing out my messages and seeing and feeling keys so this phone does seem like a decent idea.
aside from that i have spoken with verizon reps who have said they are expecting full LTE services by summer 2014 so by that time ill be due for another upgrade and hopefully there will be something like a Droid around still with 4G.
until then im gonna be one those sheep who still enjoy the basics of technology and a physical keyboard.

1Gig single-core processor really!..only 4", no AMOLED screen! Ho Hum...

The specs clearly read dual-core processor. Perhaps you're too tired to read.
Android Central Newsletter
Get the best of Android Central in in your inbox, every day!
Thank you for signing up to Android Central. You will receive a verification email shortly.
There was a problem. Please refresh the page and try again.