Doubling down on what works [#acpodcast]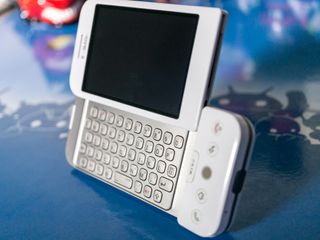 We're back to our regular format with Andrew Martonik, Jerry Hildenbrand, and Daniel Bader at the helm for a detailed look at Android Messages, and efficiency of the hardware keyboard on BlackBerry KEY2.
Next, they tackle blatant "inspiration" the Vivo NEX takes from iOS. But it, along with the OPPO Find X, address customer demand for huge screens and no bezels by incorporating pop-up cameras. In a world of solid-state slabs, this is almost a throwback to the days of slider phones. Pull up an earbud or speaker and join us!
Listen now
Show Notes and Links:
Vivo NEX hands-on
OPPO Find X is here with a pop-up slider for all three cameras
Sponsors:
LightStream LightStream rewards consumers who have good credit with a great interest rate and no fees!
Thrifter.com: All the best deals from Amazon, Best Buy, and more, fussily curated and constantly updated.
You know, you wouldn't need to say Andrew was to your right if this was video 😉

I wonder which of those things ends up being more work... Lol.

Yes, agreed bring back the video podcasts from back in the day! We know Phil has gone but I'm sure we could get the added bonus of seeing Daniel & his dogs! Great podcast, kind regards Richard U.K

Damn another week in the podcast about boring Key2 for me personally 😂

I had been using gboard for many months and I too, thought it was a pain to press press the symbol key and then find a symbol and press the abc key to get back to letters. However once I realized that I can long press the period Key and a bunch of symbols would come up, then I can slide my thumb along the symbols and choose whichever one I wanted: that pretty much changed everything!

Great podcast apart from the boring segment about the BlackBerry Key2.

I installed Android messenger, but then I ran into a problem. Android messenger says that it has to be the default messaging client for stuff to work, so I said that's fine and made it the default. It said okay messages is now your default client. However Samsung messages has the same name, I couldn't get a new thread started so I said okay to messages as being my default client so now it's back to Samsung messages. If it only said Google messages or Samsung messages or Android messages or something to differentiate, then it would be fine

Android Messages, from the perspective of someone who uses iMessage and SMS/MMS Relay on an iMac and iPhone (and iPad and MacBook Air at some point in time), is terrible. I don't see how anyone can find this UX acceptable, unless they have never - ever - used anything better.. Messaging in a Browser Tab. Shoddy Notifications (probably needs browser permissions). Scanning QR Codes. Etc. Does it even work properly in anything that isn't Google Chrome (which I've never used, even when I was on Android, and never will)? There is such a huge disparity between this and what Apple has on offer, that I don't even consider it an alternative; and it's a big reason why I feel "stuck" on iOS. As much as some things infuriate me about iOS; the smartphone is a communications device first, and theMessaging/Calling experience on their platforms is so far ahead of any competitor that switching back is absolutely not an option. And with Group FaceTime coming, it will be even easier to recruit others to the dark side :-P I expect half of the few Android holdouts in my social circles to switch over to iOS. Over the past 5 years it has gone from being absolutely dominated by Android devices, to almost completely iOS - largely due to iMessage and FaceTime being iOS-only. Apple Pay Cash is also pretty big, now (for shuffling funds from person to person). This is why I don't expect these services to show up on Windows or Android anytime soon, or ever.

I think the Messenger web interface for actual messaging is fine is fine. Scanning a QR code to sync your phone to the browser isn't any more burdensome than entering a user name and password, especially since you only have to do it once per browser. It works just as well with Firefox as it does with Chrome, but I haven't tested it with IE or Safari. Of course it requires browser notification permissions, but the notifications themselves work just fine on Chrome and Firefox.

Was just listening to the podcast and heard Hildenbrand say you could not use a project fi number in Hangouts that is incorrect I do this although the project fi number it's not my primary number I have 3 numbers in there and 50% of the time my project fi account is paused but when it is not paused I do use the project fi number in Google Hangouts both for talk and text
Android Central Newsletter
Get the best of Android Central in in your inbox, every day!
Thank you for signing up to Android Central. You will receive a verification email shortly.
There was a problem. Please refresh the page and try again.