How to set up Android Messages for web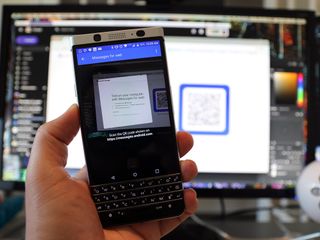 (Image credit: Android Central)
After years and years of patiently waiting, Google finally launched a way for users to natively send and receive text messages from their computer. This functionality is being rolled out as part of Android Messages, and once everything's set up, you can stay in touch with friends and family without having to constantly pick up your phone.
However, how exactly does that setup process work?
That's exactly what we're here to figure out, so without further ado, here's how to set up Android Messages for web!
Open Android Messages.
Tap the Try It button on the pop-up at the bottom of your screen (or tap the three dots at the top right and then Messages for web).
Go to https://messages.android.com on your computer
Tap Scan QR Code on your phone to scan the code shown on your computer
After scanning your code, you'll ready to start using Android Messages for web!
Before you dive too deep, however, there are a couple things we recommend checking out.
For starters, the Settings page on the Android Messages website has a lot of helpful tools. Here you'll find toggles to enable or disable notifications, message previews, and whether or not you want Android Messages to keep you signed on to that computer.
Heck, there's even a dark mode that you can turn on!
After playing around with the settings for a bit, there's one more thing on your phone you'll want to configure.
By default, Messages for web shows a persistent notification on your phone whenever you're connected to a computer. This can quickly become an unwanted eyesore, but thankfully, Google makes it easy to shut this off.
Open Android Messages and tap the three dots at the top right.
Tap Messages for web.
Tap the three dots again.
Tap Notifications.
Tap Show persistent notification to disable it.
With that knowledge under your belt, you're ready to start using Android Messages for web like a pro!
Need further assistance or just want to chat? Head on over to the comments down below.
Download: Android Messages (free) (opens in new tab)
Get the Android Central Newsletter
Instant access to breaking news, the hottest reviews, great deals and helpful tips.
Joe Maring was a Senior Editor for Android Central between 2017 and 2021. You can reach him on Twitter at @JoeMaring1.
..still hasn't showed up on my Pixel 2 XL, even after playstore update.

Same here. Not sure why we've been excluded.

Same boat here. Updated app, but still no web option showing up. I can't see this replacing Pulse for me in the near future, but curious to try it.

Even after my app update, I'm still without the option. Guess we're waiting on the server side switch.

You would think Google would take care of there own being Google phones and all? Pixel XL 1 Owner 🤔

Thanks. I do like these articles. Now on a satirical note:
"How to set up Android Messages for web"
Step 1: Go into the future, where Messages for Web is actually available for more than 13 people worldwide :-) I still don't have it yet , a week after they announced it, of course. Typical Google product rollout ..

I just downloaded and installed the app last night and it is available to me. High-fives for being one of the 13! ✋

First, wait for weeks/months before Google's staged roll out makes it way to you.

Still waiting, especially since I heard once it's set up you aren't bound to Android Messages.

Still waiting for it go go live on my Moto X4 Android One.

Disappointed! One of the selling points for a Pixel 2 was the promise of receiving the latest and greatest first. Has generally been true for monthly security updates, but this...not yet☹️

I got the update... Works perfectly... Can finally ditch Hangouts as a Fi user... Hangouts for sms was always an unreliable mess

Oh good, I thought Moto made something up. Well if Pixel users don't have it, then I needn't look further. Could VZW be blocking something? They really like their messages+ app.

Android Messages worked great the first day I set it up on my HP All-In-One desktop computer with Windows 10. The next day it started dropping the text from my friends. I could see what I typed but not what they typed. I could see both sides of the conversation on my phone sitting in front of me on my desk. It is still not working correctly. I guess there are still a few bugs in it. I'll keep trying to use it.

On the app, I have the "Messages for web" and scan the code from my computer & my phone says I'm all set, but nothing happens on my computer. Still has the same info with QR code. I've tried several times over the past couple days and same thing. Any suggestions?

Are you in a restrictive work network? I ask because I couldn't do this at my job via Allo using the QR code method there too. I've yet to get my server side update to test out Messages but I'm sure it'll be the same.

I don't see the attraction of being able to send text messages from my computer, it's not a hardship to pick up my phone when I receive a text.

If you're on a PC all day for work or something using a keyboard to type messages is super handy.

"I don't want/need this specific feature for myself, so therefore I can't understand why others would benefit from it."
You are the kind of inspiration we need to really drive our civilization forward.

You do see you're doing the same thing right? He just mentioned that he does not see the benefit of it. Your response is essentially " I can't understand why you can't understand the benefit of it"

No,the response is essentially that it doesn't matter if one individual sees an importance for something to exist.

I don't think anyone said it shouldn't exist.

eh, the negative aspect to how the guy originally stated it kinda says he doesn't see why it needs to exist. that's not far from saying it shouldn't exist.

It's not about "hardship," it's about convenience and accessibility.

Cell phone in the other room, but you're on your PC? Have your machine on your lap and want to send a quick message, but don't want to fumble putting the notebook back on a table somewhere and getting your phone out of your pocket when all you need to do is a quick switch to another website and back? Want to type a slightly longer message or maybe edit/revise it a few times before sending? A lot easier to edit stuff with a full keyboard. Poor eyesight and don't like using texts on your phone? Bam, use the PC. There are plenty of reasons this could appeal to people. You may even find yourself using it in the future at some point.

In using it the last couple days I like where it's going, but I still get a number of texts that are sent out of order or are dropped. Still a fan of Textra but this might eventually convince me to switch. I love the dark mode that exists on the website version of Android Messages, wish it existed on the app as well.

Not happy to hear this-- I've been using Pushbullet, then Textto, and while they generally work, they fail frequently enough to not really trust them. I was hoping that a more native app would solve the issue. Are you getting "delivered" notifications? All the other things that use the texting API don't seem to have that, which just adds to the problem.

I use textto and I like it when it works but when it doesn't there isn't an obvious way to tell which is problematic

It will tell you if a message failed to send, but can sometimes take awhile to let you know if it didn't go through (which leads to some messages going through before others). I think it might get better in the future, but it works best if your phone and computer are on the same wifi network.

Articles a little premature? I have the pixel 2 XL and I haven't received it yet. In fact no one I know and received it.

I have it on my Pixel 2 xl but the notification menus are a bit different. I also don't have the persistent notification like they were talking about.

At this point, I'd rather just Google not announce anything new and let us be surprised when it shows up.

I'm a little confused by this feature. I have successfully activated it on my Pixelbook, but I am unable to successfully send a message. Both my phone and Pixelbook are on a DSL wifi network with no available cell signal since I live in an area with no coverage. Does the phone need to connected to a cellular network for the messaging to work on the computer? On the Pixelbook I only have the option to send a message as SMS. Should I have other options (MMS, WiFi) or is this normal?

The whole point of the feature is to send/receive SMS messages from a computer. You can only send/receive SMS messages on a device registered on a carriers network. So of course you need a phone connected to the cell network. Google has no way of connecting to your cell carrier's network as you and it would be a security risk if they could. This new feature works by routing a sent message over the internet to your phone. Your phone then sends the message via your cell carrier. When you get a text it comes into your phone and your phone sends it over the internet and it shows up on your computer.

Actually this is a move toward using RCS which in fact uses WiFi/internet protocol to communicate, not cellular network.

That's what I was hoping because it would actually be quite useful in my situation. The current implementation is not particularly so. Checking the help option in the Messages for Web on the browser there is a section called, "Turn of WiFi messaging, group chat and more." which implies that these features may be available at some point. Thanks.

and the wait goes on.... and on.... and on..... and on...... NOP for Google.... wait, wait wait....

That QR scanner was so quick...i don't even think i had the whole code in the frame yet and it already began syncing

Is this carrier specific as well? I have Sprint and a Samsung Galaxy S8 and nothing as of yet? Anyone on here have it with the same setup?

I have a Note 8 on Sprint and got it working a few days ago. My wife's unlocked S8+ on Sprint hasn't received the ability yet

App shows as v3.3.044, but no "Messages for Web" to be found.

Interesting, I have the same version and the "Messages for Web" option in the app. Version 3.3.044 (Xylophone_RC23_xxhdpi.arm64-v8a.phone). Wonder if it's carrier or region related?

Also no Messages for Web on me with the same version stated above.

I have the right version on a Moto g5s. No "messages for the web" in the app. On TMO.

Nexus 5 (Marshmallow) with Version 3.3.044 on TMO with a slightly different built (armeabi-v7a instead of arm64-v8a) works.
Redmi Note 2 (Lollipop) with Version 3.3.044 arm64-v8a and WIFI only no SIM works

I was finally able to set this up on my Pixel 2 XL, however I don't have the option to get rid of the persistent notification. Any ideas?

Just set it up on my Moto e4+, can't wait to use it! Thanks guys!

Was so excited when the update and option showed up on my phone. Got to work and discovered that the website doesn't work on my work computer. Using an older version of Explorer with no ability to update it or install a different browser. Friggin so bummed.

This is exactly why Google should use those servers to offer up real cloud messaging instead of tying it to your phone/browser... AKA what they have/had with Hangouts

Seems to work nicely on my 2xl... one thing I like is seeing texted pics on the big screen without having to forward them... does anyone here know if this gives us another back up of pics and docs that we've gotten via text? Last time I upgraded to a new phone everything transferred over but the pics and attachments in text messages - so a more solid backup would be a welcome feature.

Instead of using it with a computer, will it work with a wifi only tablet in a browser?

My friend is able to use it with their iPad! You should be good

I just checked, I've got the web option in messages on my Pixel 2 XL. For anyone who hasn't got the update yet, open messages and go to settings and the web option for messages should be there if you have the update.

I call bullsh!t on these instructions. On my Android Messages app, tapping the 3 dots there is NOTHING for Messages for Web. This instructions are useless. How can users actually use the web service for messaging??

It's not bullshit, I have the update it actually works. If you have the update all you need to do is go to messages.android.com and scan your QR code and boom you have instant messaging on the web.

Samsung Note 8
I don't see any option in my phone

I have the update as well and Messages for Web has worked great for me at home and at work on Windows 10 with Chrome and Edge on a Pixel 2 XL. Only question I have for any IT people, on my work computer I have to put in a Network ID and password for any external websites and our usage is monitored. Would my work be able to read/store my personal SMS messages with this technology?

When you connected to messages for web, did your audible notification of a new message on your phone go silent? My Google Pixel 2 stopped "pinging" me when the phone received a new message. I only get a message on the computer screen.

Has anyone on the latest Android beta 9.0 gotten the notification yet?

Yes. I have messages for web I am on P

I have messages for the web and I've activated mine. I'm on 8.1 on my Pixel 2 XL.

Pixel 2 XL, all updates, and no web option. Must be area or network dependent...

Did your audible text message notification on your phone go silent when you connected to messages for web?

Hasn't shown up on my OnePlus 6 on EE in the UK, but if I am reading this right it requires RCS, which EE have said they have no plans to support (at this time, blah, blah, blah) am I right in my understanding that Messages for web requires RCS? Or.is that only to send over WiFi? My phone manages to send/receive SMS when WiFi calling is on and no phone signal on either SIM, but I know that's a different technology (UMT off memory).

That's strange, this shouldn't be network dependant, I have the web option on my Pixel 2 XL with Three network.

I received the option with the update on my Note 8 but it wasn't there with the update on my Pixel XL.....works good..

Just got the notification on my unlocked Note 8 on ATT. I've been checking for it all weekend.

I got it, and it works in regards to texting. But, the standard setup turns off any audible alert on my phone that I've received a new text message! When I go to the notifications screen for messages for web, it's set up with no audible alert. So, I figured it's a simple matter of turning that on, which it was. But now, I get audible alerts every few minutes from my phone telling me that messages for web is connected! Really poor in-house testing before release Google - wow.

And I have been using Join app for over 2 years and enjoying this feature

Is anyone getting notifications in Chrome? I have notifications enabled, but am not seeing any.

thank you for the new launch. i've been waiting for so long. This way I have good reason to put down my phone. I only wish that the log in can be launched in using so then I don't have to turn on wifi or data because of the qr code.

It worked for all of 24 hours! Now when I go to the messages android to try via my computer, the QR Code doesn't even show up on Microsoft Edge. It works FINE on Chrome tho!

Every time I reboot my machine I need to go through the setup process again. I have checked my settings and it is marked to keep me signed in. Is this a glitch or am I doing something wrong?

When Android Messages for Web is open on my PC the notification alert tone is muted on my phone. I've tested it several times and any time I open Android Messages for Web I don't get the notification. Phone is a Moto G5plus.

OK, I have set this up and it's great. But I've looked high and low, there's no search option. Is it me? A person needs to be able to search one's messages to find a text or a person they've previously texted, it's not really efficient to have to scroll through the texts, waiting for them to be retrieved/sync'ed, looking for something manually. This is a feature on the stock phone message app and other web message apps, so there really needs to be a search option.

Nice new web-based messaging, but there's no Search option. Hugely missed.