Android Messages for web is officially rolling out to all users [Update]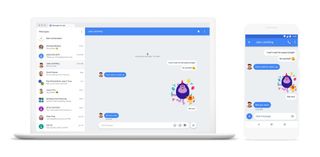 Updated June 26, 2018: Justin Uberti, the creator and lead of Google Duo, announced on Twitter that Android Messages for web should now be live for all users. I can confirm that I'm now seeing it at long last on my Pixel 2 and Galaxy S9, so be sure to check it out for yourself if it previously wasn't showing up.
In late-April, Google's plans for turning Android Messages into something of an iMessage competitor were revealed. There are a lot of moving parts with this effort, but one of the biggest ones is finally coming to light — desktop messaging.
If you head to messages.android.com, you'll see a new website with a large bit of text saying you can "Text on your computer with Messages for web." There's a QR code to the right of this and instructions for scanning it through the Android Messages app on your phone.
To get started, open Android Messages on your phone, tap the three dots at the top right, and tap the new "Messages for web" option. If you don't see that in your app quite yet, Google says it's rolling it out to users starting today and over this coming week.
Along with announcing the desktop site, Google also took some time to highlight other new features in Android Messages — such as a GIF search button, Smart Replies being available for everyone that uses English, in-line link previews, and a copy button that's attached to a notification when you get a one-time code to log into your bank, Google account, etc.
I've noticed just about all these over the last few days, so most (if not all) of them should already be live.
Are you excited to start using Android Messages for web?
Chrome OS to soon offer 'integration' with Android Messages
Get the Android Central Newsletter
Instant access to breaking news, the hottest reviews, great deals and helpful tips.
Joe Maring was a Senior Editor for Android Central between 2017 and 2021. You can reach him on Twitter at @JoeMaring1.
Finally! I got really used to being able to text from my computer with the Google voice/Sprint integration but they killed that June 1st.

Just installed Android Messenger, and I'm not getting the "Messages for web" option in the app. I guess I'll stick with Textto for now.

Same but for now sticking to Pulse SMS

I imagine the next Android Messages update from the Play Store will contain this option.

i believe it is also server side. i installed the latest apk from apk mirror which states it has this ability, but I am still not able to get the option to scan the QR code

When I did that, my settings->apps->Android Messages shows the latest update version but the Play Store does not show the latest version.

excited but can't use it, no option available yet in the app

I've been using Pushbullet to reply to Messenger texts on desktop. Hopefully once they deploy it, it works better. I wish though it would be something like Hangouts on the desktop when it was at its peak.

I'm a Pushbullet user, too. It's REALLY flaky when used in tandem with AT&T's "Advanced Messaging", though, and I've been looking for something else. Their only recommendation is to turn off the advanced features, which means I lose read receipts, typing indicators, larger file sizes, etc. So I put up with things duplicate messages in my history when sent from the PC, the occasional non-send, etc. I managed to get my entire fmily moved over to Allo, but we know where that's going end out... :) I'm hoping they manage to push carriers forward into implementing standardized RCS, but I'm not going to hold my breath.

Have you or the OP tried Join https://joaoapps.com/ ? A lot like PB, but one time pay and the dev is someone you might know if you use Tasker.
I don't have Advanced messaging, but it might be less flaky.

Was so excited to get this set up! ........ It's only the web page that is up..

Wish they supported dual SIM - only thing holding me back.

Might as well be US only, since the rest of the world has moved on from sms.

But whatsapp is the worst.

Be nice if I actually got the rollout. I use GV more on the web but this will be welcomed once rolled out to me.

Have the web page, but no option in the overflow menu. Grrrr. Been waiting for this since Android Messages came out.

Someone want to explain to me why I should use this instead of Hangouts??? I can already chat with my friends on my phone or computer, in the same convo, and talk to people using Apple devices. What the hell makes messages any better?

As a GV user (so swear by Hangouts), I'm not seeing a reason to switch unless they make GV play nice with it.

Same here. I also depend on that floating transparent UI to tell me when I have a new message on my chromebox. If they do allow for Google Voice integration they need to implement the same transparent UI as Hangouts for the desktop.

I don't think you can use hangouts on the computer to do sms from your phone. You can only chat with people also using hangouts on the computer. Hangouts can integrate sms also, but only when you're using the phone.
Android messages is made for sms and now they make it accessible on the web as well, so you can do sms on any device with internet access.

If you have your main number ported to google voice you can SMS or Text anyone, from either Hangouts or Google Voice. Works on computer via the web or the chrome hangouts app, and of course mobile apps as well.

I get it, but why do I need to SMS someone when I can just reach them on hangouts? Then they will get it if they are on their phone or their computer, as long as they have hangouts/Gmail, which all my friends do. If I use messages on my computer to send an SMS, the recipient will only get it on their phone, unless they have Android Messages, which a lot of people don't. Google keeps trying to push people off hangouts for some reason with all these other apps, but it really is the best universal chat service. You only need data, whether on a comp or phone, international or not. You can send pics and vids and even make calls. Not sure why anything else is better.

I think the reason Google is pushing people off of Hangouts is because it's not very popular. It definitely has a loyal fanbase but a small one at that, and the users are more than likely teams and professions, given the planned changes with the platform. Instead of investing a lot of money and resources to revamp and market Google Hangouts, which still could fail to penetrate the already bloated multiplatform messaging field, they wanna start from the ground up i.e. improve SMS, a service that every phone comes with, via RCS and they will improve will come in an app that every modern Android phone comes with, Messenger.
At some point, I feel they are going to add an instant messaging service into the app that will work in tandem the SMS, to truly compete with iMessage. This will also help branch out to other devices, besides just device with a phone number. This instant messaging service could even work for iOS devices, which will be necessary because I don't believe Apple will add RCS support in the near future...

It's not very popular because Google keeps pushing people off of it. Remember Hangouts circa 2013 or so? Those were the glory days! I'm going to get a hat that says 'Make America Great Again' except it will be green and refer ONLY to a functional, popular Hangouts platform...

Can't agree more. Honestly, I think the downfall started when they renamed it hangouts, which can't really be used in verb form. "I'll Gchat you later" - perfectly natural. "I'll Hangouts you later" - NOPE. That ruined the platform.

Messages is going to get ongoing support. That instantly makes it better.

Hopefully! I would hate to see it like Allo in a year......but yes this has the potential.

I'll stick with pulse sms. It's been basically perfect for me and it's inplemented superbly.

Agreed. pulse has been fantastic even allowing me to get texts on a second phone .

Only issue I have seen with Pulse SMS is the inability to use over Wifi. When I travel I can use Android Messages on WiFi and it will work to still send/receive (like on the plane or if I am staying at a hotel with Wifi versus using Roaming). Pulse SMS will not work unless you are connected to your providers cellular service.

Not enough to get me off Textra!

You are seeing Gif search? I'm not.

I'm not seeing it either, but the other features are there... weird

No option for scanning the QR code on my NOte 8 :(

With this kind of thing rolling out and the dependency on server/provider-side implementation of RCS, is AC working on any sort of "state of the union" when it comes to how things work for each of the big carriers? For example, I know Verizon and AT&T have their own "Advanced Messaging" implementations that may or may not be fully compatible. Personally, I've moved back to AT&T-specific models and stock messaging clients because of the fact that you lose certain features (HDVoice, VoLTE, Wifi calling/texting, etc) with unlocked phones and/or alternative SMS clients. I'd love to see some sort of running tally on who-supports-what. (NOTE: I'm obviously US-located and centric, so forgive my exclusion of carriers elsewhere)

Yes, Google has managed to get most of the US (and a bunch of international) carriers to agree to use the "Universal Profile". As carries enable this, RCS should become more flexible. Currently, I think Sprint and Rogers are working with T-Mobile promising the end of the month. :) You can read more about the Universal Profile (and the supported manufacturers and carriers) here: https://www.gsma.com/futurenetworks/rcs/universal-profile/

HATE YOU ALL! work made us get iPhones...... one little app is not such a big deal. I just miss the ever changing ecosystem. Things just get better on Android and few things stay stagnant unlike Apple where every frigging update looks the same.

Yup- thats why my shorts sag- 2 phone syndrome, one apple for work and my personal android.

You do realize that this feature was introduced by Apple like 4-5 years ago? Along with phone calls and shared clipboards. Google's way behind on this, and this implementation of the feature seems pretty lazy, since all your messages are probably going to be going to Google's servers.

Yes, c00lguy... we ALL realize that but thanks for salting the wound.

This is good, but it has be better than Allo. With Allo for the web it won't work if your phone is not turned on.. This needs to work without your phone.

Sorry! Android Messages for web works the same way as Allo.

This will DEFINITELY not work if your phone is off - I don't have it yet but logic would dictate. That was really the beauty of Google Voice... of course there were a slew of other issues with GV that were never quite resolved. In general Google and Android have been so tantalizingly close to getting the chat / SMS & MMS / integrated VoIP platform figured out so many times when I think back on it my head spins. Allo isn't as much a solution as it is an experiment, probably to confirm that Android Messages would actually work online. My prediction is that all 632 Allo users (made up number) will have migrated to Android Messages by this time next year - I mean why would anyone stick with it? What really blows my mind is that we've almost come full circle back to a plain old SMS messaging app and the only real difference is that you can now use it from your PC.

I actually think the inline Google Assistant feature is really great. I hope they bring that to Messages.

No dark mode for it... fail

Thank you for not making me be"that guy" who said it. 😁

Funny that they have it on the web interface, but not on the app. Hopefully will be coming with a later update.

Just downloading the update for Android messages on my Pixel 2 XL, and no sign of the web view options

Well, that's the final nail in the coffin of Google Voice for me. I'll likely port my GV number over to T-Mobile once this goes live for me.

Even if GV is integrated with messages like hangouts? I just got on the GV/hangouts train after porting my number to GV.......would hate to get off now!

I'm not seeing this yet in my app, I just updated it as well and still nothing, I'll check it tomorrow.

not available on google pixel 2 w/ june update

Can someone explain how this is even possible if they (Google and carriers alike) have yet to shift over from SMS to RCS...?

I'm assuming your phone's just going to be pushing all the messages it receives to google. That's the only way I can think of that would make this work... Could be wrong though.

This will work the same way that WhatsApp, Signal, and Allo do. The phone pushes the messages to Google, and it won't work if your phone isn't on and connected to data.

Android Messages for the web will work with whatever message you receive. If your carrier only supports SMS / MMS, then you will get those messages on the web. If your carrier also supports RCS, you will get those + the additional features on the web. :)

Like others, I also don't have this yet, despite just downloading an app update that includes the inline preview option.

I rarely use texts except for one-time passcodes and have Pushbullet to give me those :)

Still not option for "Messages from the web" yet (US EST 7am)

Same here. Has anyone gotten the "Messages from the Web" yet? Or is this going to be like YouTube Music app update that took weeks to show up?

Nothing yet here, 8:27amEST

Excellent, I can text the last two people I know who still use sms from the web. What a glorious day

Just seen the Chrome Extension to use Android Messages (Win/Mac/Linux): https://chrome.google.com/webstore/detail/web-for-android-messages/mjdid...
Really cool.

The reason you aren't seeing the option in the Android Messages app yet is that there is a staged roll out. The Google Blog post, implies that they are planning on this to roll out over the next week. :)

Must be driven by device and carrier. My girlfriend's Cricket Wireless Moto G5s with Oreo has it. My AT&T S7E with Oreo does not.

LMAO, you must realize we can't wait till next week!

I can't get it to do mms over WiFi (Sprint S9+). The only messaging app that does this for me is Textra. How do I fix this??

So over a year or so, I've gotten my immediate family, all iPhone users, to use Allo when sending me messages. They send messages along with Allo stckers. What do I tell them to use now? Regular messaging app on their iPhone if that exists? What?

Phht! If you want a real iMessage "competitor" for SMS on Android, look no further than PulseSMS. Cloud-synced messages to all your devices, including web browser, with no qr code necessary. Having said the above, I still think the best sms client out there is Textra. But of course Textra doesn't do cloud sync.

I don't have data on my phone would I get charged any extra fees if I used this? It looks really cool and would love to use it if it doesn't charge me anything extra.

Took a couple of days, I went through what some of you earlier have commented. NOW this app is up and working fine for me, got it installed on my smartphone, Windows 10 gaming computer (The hell with that worthless Bill Gates and Microsoft) and all 4 chromeboxes. With this new app and the outstanding features it offers, the vast majority of the population like me would be far better off forgetting about Microsoft and Apple, CHROME is the only way to go!

Going on June 24, still nothing on my S9+.

Of course no luck for me until now. I knew it.
The ones that always want updates so badly, get it after the ones that absolutely don't want any change. Same melody every fricking time.
Google Pixel XL doesn't help you to get it...

Finally see it! Being someone that sits at a desk all day, this makes it a little more convenient to stay on top of my texts as I don't always hear my phone buzz.

Loving being able to be at work and still keep up with friends and family without being on my phone. Plus a lot faster at typing on a keyboard.

The Android Messages app on my phone got updated this past Saturday

I tried Android Messages over the weekend on my new phone, I just couldn't like it enough to use, so I will be missing this feature. If they decide to add some customization beyond what they currently have I might give it a go. Maybe even just a dark theme.

They do have dark theme, you have to enable it in the settings.

I just installed Messages, and I don't see any dark theme in settings. Where did you find this?

Got it yesterday, finally, but it's very slow, the Messages app continually crashes, and the web page keeps losing its connection frequently. I can't even just refresh the tab; I have to close the tab and open a new one. I may try it again when it leaves Alpha and hits Beta.

It's a little slow for me but haven't experienced any crashes.
Haven't had issues with refreshing either. I can manually refresh fine. What browser are you using it in?

I am using Google's Chrome.

It's arrived here in South Africa too

About friggin time they finally incorporated this. Should have been done years ago.

So, this works for me now. I'm just not sure I want to trade Verizon Messages+ and the free PushBullet plugin for Chrome for this. Android Messages is really visually unappealing thanks to all the blinding white space. I suppose it will become a clear winner if Verizon ever gets around to supporting RCS with Universal Profile.

I've got it up and running on my phone and tablet (using the chrome browser). I like it well enough. I'm looking for a replacement for Facebook Messenger. My family likes to use stickers and gifs. Neither the app nor the keyboard I use has good stickers. Not as good as Facebook's. I hope they improve that aspect, or I Can find another way.

One would think that a company that specializes in Search would have built a search function into their Android Messages Desktop product. How lame is that? Then there's how long it takes to start a new conversation. It appears it's loading the entire contacts list every time. Like most of google's messaging products, this one too sucks.