Does the Galaxy S10 have a headphone jack?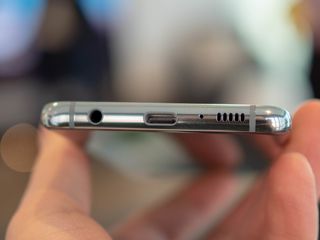 Best answer: The Samsung Galaxy S10 and S10+ both include a 3.5mm headphone jack, so users of traditional headphones can use their favorite pair no problem.
Amazon: 1MORE Triple Driver In-Ear Headphones ($76)
Use all your favorite headphones
Because the Samsung Galaxy S10 and S10+ have 3.5mm headphone jacks, you can use pretty much any pair of headphones or speakers you have to listen to your music or watch your favorite videos.
While much of the industry has contended that USB-C and Bluetooth audio have obsoleted the need for 3.5mm headphone jacks, Samsung and others have ensured that the legacy tech won't easily fade away. This trend mirrors what we see in the headphones market itself, with many prominent analog audio devices still having significant visibility in stores and out in the real world.
There are many advantages to sticking with 3.5mm headphones. For one, you have a much wider selection than, say, headphones that opt for a direct USB-C connection. They're often cheaper than Bluetooth counterparts because they don't require a battery or extra digital tech bits inside. Because of this, they can also be lighter, though much of this comes down to the type and style of headphones you're using, as well as how they were manufactured.
Traditional headphones also don't require regular charging (except for powering active noise cancellation in applicable units), and they don't fall prey to signal disruption and connectivity issues. As a downside, you have to keep your Galaxy S10 nearby as traditional headphones have to be tethered via cable, and those cables can also wear out over time.
There's still Bluetooth 5.0 and USB-C
For those hoping to explore newer audio technology in the Galaxy S10, all of that stuff is still here. The included USB-C port can make use of advanced digital audio features that simply weren't possible over analog sources.
Examples include support for advanced multimedia data protocols such as HDMI or DisplayPort, and because USB-C can support multiple functions simultaneously, that means you could use one single port to show your video while feeding its audio to a separate device over either analog or digital. There are a number of other exciting possibilities enabled by USB-C, all of which you can read about at the link ahead.
Best Bluetooth Headphones for Galaxy S10
As far as Bluetooth is concerned, the Galaxy S10 includes Bluetooth version 5.0 with AptX+ Bluetooth Low Energy. This allows it to deliver high-fidelity audio at distances up to 800 feet, as well as enables some cool tricks that only Bluetooth 5.0 can handle, such as supporting multiple output devices simultaneously.
Bluetooth has become one of the most popular ways for consumers to listen to audio. Whether it's through headphones or a speaker while you're listening to music or talking on the phone, Bluetooth audio is convenient, versatile, and still one of the coolest wireless technologies available all these years later.
No matter your preference, there's no shortage of ways to enjoy audio on the Samsung Galaxy S10 and S10+. If you're more of a 3.5mm type of person and looking for some nice headphones, you can start with 1MORE's Triple Driver earbuds.
These THX-certified in-ear headphones feature two armature drivers joined by a separate dynamic driver for a total of three, delivering nice punchy sound despite its smaller size. The headphones favor big bass for its sound signature. 1MORE bundles six sets of silicone ear tips and three sets of foam ones to fit any ear, and a convenient in-line remote handles playback, volume, and calls.
Our pick
Big bass, little package.
With these 1MORE earbuds, you can listen to bass-heavy music that'll make the hairs on your body stand to attention, and in the same minute place a clear phone call that doesn't require you to give up using one of your hands.
Sign up for Black Friday email alerts!
Get the hottest deals available in your inbox plus news, reviews, opinion, analysis and more from the Android Central team.