Does the Galaxy S10 and S20 fingerprint sensor work with screen protectors?
That fingerprint sensor can be finicky under the wrong circumstances.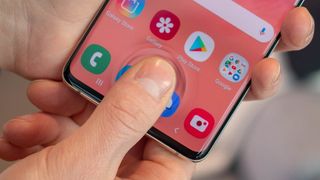 (Image credit: Android Central)
Best answer: Yes, the Galaxy S10 and Galaxy S20's under-screen fingerprint sensor should work with any screen protector, glass or plastic. But if you want to use a tempered glass protector, you should aim to buy one that's certified by Samsung or verified to work with in-display fingerprint sensors.
How to find the right tempered glass screen protector
Why you can trust Android Central Our expert reviewers spend hours testing and comparing products and services so you can choose the best for you. Find out more about how we test.
The Samsung Galaxy S10 and S20 series both have a fingerprint sensor sitting beneath the display that allows you to unlock your phone by placing your thumb on the screen. This is a convenience over having to reach around the back where Samsung had previously placed its fingerprint sensor. As cool as this new biometric unlocking system is, it can also cause issues if you use certain screen protectors.
The exact technology in play is Qualcomm's ultrasonic fingerprint sensor, which uses sound pressure waves to read the 3D surface area of your finger, giving you a more technologically convenient and secure biometric security option than the previous scanner.
However, those sound waves can cause some big problems when it comes to tempered glass screen protectors because if there are any gaps between your screen protector and your display, the ultrasonic waves can't get an accurate reading. Although your regular tempered glass screen protector appears to be in direct contact with the display, the adhesive used to keep it all together creates a gap that is just thin enough to throw off the ultrasonic scanner.
This issue, it would seem, has been addressed by most makers of tempered glass screen accessories, including the amFilm Ultra Glass Screen Protector that uses similar technology as found with our previous top recommendation, the Whitestone Dome Glass.
If you like the feel and protection of tempered glass, just make sure that the screen protector you're choosing has been proven to work with the fingerprint sensor. Screen protector companies know that this is something people are looking for, and will explicitly test and certify that their product works.
You still have options beyond tempered glass
However, let's say you really don't want to shell out for a tempered glass screen protector. There are still viable options for protecting your phone's screen without affecting the usefulness of the fingerprint sensor.
We've got a roundup of the best screen protectors for the Galaxy S10 and best screen protectors for the Galaxy S20, which include both tempered glass and film, so you shouldn't be scared off of going with the screen protector that's right for you and your budget. Our top pick for film screen protectors for the Galaxy S20 comes from ArmorSuit, and for the Galaxy S10 is this 3-pack of LK HD Screen Protectors. Both bring great value for protecting your phone's screen as long as you take the time during the installation process.
Whitestone Dome Glass screen protector (2-Pack)
Great protection, and a backup just in case
Glass screen protectors can be more finicky with the Galaxy S20 because of the ultrasonic fingerprint sensor, but the UV curing system Whitestone uses is one we know works. It's expensive, to be sure, but it also holds really well to the phone and lasts a long time.
ArmorSuit MilitaryShield Screen Protector
S20 protection for less
When you don't want to spend big money on a glass protector, go with this ArmorSuit plastic protector for a fraction of the price. You'll likely have to replace it more often as it picks up dings, but you can afford to do so.
amFilm Ultra Glass screen protector
Best S10 protection
The amFilm Ultra Glass Screen Protector is one of the best tempered glass screen protectors that's verified to work correctly and reliably with the Samsung Galaxy S10's fingerprint sensor. It's a bit costly, but worth it for the peace of mind it provides.
Sign up for Black Friday email alerts!
Get the hottest deals available in your inbox plus news, reviews, opinion, analysis and more from the Android Central team.