Do you like Samsung's gesture navigation?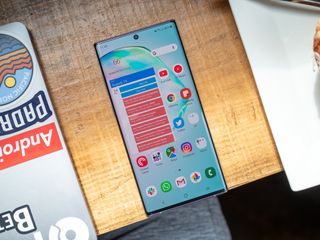 (Image credit: Android Central)
The current state of navigation on Android is kind of a mess. Google continues to change its vision of gestures, and as confusing as that is on its own, you also have custom implementations from OEMs such as OnePlus, Huawei, and Samsung.
Today, we want to talk specifically about Samsung's.
On modern Galaxy phones, including the new Note 10, you can use Samsung's gesture system of swiping up in the middle to go home and swiping up from either the left or right corner to go back or bring up the multitasking menu.
Here's what some of our AC forum members have to say about this system.
What about you? Do you like Samsung's gesture navigation?
Joe Maring was a Senior Editor for Android Central between 2017 and 2021. You can reach him on Twitter at @JoeMaring1.
Samsung's gestures are significantly better than those done by Google. Even though Samsung is always far behind google on the release cycle, they are almost always ahead on useful features in the UI. Gestures have been on Samsung since Pie. I do NOT like the gestures from google where you swipe in from the side.

I use Smart Launcher, which allows you to set multiple gestures to launch apps/navigate screens. I prefer to use the nav bar for home/back/recents, and, with Good Lock, I've added a play/pause control to it.

Which good lock plugin let's you change the functionality of the nav bar? Navstar just seems to do theming.

"Button layout"
"Add a button"

Thanks! I wasn't looking hard enough lol, didn't notice the button. Shame we can't modify gestures though, and i still think OnePlus' implementation is better.

I definitely like gestures better than buttons and I've been using Fluid NG app so I have same gestures across all Android devices. The Samsung and OnePlus gestures are good and at this time stock Android are the worse.

Of all the gesture systems in use just now Samsung's is by far the worst.

Samsung's gestures are by far the best!

Judging by the comments, you are the one who is deluded. Samsung gestures are extremely simple and if you know the basic Android nav bar you can use them with nearly zero thought.
I've used the pixels gestures and they are not good at all.

Nope ... You're clearly the deluded one... Samsung's gestures are far and away the best gesture implementation yet... You're allowed to disagree with people, but calling someone deluded because you don't agree just makes you look like an idiot... and an ass

Yeah... you're wrong. Google, Huawei, Xiamomi and even OnePlus have all done their gestures much better than Samsung's poor effort. Samsung have been forced to use those awful commands thanks to the fact they already have a swipe in from the side for edge apps etc

It's subjective, you moron... Can't be "wrong" ... what an asshat... telling others they're wrong doesn't magically make you right... And clearly I'm not the only one who shares this opinion...

Agreed, no complaints on my S9+

I've been using Samsung's gestures since the Pie beta on my old Note 9, now using an S10+ and they are fantastic. I'm a "dual platform" guy so my other phone is an iPhone XS Max and Samsung's take is significantly more convenient. Specifically the act of 'going back'. On an iPhone, to go back, you have to swipe in from the left of the screen toward the right (or tap the little back button in the upper left of the screen); neither can be done (single-handed) if you are holding the phone in your right hand. On the Samsung, it's a simple, tiny swipe up on the appropriate spot. Love it.

The gestures are better than Ok. I reverse the order. The back gesture sometimes takes me back to the home screen despite swiping accurately on the left. Sometimes it's frustrating to have to correct the action. Just implement BB10 gestures and we are golden.

There ya go. Lol bb10 gestures ftw

As soon as I heard about goodlock and had a chance to set it up I did. I came back to android from bb10 and gestures were sorely missed. What android does isn't as good but samsung is moving the right direction. I like it. Been using it for a year now.

I prefer to use the buttons for two reasons:
- A double tap on the recent allows me to quickly move between my two most recent apps, which the swipe gestures don't allow me, unless there's a way I haven't found.
- With Good Lock, I've added a button to pull down the notification tray as my S10+ is just too big for me to reach the top of the screen from anywhere, so that's really helpful.

I miss the OnePlus 5. Long press back to bring the notifications down, double tap multitasking to switch and long press to split screen and double tap home lock the phone.

Double swipe on recent swipe on your Samsung phone and it does same as double tap on recent button moving between the two recent apps

Thanks notgniddew, I literally realised that as i was doing it. I came back here to edit my message and saw your answer =D

They're not great, but at least they're relatively intuitive compared to buttons and fairly functional unlike the over engineered mess Google has come up with. I'd probably be using the buttons if i could turn off auto hide, but if i have to swipe up anyway i may as well use gestures.

Because I was swiping up to bring up the hidden nav bar previously on s8 and s9, it was a natural transition to Samsungs gestures which are basic but effective.

I hate the hidden navigation bar. People say "it gives more screen!" But there's still a centimetre of dead space at the top of the screen because everything is 16:9!

I prefer Samsung's gestures. It took half a second to get used to it and I'm not looking back.

I agreed. I have an iPhone and even prefer Samsung 's to iOS. They feel more intuitive on Android.

They're simple. They work. They eliminate any chance of nav bar burn-in. They clean up the home screen. What's not to love?

Add goodlock gestures and samsung's gesture nav is great

What's the plugin actually called?

I'm also a huge fan of the Samsung gestures with the order reversed.

I got used to gestures with the S10e and I will continue to use them on my Note 10.

I use the gestures on my s10e. However! In addition to that I've also enabled one handed mode whereby I am also able to go back by swiping down from the left edge of the screen... Its proper handy!
Android Central Newsletter
Get the best of Android Central in in your inbox, every day!
Thank you for signing up to Android Central. You will receive a verification email shortly.
There was a problem. Please refresh the page and try again.