Day 4 of Google's 10-day, 10-cent, 10 billion app download celebration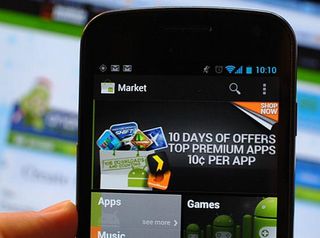 Welcome to Day 4 of Google's 10-day, 10-cent, 10 billion app download celebration in which 10 apps will be sold for a dime. Here are the apps we're seeing on sale so far:
That's 10! Good eyes, everyone!
Also: Day 1 apps; Day 2 apps; Day 3 apps
Apparently EA has a nifty little plan where they remove the app and put it back on the market. That ensures that you cannot update it or redownload it if you have to. Then you have the pleasure of purchasing the new version. I know the app is only 10cents right now, but this is really about the principle. Imagine if you bought the app at full price and that happened. Time to boycott EA.

This exact thing happened to me with this app. Paid full price for it when it came out. Now when I download it thinks it's a beta and wants me to buy it again, even though the marketplace lists it as an app I paid for. No response from Google or EA when I tried to remedy this. Yeah I think I'm done with EA apps for sure.

I bought Tetris a long long time ago and never have I had an issue with sideloading it or licensing issue. I suppose that particular game doesn't have any drm baked inside though.

Also see listed. Tile Storm HD
Mixt HD
PolarStorm
Tile Storm Eire HD
Aftermath XHD

My Beach HD is .99 for me.

I saw it on the top paid apps page for .10, but when you go in it says .99. I think when you go to purchase it it will be .10. Same thing happened for Game Dev Story.

Its finally changed to .10 cents.

Jelly Defense is a nice quality game. I got it for free not long ago from the amazon app store. 10 cents is still a bargain.

Totally ditching the Amazon AppStore after replacing a few with these 10 cent apps.

Not sure the hate for the Amazon app store.

Well let's start with their poorly developed app store. It's freaking slow. Scrolling through my list of apps takes a few minutes. You can only queue up one app at a time to install and have to go through multiple prompts to install it. It has to always be running with you logged in to use the apps. It continuously adds itself to the notification bar to let you know you have 200+ apps ready to install. And that's not even getting to how Amazon treats the developers. Amazon makes up it's own price, gives the dev nothing for giving away their app for free, is slow to update, etc. Amazon's free apps have been a good way for me to try things out, but after the last few days, I've gotten most of what I like from google and have already uninstalled amazon's store. I continue to get their free app of the day online, but won't keep their stuff installed on my devices anymore.

I agree the Amazon app store has issues, but I'm not sure it's as bad as you are making it out to be... If I may:
"It's slow" - That's subjective and variable. I have it installed on 3 devices: Plenty fast on my evo, decent on my rooted nook, and abhorrent on my hero. I think that applies to pretty much ANY application. Just to be sure, i just scrolled through 200+ apps on my evo, in less than 20 seconds, just as fast as my finger would flick. You may want to look at your settings.
"Queue and Install" - installing the app of the day took: 1 click to buy, 1 click to the same button to confirm (preventing accidental purchase) and another to 'install' after it downloaded (same install/cancel option ANY apk is going to give you, and that the market did originally). Not exactly onerous... I do agree multi-installs/updates would be nice, but considering they haven't been out a year, I'll give them a break there.
"It has to be running" - True, but I have yet to see a performance or battery hit for doing so. I've seen some people post about an error with it logging in (and therefore purchased apps), and for those people/incidents I can see a valid issue. It seems to be about a frequent as licensing issues from the market, that is to say, rare, but not unheard of.
"Continuous notification" - The notification comes once a day, when there is an uninstalled update to an installed program, and anytime you add another application. Annoying? Sure, but if nothing else, it reminds you to check for the app of the day. There is an app that people are paying $1 for that does the same thing...once you clear it, it's fine until tomorrow (assuming the other two triggers aren't hit)
"Slow to update" - There are 4 of today's 10c apps that were previously apps of the day (free), all four are on the same version on Amazon and on the market. It's been that way all week... The AirSync on Amazon is actually NEWER than the one in the market. There may be a slight 'echo' on getting updates, but I've found it to be about a week or so (recently, originally, MUCH longer).
"The Devs" - Now this argument has merit. It's been posted on several occasions Amazon basically strong-arms the developers for their own benefit for the app of the day program. But then you undercut your own standing by saying you will continue to support them by downloading their apps? Which is it, that Amazon is treating devs poorly and you refuse to support that, or that you will continue to download the free app (effectively endorsing said treatment). I realize a comments section on a website is NOT the place to put in depth conversation, but I thought to reply just because it seems you just wanted to get rid of Amazon app store. I think it's fine to do that, and may do so myself (if thumb keyboard and quickoffice come up during the sale). But lets wrap it in fact based decisions, not flawed logic and anecdotes. cheers :)

Self correction: There was a new version of Shazam for some devices put out 3 days ago, that doesn't look like it's on Amazon market yet.

Slow, yes. Very slow. I had it on 4 devices, the slowest of which is an EVO. Also a 3VO, GT10.1 and Transformer. I get the free app and then have to go to all 4 devices and clear the notification, every single day. It's extremely annoying. Where's the "update all" button? Nope doesn't have one (3 clicks and waiting between each per app to update). And I have had the issue where an app doesn't run because it says I'm not logged in, yet I have the amazon app store opened and logged in. As far as the free apps and treatment to devs, yes I download them and try them out (I'll try stuff out every couple of weeks or so), then if the app is something I like, I go and buy it in the Market, thus supporting the developer. I only have amazon's store installed on once device at the moment for this purpose. My comment was a simple response to "why all the amazon app store hate". Just gave a few of the many reasons why people don't like it and how this 10cent deal with the Market is a great excuse to drop it.

Ahh, so you've had the 'not logged in' problem too... I haven't come across it, but I would be interested in seeing how pervasive it is. (Maybe a poll for android central?) For the free apps and treatment of devs, kudos to you (honest admiration, not internet sarcasm). It's good that somebody out there put's their money where their mouth is. In the fashion that you use it, it makes sense to continue to use amazon for that reason. (Though if Google brought back the longer evaluation period, there would be less reason for it, but that's another discussion) I do agree though, there are plenty of reasons to drop Amazon market on an individual level. Reading your reply, and mine...I quickly replied to what I thought was a random rant against Amazon with one of my own... My bad, no hard feelings m'kay :( I think we all agree, to each his own, and hopefully Amazon will get their act together so these types of promotions vying for loyalty become more common!

I've never found the store slow, even browsing on my Evo. I think you can install upwards of 3 or 4 different apps at the same time. Never have I ever had the issue with more than one at the same time. You say it's constantly running...not sure what you mean by this, do you mean constantly sitting in ram? Because there is a huge difference. The app store has it's issue, but overall I'm glad it's just another choice in the world of Android. I'd also like to point out that the carriers have their hand in what's available and what's not with google market. To me, that's more annoying than anything I've had to put up with Amazon app store. Plus, I'm still butt hurt over them removing one of my apps that I had paid for even though I no longer need it. *edit* Amazon isn't even a running service at the moment on my Epic Touch. /shrug

Its slow, clunky and annoying. I cant remove apps that ive tried and uninstalled from my app list. Sometimes when I open it, it throws 30 prompts at me about this app and that app. if theres a wifi only app that i click on to install, the notification telling me its a wifi download only sits in my task bar until it installs, and theres no way to stop the install until its starts. The only real reason i havent gotten rid of it is because of the free app a day.

Contrary to my post above yours, I'm not a huge fan of the Amazon App myself, and you hit EXACTLY on why. I had an app (ironically Jelly defense) stuck on my taskbar for two days (no wifi signal) with no way to remove or kill it... annoying and intrusive. There is a thread on Amazon forum about the 'remove from app list'. It's annoying but I can see it from Amazon's standpoint. Better to leave a record of every 'purchase' for the user to see than have something not show up, and then in turn have to deal with a customer service issue. I wouldn't be surprised if they come up with an 'archive'/hide feature, which they added to the kindle apps. But then again, it's Amazon, they tend to think they know better than the customer...

Tenth: Toddler Spanish: 100 words
https://market.android.com/details?id=com.toddler.spanish&feature=apps_t.....

when I hit need for speed it says not available in my country

I really want to buy NFS:Shift but only one of the 3 in market show as available for either my Optimus V or Triumph. Funny thing is it shows available for my OV and not my triumph due to "not available on your carrier"... LOL Both my phones are on Virgin Mobile. Is there any way around this?

It shows "not available in you country" for my 3 devices... Two on Verizon, and a SGT 10.1 WiFi... Great deals though!

Try again. Changed the link to the North American version.

Phil, thanks for trying but it still won't work on my triumph: This app is compatible with some of your devices. Triumph
This item is not available on your carrier. Optimus V The OV is fine but has a blank carrier name in the market settings online. The only phone I have that has anything in it is that stupid triumph. I need to find how to remove it. ;)

If it is not available due to carrier then you may be get it by removing you SIM card and trying over wi-fi. Haven't tried it in a while but this used to work. Or even turning on Airplane mode to kill mobile data and then turning wi-fi on may work.

If it is not available due to carrier then you may be get it by removing you SIM card and trying over wi-fi. Haven't tried it in a while but this used to work. Or even turning on Airplane mode to kill mobile data and then turning wi-fi on may work.

Mine says not available in my country, also. I'm in VA. Tbolt. I refreshed a few times and kept trying link.

I have added the thunderbolt's build.prop to my triumph to allow more apps and all. Maybe that is the common failure? I know i just want it so I will probably just buy it and try to work it out in the end since the triumph is now my daily phone.

I have my fingers crossed for Widget locker some time this week...

If it isn't a $.10 app, you should still buy it after. It is worth more than full price! I'm hoping for LauncherPro Plus, myself. I use the free version, but wouldn't mind being able to resize my widgets. They had ADW EX the other day, so I think they will do LauncherPro too.

not to complain, but why are most of the discounted apps games? I would rather get something useful on a daily basis.

NFS:Shift shows as not available on Verizon for my Bionic. Is it possible to download the .apk and sideload it?

Meh. Day 4 is a bust. Nothing here I want for even 10 cents.

@Underwater Mike, I just dl'd NFS on my Bionic no problem.

Big fan of Baseball Superstars, but why 2011? - pretty sure the latest version is "II" and would love to have THAT add free. There have been a few that I already picked up via the Amazon free app - since I know of no way to "delete" apps from the AAS unfortunately I skip these to avoid getting update notices. NFS I picked up when it was $.99 and was quickly screwed out of being able to redownload so I played it like 2x. Now it's $.10 and says it's incompatible with my device (VZW Fascinate). poo poo sandwich for EA

Picked up full Soundhound earlier this week - is Shazam Encore any better or can I pass on it?

Get both, it is only 10 cents! I picked up Game Dev Story, it may be interesting to see how a game is made.

I had been using Shazam Encore because it was free once in the Amazon app store. But I got SoundHound the other day and I'm impressed! Much better in my opinion than Shazam. But yeah, it's only .10. So get it!

Yeah, I always found soundhound to be more accurate as well as quicker at recognizing tunes. Just my experience :P

Live wallpaper looks nice. Would never pay full price for those, but hey, 10 cents...

Checkout doesn't seem to be working at this moment.

Same here...it won't let me checkout, yet it has charged my debit card twice for Farm Frenzy.

agree...checkout has been weird this morning...gonna wait until a little later in the day and hopefully it will be fixed

Problems here too. Got the email that I was charged, but the market won't let me download and says I have not paid for the apps.

Funny thing is I didn't get an email for either of the apps I got this morning. It's like Black Friday in the Android Market!!!

OK now all of the sudden farm frenzy has been installed on my phone. Most likely just server overload. Note to self: Wait until later in the afternoon to jump on these deals, after the "black friday mob" frenzy has died down :)

You obviously got further than me. I don't even get to the point where I choose which card to charge. So I haven't been charged at all, and haven't received any emails. I guess I'll have to do the same and wait till later.

Yeah its been acting up. For whatever reason it is saying NFS isnt compatible with my phone but I was able to get through the phone market. And I cant purchase Sentinel 3 at all. Hopefully I dont have all these little .10 charges for all the failed attempts at trying to get it.

I had 2 charges for farm frenzy,but I got to the "Agree & Buy" screen and tapped that twice. Both times it gave me an error, and only showed the "refund" button. So i hit that twice. We'll see what happens. Worst case, its 10 cents...not like trying to get a 10-15 dollar charge reversed.

Ehhh, not a good day for apps today. I don't play many games on my phone so this day is a bust, looking forward to more apps. Come on, Day 5. lol

I just get an "error while purchasing" for some of these apps. I haven't been mailed a receipt like usual even though some transactions have gone through. And I just checked with my credit card company, they aren't blocking the transactions. WTF is going on?

also having market problems.

I think they server is having a tough time keeping up. I'm getting the same thing, from both the site and through the market on my phone. It's just timing out, will have to wait until later

yep having the exact same problem,good to know its not just me sorry lol but thought their was something wrong with my account...hopefully its fixed soon

and mine is showing 11 apps
paper camera is 10¢ again

Can't charge my order here too...
Update: Market is boinked.. I can see my card charged but market won't let me download, as it appears as I was not charged in market??
Update again: My "orders" magically downloaded on their own!.. All is good here

I am getting the same charge error.
Shazam actually shows its trying to download when I go to my apps but if I click the link to go to the app page from the 10 deals site it shows 10 cents and not paid or downloading.
Also curious. Beautiful widgets shows an update but when I go to update its not there.
Need for speed showed 10 cents but when I clicked to buy it went to 11 cents. Then It failed to continue after that.

I go to checkout.google.com and nothing shows-no purchases, credit card info etc. The payment system is apparently borked at the moment.

This list of apps are a giant failure this morning! The past few days had been A LOT better. Oh well. Not every day can be full of winners I guess :P

How can you complain? They are offering apps at significant discounts. Just because it doesn't make your little world a better place doesn't make it a failure.

It was still a giant failure. My world or not. To me only my world matters just like it is with everyone else. I just happen to admit it.

actually, i happen to disagree, i don't own Spirit, Need for Speed, or Sentinel 3-- i'm excited! the last few days, i haven't had too many apps to purchase cuz i already owned the "good ones," i'm super excited for today! just hope that the traffic clears up so i can purchase, soon!

Check our error here also....

Market problems here too. "An error occurred while processing your purchase. Please try again later."

theres 11 ten cent apps today like there was on day 1 and 2. the 11th one your missing is PAPER CAMERA which is weird because this was also offered on day 1 as a ten cent app

I just noticed that the Amazon store is offering up the dime apps, for a dime.

For those who don't have need for speed shift as part of the 10 app on the 10 billion promo banner link, you've got paper camera at 10 cents instead (which is already offered on day 1).
Android Central Newsletter
Get the best of Android Central in in your inbox, every day!
Thank you for signing up to Android Central. You will receive a verification email shortly.
There was a problem. Please refresh the page and try again.