Best Cyber Monday PS5 deals 2021: Live restock updates, games, accessories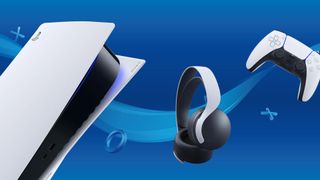 (Image credit: Android Central)
The Cyber Monday PS5 deals ar alive folks and there's even a chance to pick up the console itself at Walmart today (details below). Console restocks will be super rare at most stores of course, but there are already some great prices on games, headsets, TVs, and other accessories that you should take a look at.
We can point you in the right direction for other stores to check for PS5 restocks today too. There won't be any discounts on the console, though, and Cyber Monday PlayStation 5 bundles that appear will likely feature a range of items all added at full price because people will pay it. Sad, but true. So, if you see a sensibly priced PS5 at any moment from now, just bag it while you can.
We think storage is going to be big this year, too, so be sure to take a look at our dedicated Cyber Monday PS5 SSD deals page for the latest discounts on those impressive internal storage upgrades, as we think you'll be able to make a solid saving. If you're still shopping for a PS5, though...
Check these stores for PS5 stock
Top Cyber Monday PS5 deals you can buy now
PS5 $499 at Walmart (12pm ET)
Exclusive PS5 restock for Walmart+ members: This is the full-on PS5, complete with a disc drive and the most popular version and will be the first one to sell out too. While we're expecting to see a few more PS5 restocks in December (fingers crossed at least), this could be your last chance at Walmart.
PS5 Digital Edition $399 at Walmart (12pm ET)
Exclusive PS5 restock for Walmart+ members: This version of the console does not have a disc-drive. So the the only games you can play are ones downloaded from the PlayStation Store, which we find is often more expensive than disc-based games. You're also losing out on DVD and Blu-ray playback. If you've moved onto an all-digital world though, then this might work for you and you'll save $100.
Assassin's Creed Valhalla | $20 at Amazon
That's the cheapest ever price we've seen Valhalla go for and it's an absolute must if you've not picked it up yet as even a year later it remains one of the best games for putting your PS5 through its paces. The story is fairly standalone, so if you're new to the series or haven't played Odyssey or Origins yet you won't feel too left out.
WD Black SN850 1TB SSD | $149.99 at Best Buy
Save $80: The price just keeps dropping on this one making it one of the best Cyber Monday PS5 SSd deals around as this is actually $15 less than the previous all-time-low price last week. As one of the top-rated SSDs for the PlayStation 5, it's great to see such a low price.
Razer BlackShark V2 Pro | $129.99 at Amazon
Save $50: This is one of the best wireless gaming headsets around right now and Razer has released it in a lovely white model for the PS5. With boomy 50mm drivers and excellent 7.1 spatial surround sound this is fantastic for added immersion be it absorbing your surroundings in single-player or listing for directional incoming fire online. The price has never been lower than today too.
PlayStation Now 12-month card | was $59.99 now $47.89 at CD Keys
Save $12: It may not be Xbox Game Pass, but PlayStation Now is the next best thing for PlayStation users. With access to hundreds of digital games across console and PC, PS Now lets you game as much as you want without breaking the bank. And instead of paying $60 for the whole year, you can now get 12-months for just $48.
Ghost of Tsushima Director's Cut | $50 at Amazon
Save $20: Sucker Punch knocked it out of the park with Ghost of Tsushima, and now you can get its excellent Director's Cut — complete with the Iki Island expansion — for just $40. Become Tsushima's hero as Jin Sakai and drive out the Mongol invasion through any means necessary.
Deathloop | $30 at Best Buy
Save $30: Deathloop is some of the very best that Arkane has to offer, and fans of Prey or Dishonored should give it a shot. When you find yourself stuck in a timeloop and being hunted down by an island of lunatics and assassins, you'll need to kill the eight Visionaries responsible to free yourself.
Guardians of the Galaxy | $25 at Amazon
For a game that just released last month, you won't find a better deal. Guardians of the Galaxy ditches the online aspects that everyone hated in Avengers and goes straight for a solid single-player narrative experience. The galaxy is still recovering from a massive interstellar war, and the Guardians feel like this is the perfect opportunity to make a quick buck.
Back 4 Blood | $25 at Amazon
Squad up, choose your Cleaners and start mowing down some zombies. The original creators of Left 4 Dead have banded together in a new player-vs-environment experience in Back 4 Blood. There's more content on the way over the next year, with story expansions, new cleaners and new types of infected to take on, so jump in now and save some cash ahead of time.
Atrix USB-C 10ft Charging Cable | $4 at GameStop
Save $9: Charging docks are nice, but sometimes you just want to pick the cheapest method possible. That's where a USB-C cable comes in. Unfortunately, the charging cable provided with the PS5 is fairly short, so you'll want to pick up another like this 10ft offering from Atrix.
Where to find the best Cyber Monday PS5 deals
We really expect things to get going sooner rather than later, and we'll be rounding up some of our favorite deals right here on this page. The stores below are all solid shouts if you'd like to check out what's happening right now.
Cyber Monday PS5 deals: Internal SSD
Now that the PS5's internal SSD expansion bay has been unlocked by Sony, you'll be able to increase the internal storage capacity. This is better than using external storage solutions, as you'll be able to run PS5 titles directly from these SSDs. They're pretty expensive, so any discount at all is much appreciated. Be wary, though, as some do not come with a heatsink attached. You'll need to add one yourself (a simple two-minute task). One like this from Amazon is a reliable option — it's the one I'm using right now.
Cyber Monday PS5 deals: Headsets
Cyber Monday always comes up with the goods for gaming headsets, and you stand to save a lot of money on some of the best models. We'll keep you updated with some of our absolute favorites, but while we wait, be sure to keep an eye on our price comparison widget below, which automatically updates with the latest prices on some of the top-rated audio beauties.
Cyber Monday PS5 deals: Controllers
We'd hoped for some neat third-party PS5 controllers to be released this year, but it simply hasn't happened. Many last-gen third-party picks will work on PS5, but only for playing PS4 games. Sony did release two new colors of the official DualSense PS5 controllers, though, in Midnight Black and Cosmic Red. You'll find today's cheapest prices directly below.
Cyber Monday PS5 deals: TV
Prices have been coming down nicely in recent weeks on some truly jaw-dropping TVs. If you're after that full next-gen experience, then our price comparison chart below highlights some of the best 120Hz HDMI 2.1 TVs below. We think the slightly older (but still epic) LG OLED CX series is the one to watch for the biggest price drops. However, the 2021 upgrade, the LG C1, has had some tempting offers too lately. Stay tuned, and we'll highlight more discounts in detail throughout the busy shopping season.
Cyber Monday PS5 deals: PlayStation Plus
PlayStation Plus is required to play games online and it also gets you access to a few free games each month, along with a collection of PS4 games to download to your PS5 at any time. It also unlocks regular exclusive discounts during sales on the PSN store too. The Cyber Monday season is a great time to pick up a cheap PlayStation Plus deal as we always see discounts, usually on the longer 12-month subscriptions. Heck, we've even seen some retailers bust out a special 15-month deal. You might get lucky and spot something on PSN, but we generally find retailers like Amazon or CDKeys come up with the best prices. And don't forget, PlayStation Plus subscriptions do stack, so even if you have time left on your current sub, you can just add this on top straight away.
Get the Android Central Newsletter
Instant access to breaking news, the hottest reviews, great deals and helpful tips.
eCommerce Content Director - Android Central, Windows Central, iMore
Brendan oversees content strategy for our buying guides and deal pages here at Android Central and also our sister sites iMore and Windows Central. He's a former freelance games journalist, then the first-ever Deals Editor for TechRadar, and then the Managing Editor of eCommerce & Hardware at GamesRadar before joining us. When he's not rummaging through online sales or trying to appease the Google algorithm you'll find him binging boxsets and Game Pass titles, testing PS5 SSDs, and trying to decide which phone he loves more between the Fold 3, Flip 3, and Note 20 Ultra.