Common Moto G5 problems and how to fix them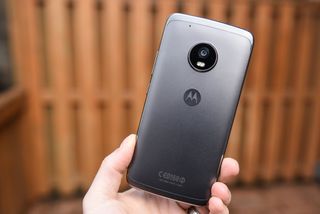 The Moto G5 and G5 Plus continue Motorola's dominance in the budget segment, but like all phones, they're not without their share of issues. Whether it's erratic Wi-Fi connectivity, issues with the camera, or troubles with the bundled TurboCharger, there's a lot of things that can go wrong with either device. Thankfully, you can usually rely on a workaround to solve the issues.
Here are some of the common problems affecting the Moto G5 and G5 Plus, and potential fixes.
Wi-Fi issues
There's a Wi-Fi issue on a few Moto G5 and G5 Plus units wherein the phones routinely disconnect from Wi-Fi networks and reconnect after a few minutes. The issue isn't limited to one region, as customers in India, UK, and the U.S. seem to be affected by the bug.
A fix rolled out by Motorola has fixed the problem for a few users, but if you're still facing issues with Wi-Fi connectivity, you can try a few workarounds:
Forget your Wi-Fi network: Go to Settings > Wi-Fi and select your home Wi-Fi network. Hit the Forget button to remove your network from the phone. Manually add the network again.
Reset network settings: If removing and adding your Wi-Fi network didn't solve the issue, then try resetting the network settings.
Finicky auto-brightness
A few G5 and G5 Plus units seem to have issues adjusting the screen's brightness based on the lighting conditions. If your unit isn't automatically reducing or boosting the brightness automatically, try tweaking the display settings.
Head to Settings > Display > Brightness level and disable Adaptive Brightness. Then try turning it back on and see if it fixes the issue.
Camera launch issues
Camera issues seem to be a common theme with Moto G devices, with the G5 and G5 Plus regularly seeing camera crashes during initialization. The easiest way to fix the issue is by restarting the camera, but if the camera is constantly crashing, you can also try clearing the cache.
Go to Settings > Apps > Camera > Storage > Clear Data, clean out the cache of the camera and start it up again to see if it works. Clearing out the cache seems to have fixed the issue for a majority of users, but if you're still seeing constant crashes, see if a third-party app is to blame by booting into Safe Mode.
To do so, press and hold the power button until you see the Power off message. Then press and hold the Power off window until you see a Reboot to Safe Mode option. Hit OK, and your device will boot into Safe Mode. Launch the camera from here, and see if it crashes. If it doesn't, then you'll have to see which third-party app is interfering with the camera. If the camera is continuing to crash, then you'll have to undertake a factory reset.
Running out of storage
Based on your region, your Moto G5 or G5 Plus may come with a paltry 16GB of storage. Thankfully, both phones offer a dedicated microSD card slot that can accommodate cards up to 128GB in size. You'll be able to move your media files and photos — as well as a few apps — to the SD card, freeing up precious internal storage.
Looking for a microSD card? Here are our favorites!
All Motorola phones come with two years' worth of free original-size uploads to Google Photos, and there's no reason to not take up the offer. Offloading photos to a cloud storage service is one of the easiest ways to save space on your phone.
If you're still routinely running low on storage, you should just uninstall apps you don't use often. You can also try clearing the cache frequently to free up some space on your G5 or G5 Plus. Google's Files Go (opens in new tab) comes in handy in such a scenario.
TurboCharging troubles
Several users in the Lenovo forums are having issues with lengthy charging times with the Moto G5 Plus even after using the bundled TurboPower charger. The Moto G5 Plus comes with an 18W wall unit that charges the phone in an hour and forty-five minutes. You'll see a notification on the home screen that says TurboCharging when you plug in the charger.
One line in Motorola's marketing materials in particular seems to be causing a lot of confusion: The included TurboPower charger provides up to 6 hours of battery life with just a quick 15-minute charge.
That line doesn't mean you'll be able to play games for six hours after charging your phone for 15 minutes. What Motorola is trying to say is that you can get up to six hours' worth of usage — including a lot of standby time, a few calls, and some web browsing — with a quick 15-minute top up. That statement only holds up when your battery life is 15% or lower, and that's because of the way fast charging works.
Fast charging delivers a higher voltage to your phone, and as a result you'll see the battery charging up quickly initially — it takes just about an hour to charge the Moto G5 Plus from 5% to 80%. It takes another 45 minutes to get from 80% to the 100% mark, and that's because as the battery charges up, the controller starts regulating the power to normal levels.
Think of it this way: initially, the charger delivers 18W of charge, but as the battery hits its saturation levels, the power management regulator cuts back on the charge delivered to avoid overcharging.
This is the way all phones charge. The 3500mAh battery on my Galaxy S8+ also takes two hours to charge, and the initial 80% gets finished in about an hour. This isn't an issue isolated to the Moto G5 Plus — in fact, Motorola's fast charging standard is one of the better solutions out there.
That said, if you're unable to see the TurboCharging icon when you connect your Moto G5 to the wall unit, you should either get a new wall charger direct from Motorola or get another unit.
VoLTE woes
Amassing over 200 million customers in just over a year, India's Jio has become the world's largest data network. The carrier is also the only one that's currently offering VoLTE in India.
The Moto G5 and G5 Plus offer VoLTE out of the box, but it looks like there was a software bug that prevented a few customers from being able to access the service. If you do not see VoLTE with your Jio SIM, you can try inserting a secondary SIM in your phone in the SIM 1 slot. If you're using another SIM card along with your Jio number, try switching the positions of the SIM cards and restarting the device.
Other issues
What problems are you having with the Moto G5 or G5 Plus? Let us know in the comments below.
Updated December 2017 with new workarounds for camera-related issues.
Get the Android Central Newsletter
Instant access to breaking news, the hottest reviews, great deals and helpful tips.
Harish Jonnalagadda is a Senior Editor overseeing Asia at Android Central. He leads the site's coverage of Chinese phone brands, contributing to reviews, features, and buying guides. He also writes about storage servers, audio products, and the semiconductor industry. Contact him on Twitter at @chunkynerd.
What was the latest update for Moto g5 plus? Can you specify the build version number?

I'd like to find this out as well. As far as I can tell no update for this has been released. The only update I've seen was the VoLTE patch for Verizon users. Not to mention I'm still on the January security patch.

My moto g5 plus keeps buzzing every few mins, even under do not disturb. A short, half-a-second buzz. No visual notification comes with it. I went over all of the apps and set each of their notification to either blocked or silent. The issue still continues. Vibration randomly every few mins, sometimes maybe every 5 to 10 mins. It is so annoying. Could you please help? Now I want to turn off/disable the the phone's vibrator off completely, is there a way?

I cannot use VoLTE on Verizon's service

Moto g5 plus will not work on Verizon with VoLTE enabled. Calls made or recieved by person with Moto g5 plus are so bad that you cannot understand the person talking to you. Once you disable enhanced calling voice quality gets better. This issue has been sent to support in early April with no fix being released as of June.

I have been having a screen flickering issue with my G5 Plus. It only happens with adaptive brightness is turned on. I'll unlock the phone and the screen brightness flickers ever so slightly. Sometimes you can get it to go away by turning the screen off and on again, but sometimes not. However, when I have automatic brightness turned off it doesn't happen at all.

I'm loving this device! My first Motorola device since lenovo took over. Last one was the Razr Maxx! Love how clean it is. I'm noticing one issue, that the Hotspot is a little slow with my Windows computer, but not Linux or Android devices so, probably not an issue with the device but some kind of weird setting in not aware of. Second is not really an issue, but just a weird question. Last night I was showing my wife the 'shake to flashlight' function. I jumped on her phone and pulled down the settings to show her where to turn it on manually, and the flashlight was called "torch". My phone has the flashlight called "flashlight". We're in 'Shtraya so torch is expected. But I just wonder where that setting is? Maybe she set the phone up with Australian English instead of American English?

Hi Everyone,
I'm generally impressed with my new Moto 5G Plus, but I've just tried installing a home Samsung Smartcam, and during the setup, the SmartCam app requires you to go into advanced Wifi settings and disable "avoid poor connections," but that setting is not an option on this phone. I'm unable to install / setup the camera without that step, and I've found no recommendations online for any workarounds. Does anyone else with this phone have an "avoid poor connections" setting option in their advanced wifi menu? Or was it removed with Android 7? I'm concerned I'll have to return this Smartcam because I cannot install it. Thanks in advance for anyone's feedback.

Hi ,
I am getting unique kind of problem some times my screen automatically goes black and do not return. phone is running after screen black also that i came to know using touch id and phone call. i have to many times switch off and switch on make screen come back. can anybody else is also facing same issue please let me know the solution if and body has. thank you

I have the same issue plus the phone automatically turns off and restarts. This happens frequently and during phone calls. Is there a fix?

Yes, the on off button is terribly places and when you just think you are holding the phone you are actually turning the phone off and on. I do not know the reason they would put the off on switch is such an awkward place, but if they don't fix it in future editions,, I will be done with this phone.

I have the same problem as I have a Moto g5 plus the screen went black I can feel the point is running fine but display won't come and it restarts frequently.

7/29/17 new for 5 days, my Moto 5G Plus display goes blank when i make or receive a call. I ordered a free replacement and after several days, the replacement phone did the exact same thing. I can make or receive calls but have to shut down/restart to get display back. anyone else?

my Moto 5G Plus display went blank during calls because I inadvertently covered the sensor with a thick phone case

Is anyone answering these? I don't know where else to ask for help. Sometimes my time and weather widget just hangs. Simultaneously, the calendar app (I have 2 installed and it happens on both) hangs as well. These "hangs" seem to happen in tandem. Restarting the phone doesn't work. It's not a connectivity problem because everything else can connect over either wifi or data. Other than this -- I love this phone! My last was a moto G 1st gen so I guess it wasn't hard to improve on that, but I think I would love it even if I didn't have an older Moto G to compare it to.

Just bought brand new Moto G5 Plus from Amazon, with brand new T Mobile sim card. Phone will not connect to T Mobile or any network. Motorola support is unbelievably inept, and T Mobile rep spent an hour with them on the phone and still could not get it to work. Any suggestions?

I've had my Moto G5 Plus for about a month. I cannot use the Google bar at all because it is frozen, the Crome app has a serious lag and for the past two days now using the talk to text is laging. Sometimes this causes my phone to randomly reboot itself (Or is this just another problem?) I am not very tech savy but have tried deleting and reinstalling Google updates and going into Google and clicking "force stop" . I have also tried deleting all apps I installed myself. Would a factory reset fix this problem? I am starting to regret buying this phone.

I'm having the same issues. Hopefully someone has a fix.

I don't know if I have a fix, maybe better described as a workaround. I have had the Moto G5 plus since May 2017. It's worked great until the last system update a few weeks ago. Then my Google apps, specifically the search bar on the homepage, voice to text, and Chrome started malfunctioning. Phone would restart randomly and Chrome and Google search would constantly freeze. I ran the phone in safe mode, tried a couple of scrubber apps, uninstalled some apps I had recently installed…nothing worked. I got to thinking, I was only having problems when Chrome was active so I checked for recent updates. That's when I found Chrome Beta. It's in the app store, and it's a version of chrome that Google tries new patches and updates on before building them into the mainstream release, so there are chances for glitches. But, the patches on the newest Chrome Beta seem to have solved the problem. I moved the regular Chrome off of my home screen, replaced it with Chrome Beta, downloaded the Nova app (a really cool homepage editing app) in order to remove the regular Chrome search bar from my homepage, replaced it with the Chrome Beta search bar widget, and I am humming along again. No problems. The only thing that still won't function is the "ok Google" prompt as I haven't discovered a way to unlink that from the regular Chrome, but the Chrome Beta widget voice to text option works just fine. I expect (I hope) that Google quickly builds some of the Beta patches into a regular Chrome update and all will be well and good again. Until then, this keeps me moving – and keeps me from doing a full factory reset.

How did you move the google bar off the home page? Mine is permanent & I don't want it.

I'm having the same problem but I can't use anything Google at all or my phone freezes up. I have lagging issues and restarting issues as well.

i have the same problem with mine. i was told to try a factory reset. I haven't yet because i am afraid of losing stuff. I might have to do a phone back up and then try the reset to see if it works. I was told there wasn't a guarantee that it will work. Motorola didn't have any idea on how to fix it.

This might not come as a big trouble to you, but whenever i try to set a wallpaper bigger in dimensions than the screen size of my G5 Plus, it does not use the cropped region as the wallpaper. In fact, it uses a random area on the image and sets it. To be precise, the cropped section moves to the right of the screen instead of being in the centre. Almost half the image gets hidden this way. Why does this happen? This was never an issue in G4 Plus! Please look into it.

Hi, I have a real issue with moving files via the Windows file manager interface (Win7 and Win10). When the phone is hooked up to Win7 they are copied rather than moved, but Win10 has just deleted a week of holiday photos (I mistakenly created a new folder in the Moto internal Pictures storage, rather than my tablet C: drive, intending to back up to my tablet). Presumably they are still on my internal storage somewhere, but how can I recover them?

Moto 5G Plus has an invisible sensor at the top of the screen that makes the display go blank when you hold it to your ear for calls.
The display stayed blank away from my ear because the sensor was covered.
My thick phone case interfered with it and I had a hard time diagnosing it.. This may help if you have that issue.

I bought the Moto G5+ with Amazon ads on Prime Day. Initially loved the phone, but for the past two weeks or so (2 or so weeks after buying it!) everything Google seems to be lagging. Chrome, OK Google voice search feature, regular Google search feature and Google Now (the news feed to the left of the homepage. My phone has the latest system updates and I haven't rooted my phone. Anyone have similar issues? Any suggested fixes?

We have a 3 month old G5 from Amazon prime, and the google service crashes routinely. The phone is great, but these services, which are an integral part of the Android system, should just work! It's very frustrating and annoying. I wonder how I can reinstall the Google app.

My son and I both have the Moto G5 Plus. with Sprint. We've both noticed that many times it doesn't connect to the internet over the air, despite having a strong signal. Phone calls work fine and texting does too. Just can't do any searching over the air, and that includes connecting to Google Maps for navigation.

Hi All, Am facing issue of sound system whenever I unplug the mobile from charging, the sound system is not working (the mobile is automatically set to silent mode).

I have a problem with the screen cast. I m not able to connect my mobile screen to TV. Please help me out with this problem

Hi in Moto g5 plus I am not able to enable the web viewer. Facing much issues. Help me out to solve this

I purchased four G5's and each are experiencing frequent crashes on various apps and at different times. Like others I have noticed the time and weather widget frequently hanging. The Google search app is very slow or non responsive, as are voice commands when using the Google search widget.

I just got my G5 Plus. I have no problem making calls using my home wifi, but when I leave the house, I have a hard time completing a call. I make the call, it rings, and the person answers, but then they don't hear me on this end and they hang up. This has happened two times. I have a Tmobile SIM card and my phone is from Consumer Cellular. I checked TMobile's coverage maps and they show that I'm supposed to have great coverage in the areas I made the calls. I just don't get it. The LTE icon has an exclamation point through it. Any help would be greatly appreciated. Thanks.

This unit will not connect to the network. All it says is emergency calls only

I am noticing when 2 simultaneously actions are happening - sending a text and phone call or loading a webpage and phone call. The phone then doesn't complete the phone call or text function and I've had several instances with emails and texting never arriving. The phone processor can't seem to handle doing 2 functions at the same time.

With all these issues maybe I shouldn't get a Moto G5 Plus.

I bought one from Amazon, upgrading from my moto g2 (which was great). The new phone had a fault. Picking up a mobile signal was very difficult. I tried the same SIM in an identical moto g5 in exactly the same location and it was perfect. Amazon sent me a new phone, So I am reserving judgement on the phone.

I too bought the G5 Plus from Amazon less than a month ago. It was working fine until yesterday when I couldn't make a phone call because it said "no cell service" The sim card was brand new and worked in another phone. Was on the phone with Motorola all day and then they sent me a link which stated since it was purchased less than 30 days ago to contact Amazon. Amazon only offered refund and not a new phone. Not happy with the situation or Motorola products at all!

My brand new MOTO G5 Plus updated for the first time today, and now it doesn't recognize my login security pattern so I can't open the phone!
What options do I have?

I purchased my Moto G5 plus from Motorola UK. The phone worked fine till I relocated to India and switched to Reliance JIO. My G5 plus does not get VOLTE enabled. I cannot see the symbol also. I am making calls through a thrid party app only and not through the SIM. I have switched the SIM placement in my phone. The JIO team suggested me to get my OS updated through the Motorola / Lenovo service centre. But frustratingly, the service center would not oblige for phones purchased outside India for software issues. I am hoping for a fix to this issue. Please advise

I bought Moto g5 Plus as a backup phone. Its FM Radio works great without having to eats up my backup carrier plan's minutes at all. Its WIFI is only good for me to login into my home WIFI Router, which only requires a password. When I attempted to use the WiFi at my work place, which is a corporate Wireless Network, then the Moto G5 Plus Wifi Connection is asking for Certificate and Anonymous Identity in addition to the normal question like Domain, Identity and Password. This is nuts! My primary IPhone 7 will never ask me for that when I try to login to my corporate WiFi. So far I have no luck in making the WiFi working at my workplace.

I can't fix the camera problems no matter what I've tried

My son and I both have the G5 Plus and they've been great. No camera, wifi or network issues (AT&T)

Blue tooth keeps turning on. I have the Moto G5 plus. I toggle blue tooth off and some time later it pops on again. There does not seem to be a trigger from anything I am doing.

I have the same problem. Did you solve it?

my phone motoG5 plus suddenly go silent even after service at motorola service problm continues

In my phone (Moto G 5S Plus), vibration is really low. Several times, I can't feel it so I missed my calls and other notifications.
Is there any way to improve this? Thanks in advance!
Rahat Ali

My phone is about 2 months old. Has been working fine. BUT today when I call or receive a call the person on the other end can't hear me. Pain in the chops really. Tried restarting, and checking the mute/other buttons alongside my blokes as he has the same style phone. Has anyone got any ideas how to rectify ,or has the phone gone futt already?

I'm having the same issue. Mid-conversation, I can't be heard. I have re-set my network, rebooted my phone but it still happens. It's also happening to a friend with the same phone and same service provider. I'm wondering if this only happens when phone is using wifi to make/receive calls or when I'm out and about and relying on my service provider's signal.

I just purchased the Moto G 5s Plus yesterday, January 3, 2018. One of my requirements was that I needed a really decent camera. I was sold on the sales pitch. Crap, I should have researched BEFORE purchasing!! The camera LAGS so long before the snap you just wanna scream when you've lost the shot you wanna take... one thousand, one thousand two, one thousand three before I can grab the image! Apparently, this is a common issue as I have now been reading about this camera. I will not put up with this extreme flaw. Every image/video I take is transferred to my computer and then deleted from the camera. There is no "data" to delete and the cache of course is clear. Anyone out there know if this issue can be corrected? If it can't be corrected, the phone goes back and I lose a $35 return charge, not to mention the hassle of changing phones. But I wont be silent about this extreme camera flaw...

I have a new Moto G5S Dual SIM that has problems acquiring mobile data connection [ on Virgin] and holding it. Are there any alternative APN settings to help with this?

I'm having the same problem on Virgin 3G. Are you 3G or 4G? Got the phone in November and both the network signal and mobile data keep dropping out, seemingly randomly. Often I only notice once I've left the house and don't have Wifi, then I have to reboot the phone to get network and data back, and a flood of texts and missed calls come in. I got a new SIM from Virgin but that hasn't fixed it, now trying to figure out what (if anything) I can do on the device to fix it or if I need to return it (if it's not too late).

My Moto G5+ cranks the volume up to max when I connect to a bluetooth speaker. Any fixes? Can't find any relevant settings.
Also, I'm disappointed there's no way to have auto signature on texts. It looks like that's a Moto G thing… ?

Purchased a Moto G5S Plus three weeks ago. Something I just noticed today - when I reboot the phone, the volume resets to Vibrate Only. The Vibrate icon shows as soon as I hit Restart. After the boot, Alarm and Ringer volumes are still the same as I left them, but Media volume has dropped to zero.

Got my g5 plus a while ago and everything has been working just fine. Up until now. Now I am having problems with a couple of apps and I suspect it is the phone that is causing the problems. All apps are working fine apart from two that require logging in to an external service. I get to the log in screen, type username and password and it send me back to the login screen after processing for a little while. Other people with different phones are using the same apps just fine. Can it be a setting somewhere?