Clambook aims to bring laptop capabilities to your Android smartphone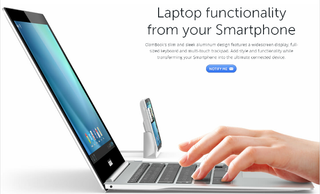 This one is a far cry in appearance from Motorola's efforts with the Lapdock. The newly announced Clamcase Clambook quite simply wants to bring a laptop experience to your Android smartphone. Bearing more than a passing resemblance to the Macbook Air and containing a 16:9 widescreen display, by connecting to your phone via an MHL adaptor it brings full native keyboard and trackpad capabilities with it. As well as this, it will charge your phone while it is docked.
The Clambook also proudly boasts that it will work with Android 4.0, and the keyboard has dedicated home, app switching and back keys.
Motorola users can use the Clambook to launch the in-built Webtop functionality too. Exact details and device compatibility are still absent at this time, as is any idea on price. But, if you yearn for an Android powered laptop this could be the answer to your prayers.
Source: Clamcase
Android Central Newsletter
Get instant access to breaking news, the hottest reviews, great deals and helpful tips
It will depends on the price & real word usage

Doesn't that pretty much apply to anything you can buy? -Suntan

Yep , Pretty much
Good point I guess Price , Functionality & Portability compared to a Laptop or a Tablet. Kinda like the Motorola LapDocks (I think the same apply to the Asus docks too) , They are a good concept , but their Functionality is limited compared to a full blown laptop especially with the price they were asking for. I think Microsoft is on to something with their upcoming Tablet's Keyboard docks , I remember reading about a patent they filed a while ago , Where a dock have it own CPU , RAM ,... etc & When you dock the Tablet the combined processing power gives you almost laptop\PC like Experience & Functionality.

Probably, but I share the same sentiment, and what it means to me is that there is actual interest/demand for a product like this IF it is priced correctly. An iPad is a reasonable price and is useable, but I have absolutely no interest in it.

Wait... that's a real thing? I saw it earlier today and I thought I was a mac book but with the logo changed, kind of how they do it with TV shows to not have to pay licencing.

I always wondered about that. I always thought that the product manufacturer would pay the TV show for the exposure. But what do I know?

I think this has a ton of potential. I hope it works. Either providing a Chromebook experience or an Ubuntu type experience (I haven't used it but I've heard good things)

Makes sense to me. If phones are powerful enough (some are now) the only thing lacking is a big screen and full sized keyboard when your home or at work and could use those. But it needs to work well and so far I haven't used one that did. Until then we have tablets.

Why so many rows of keys??

Looks like a standard keyboard.

Clambook??? What's up with the name?

I'm wondering if it will be considered tethering like the Atrix was, and require a higher priced data plan. :-(

I would pay $200 max. Otherwise, I'd just buy a cheap laptop.

Regardless of pricing....Clamcase better get this thing to market quickly before Apple gets their panties in a wad.

Apple's panties are permanently in a wad. No one can bring anything related to a smartphone or tablet to market that won't be put under their magnifying glass to see if it violates any ideas that Apple has stolen from someone else and patented.

Palm Foleo anyone? Oh wait,nobody heard about that one the first time around...

I was thinking the same thing the second I saw this.

I just got my S3 and if this retailed around $200, I would probably get one. I like the idea of the dock charging the phone while use the hardware and and 3g of my phone in a pseudo laptop form. Maybe I would stop carrying my Tab 7.7 3g.

I think the "phone-book" is a cool idea, it's sleek looking, and seems functional. I only wish that it also had an HDMI output :-(

interesting...but i'm betting dollars to donuts that an Apple infringement lawsuit is not far behind.

Sounds a lot like the old Celio Redfly for Windows Mobile, but in a much nicer presentation.
Android Central Newsletter
Get instant access to breaking news, the hottest reviews, great deals and helpful tips
Thank you for signing up to Android Central. You will receive a verification email shortly.
There was a problem. Please refresh the page and try again.