Chrome OS now allows Android apps to use SD cards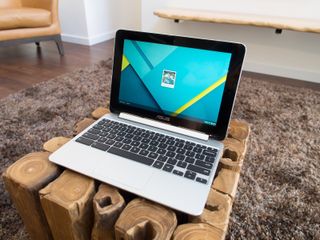 Since the introduction of Android apps in Chrome OS, Google's operating system for laptops and desktops has become far more useful than ever before. Now, Google's adding a long-awaited feature by allowing Android apps to use storage provided by SD cards.
As noted by Redditor marcellusmartel, updating to Chrome OS's beta channel of 67.0.3396.41 now allows any installed Android apps to use an SD card for storage if you've got one installed.
Why is this a big deal? If you use Android apps for saving offline copies of movies, songs, comics, etc., you can now store these files on an SD card rather than eating up the built-in storage of your Chromebook.
A handful of other users have responded to the Reddit thread confirming that they've also got access to this, and after updating to the latest beta, you should see a new option for SD card storage when looking at your storage settings.
There's no ETA as to when this will roll out to the stable channel for Chrome OS, but seeing as how it's already in beta, I imagine it'll be available for everyone sooner rather than later.
I, for one, am totally OK with Chromebooks replacing Android tablets
Joe Maring was a Senior Editor for Android Central between 2017 and 2021. You can reach him on Twitter at @JoeMaring1.
LOL Joe this is SO Ironic. I literally just made a comment about this on the HP Chromebook 2 article. Now THIS just made that so much more appealing for me to want to buy! I love my Surface 3 LTE, but I'm looking for something bigger, with a lighter OS for my business. Now that I'm using Sheets and Google apps more, this would seem more feasible for me.

I'd be happy if my Toshiba Chromebook 2 would finally GET Android Apps.
The 2015 revision has had it for awhile, but my beloved workhorse is still waiting.
My luck, they'll roll it out the day after it dies...

All good and all but manufacturers should still be putting larger internal storage on chromebooks instead of using this feature as an excuse to put a measly 32gb(heck, even 64gb) storage especially if it crosses the $500 mark.

This is awesome... I'll have to check it out tonight. Been waiting for this for some time now.

This is something that has been needed and makes low storage Chromebooks more palatable now.

Thank God!!! This will make my Lenovo Flex 11 PERFECT! I got a microSD adapter from BaseQi that allows the microSD card to be inserted into the slot perfectly flush with the unit - 256GB and you'll never know it is there! I am a little hesitant about using a beta...so I will probably wait until the stable channel releases this feature....

I see it on my Samsung CB Pro, but none of the Android apps actually see it yet... Boo.

Could be the build for your Samsung CB Pro...

Perfect! I've got an extra 128GB micro SD card just waiting to be used in my Chromebook Plus.

Would this beta be considered 'major'? I know that ChromeOS rollouts can take a week or two for bug fixes and minor enhancements - but being able to access an SD card - that would be a major feature change correct? So we are looking at upwards of 6 weeks...

Hum... I did this update, but my Netflix app doesn't give me the option to access my SD card for downloads. Is this because of the app or could it still be a Chrome OS thing?

It is still in Beta release, so it is most likely not fully implemented yet...

Ive got the new SAmsung Chromebook PLus v2 and I just installed a 128GB SD card. While the Files app recognizes the card, the Chrome OS setting Storage Management does NOT see the card. No app such as Netflix can use it, either. And Im running the latest beta of Chrome OS. So right now, it is pretty useless until a future update.
Annoying.

Ironically, Google's own Play Music app does not recognize the micro-SD card as a place to download music. The card is visible in the Android storage settings and should be available for storage my music, but isn't. I am running the beta version of Chrome OS on my Asus Chromebook Flip with a 32 GB micro-SD card installed. This was one of the first Chromebooks to be enabled to run the Play Store. I wonder if any of the current Android music apps, such as Spotify, will allow downloads to the card?
Android Central Newsletter
Thank you for signing up to Android Central. You will receive a verification email shortly.
There was a problem. Please refresh the page and try again.