Canceling YouTube TV? These are some great alternatives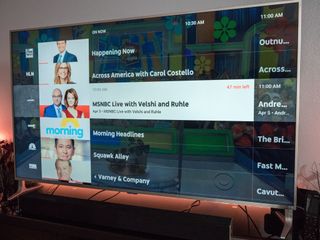 There's a lot to love about YouTube TV. The simple single plan. The multiple accounts that you can share with your family. The unlimited DVR.
But YouTube TV also doesn't have as many channels as some of the other services. And if it doesn't have something you've decided you just have to have, then it's time to cancel YouTube TV. And in April 2019, YouTube TV announced that its monthly price was going up to $50. So maybe it's time to look elsewhere, eh?
The good news, though, is that you still have plenty of options for live streaming TV, at all kinds of price points. Let's take a look at what's available:
Hulu with Live TV
Hulu with Live TV is a relatively new option. You know Hulu as an excellent on-demand option, and now it has a good number of live channels (including locals) available as well. Plus it has add-ons like HBO, Showtime and Cinemax, so you can keep everything in one place, if that's what you prefer.
Hulu with Live TV costs $44.99 (that's the new price that goes into effect on Feb. 26). Do note that you'll still have commercials in Hulu's on-demand library at that price. To get rid of those commercials, you'll need to pony up for the $50.99 plan.
Still, it's very much worth exploring.
FuboTV
If you're a sports fan, you'll want to give Fubo TV a go. It's one of the only services around that streams sports in 4K resolution. (Though it's still in beta, and you're really only looking at a handful of games a week.) It also has a huge stable of add-ons for all kinds of sports, including international, soccer, outdoors and more.
Fubo TV has two plans available. For $49.99 a month you'll get dozens of channels (including the 4K options). And for an extra $5 a month you'll pad that out even further with more sports and movies. (And in addition to a free trial, both plans are $5 cheaper for the first month.)
Get a free Fubo TV trial (opens in new tab)
PlayStation Vue
PlayStation Vue (which, by the way, does not require you to have a PlayStation game console) remains a really good option for live TV. It's got four channel plans, starting at $45 a month, and each builds on the one before it, which makes choosing the best for you a pretty easy thing. The most expensive plan, with more channels than you can count on four hands, tops out at $80 a month.
And so long as you're not only using an Xbox, PlayStation Vue is available on pretty much every other device.
Get a free PlayStation Vue trial
Philo
If you just want to spend as little as you can every month while still actually watching TV, Philo may well be for you. For just $16 a month you'll get 44 channels — and these are channels that you know and love — from news to entertainment to lifestyle.
For an extra $4 a month (that brings the grand total up to $20, for those of you keeping track) you'll add 13 more channels.
And Philo is available on just about every device you've got. It's really one of those services you have to see to believe.
Sling TV
Sling is still the most popular streaming TV service, and for good reason. The Orange and Blue plans start at just $25 each (or you can get them both for $40 a month), and from there you'll build out with Sling's numerous add-on packages. (Or not. It's your call.)
And that's the attraction of Sling — you pick and choose what it is you want to watch more than any other service. It's hard to argue against that.
DirecTV Now
DirecTV Now has been shedding customers, but that doesn't mean it might not be a good fit for you. It's got a half-dozen plans that run from $50 to a whopping $135 a month.
And if you're an AT&T Wireless customer (AT&T owns DirecTV Now), you may well be eligible for a monthly discount, so there's that.
Get a free DirecTV Now trial (opens in new tab)
Why would anyone want to as YouTube TV has the best picture and sound quality of all of them?

Not sure why I'd do that, YouTubeTV has been the best service for me that I've had to date . . ? 🤔

Not many cancel YTTV, most come to it after trying the others. People are always looking to get the best (for most) at a great price.

Been on YouTube TV for nine months, cut the cable from Comcast TV after twenty frustrating years. YouTube has gotten better but still have to deal with dreaded commercials on their stream which is b.s. Plus, I can see them raising their prices once they've gotten their version completely bug free. Frankly, it's a hit-miss but for now, a temporary keeper. 🙄

Nothing beats my iptv service with over 600 channels for 15 bucks.

Enjoy your 96kbps audio at best.

Keep that secret to yourself.. broadcasting on the wrong forum can compromise that service for you and others that use it.. keep it to yourself

Ikr. Some people are idiots.

Suggesting people may want to (should?) cancel YouTube TV due to a lack of channels, and then recommending Fubo. Seriously? DirecTV Now? It has so many issues, it may not be in the top 10 of most popular streaming services in a year. Philo's 44 channels "that you know and love" include AXS TV, Hallmark Drama, Hallmark Movies & Mystery, IFC, People TV, Tastemade, and several other channels that undoubtedly aren't either known or loved by the general public - and Philo doesn't include any local channels or sports. There's a reason Philo can price it's base package so low, it's payments to content providers are ridiculously low. Hulu Live? Not only is the base price increasing by 12.5%, but to approximate YouTube TV's DVR storage and ability to stream on several devices, add another $30 to your monthly Hulu bill. YouTube TV undoubtedly isn't the best option for everyone, but this article isn't remotely helpful if one wants to compare apples to apples. Very disappointed in Android Central for posting something like this...

But YoutubeTV allows for five individual logins/steams at the same time.

I love Philo. I don't care about the sports channels so it's an excellent choice. Very reliable service, too.

Ive had YouTube tv for almost 2 years, no issues accept for the annoying commercials. Meets my needs for local TV and sports. I wish they add a few more channels though. I love having unlimted DVR.

Ah, no thanks. What a sad premise for an article. Miss the mark much?

"And if it doesn't have something you've decided you just have to have, then it's time to cancel YouTube TV." Reading that gave me a headache.
Android Central Newsletter
Get the best of Android Central in in your inbox, every day!
Thank you for signing up to Android Central. You will receive a verification email shortly.
There was a problem. Please refresh the page and try again.