Can a mobile hotspot replace home Wi-Fi?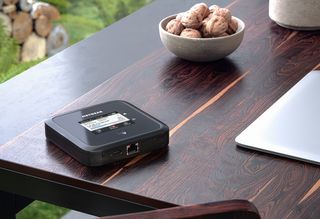 (Image credit: Netgear)
Best answer: Not quite. While mobile hotspots like Netgear's Nighthawk M5 have plenty of power, data plans for mobile hotspots still aren't competitive with wired home internet or even 5G home internet services. If you travel a lot or live in a rural area, they can still serve as a great backup plan.
The hardware is here, but the plans are not
Mobile hotspots have gotten very powerful, with many supporting Wi-Fi 6 and 5G. Some have even enabled access to gigabit 5G speeds with support for C-band on multiple carriers. The main problem with switching to a mobile hotspot like the Netgear Nighthawk M5 or any of the other best 5G hotspots is the amount of data you can get in a plan and how many people can use it.
While Cricket offers up to 100GB of data for hotspots, simultaneous devices are limited to just nine. T-Mobile is a bit more easygoing about the number of connections but only offers 50GB of data. While these amounts are easily enough for most cell phones, they don't hold up with other devices like PCs, streaming boxes, or game consoles. If you're a gamer, a single game download could use up all or nearly all of your data.
However, hotspots aren't without their uses, and a light user could even get by on the small data packages. Hotspots are great for people who spend a lot of time on the road or live in an RV for part of the year. These people can also make use of public Wi-Fi for larger downloads. A trucker, for example, could download a game or movie while at a fuel or food stop.
For those that still spend some time on the road but don't need that much data, creating a mobile hotspot on their Android phone is a great alternative. It also doesn't require additional hardware, and most of the best cell phone plans come with some hotspot data. Visible's hotspot doesn't even have a data cap though speeds are limited to just 5Mbps. Other carriers also offer unlimited data, but speeds can be much lower.
Wireless home internet
If you have no access to a decent wired internet connection, you still have some options to get a connection. AT&T, T-Mobile, and Verizon all have home internet services powered by wireless networks that offer solid speeds and plenty of data. T-Mobile and Verizon offer a better value than AT&T with unlimited data, but if you have any cell phone coverage at all, there's a good chance you can get connected. You may also be a good candidate for something like Starlink.
As we discovered in our T-Mobile Home Internet review, it's not always a perfect solution, and speeds can be highly variable, but the equipment fees are more often than not included, and you don't need to worry about low data caps spoiling your fun.
Our pick
(opens in new tab)
Netgear Nighthawk M5 (MR5200)
Fast Wi-Fi with 5G C-band support
Netgear's Nighthawk M5 is one of the best hotspots you can get with support for the newest C-band 5G and Wi-Fi 6 for the best possible speeds.
When Samuel is not writing about networking or 5G at Android Central, he spends most of his time researching computer components and obsessing over what CPU goes into the ultimate Windows 98 computer. It's the Pentium 3.
Android Central Newsletter
Thank you for signing up to Android Central. You will receive a verification email shortly.
There was a problem. Please refresh the page and try again.