Best 5G hotspots 2023
A 5G mobile hotspot can deliver incredible internet speeds far away from the nearest fiber or cable line.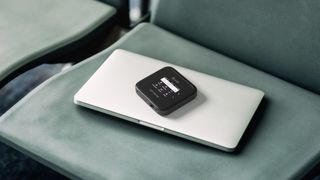 (Image credit: Netgear)
While it has taken a bit longer than many expected, 5G coverage has reached most of the people in the country. On top of that, carriers are continuing to improve speeds with multiple 5G bands including mid-band and mmWave spectrum. A strong mobile hotspot can utilize multiple bands at once for a fast and reliable 5G connection for multiple devices at once. The Netgear Nighthawk M6 Pro on AT&T is without a doubt, the most capable 5G hotspot you can buy. If you're on another carrier, you've still got some great option
Keep streaming from anywhere with the right 5G hotspot
Why you can trust Android Central Our expert reviewers spend hours testing and comparing products and services so you can choose the best for you. Find out more about how we test.
Netgear Nighthawk M6 Pro (AT&T)
The ultimate multi-gig 5G hotspot
Reasons to buy
+
Support for most 5G bands in the U.S. including mmWave
+
Fast 2.5Gbps Ethernet built-in
+
AXE3600 dual-band Wi-Fi 6E connection
+
Large 5040mAh battery
+
TS-9 antenna ports
Reasons to avoid
-
Very expensive
-
Exclusive to AT&T in the U.S.
The Netgear Nighthawk M6 Pro is the fastest and most capable mobile hotspot from any angle you can think to look at it. It has the latest Qualcomm SDX65 chipset allowing for incredible 5G speeds thanks to support for a large number of 5GNR bands, including mid-band and mmWave.
This hotspot also supports 5x carrier aggregation on LTE and 9x on 5G. Carrier aggregation allows the hotspot to connect to multiple available 5G bands and link them together as a single data connection. This allows for much higher speeds than most phones can deliver. It also supports 2x carrier aggregation for uplink on LTE and 5G for better upload speeds.
To support these advanced speeds, it has a 2.5Gbps Ethernet port on the bottom next to the USB-C port. Unlike some other hotspots, you don't need to choose between a wired network connection and power. It also supports Wi-Fi 6E with an AXE3600 connection. This is a dual-band router so you have to choose either 5GHz or 6GHz, but it's still nice to have the option.
Many people that buy this router may actually choose to disable Wi-Fi altogether. This hotspot is excellent for people that live part-time or full-time on a boat or in an RV. The fast Ethernet port allows you to connect it directly to another router or switch that you already have integrated into your home. You can also use the built-in TS-9 antenna ports to get the best connection possible when off the beaten path.
Inseego MiFi X Pro 5G (T-Mobile)
Fast T-Mobile 5G with Ethernet
Reasons to buy
+
Support for T-Mobile 5G with mid-band and carrier aggregation
+
Built-in gigabit Ethernet port
+
Solid Wi-Fi 6 connectivity
+
Large 5,050mAh battery
Reasons to avoid
-
No mmWave support with Qualcomm SDX62 chipset
-
No external antenna support
If your best coverage comes from T-Mobile and you want a 5G hotspot with an Ethernet port, the Inseego MiFi X Pro 5G is one of your best picks. This mobile hotspot supports all of T-Mobile's currently deployed 5G bands, excepting mmWave, as well as the upcoming C-band. On the bottom, there is a USB-C port for power and a gigabit Ethernet port.
It has a dual-band Wi-Fi 6 connection with 2x2 SU-MIMO. That means support for up to 32 devices with a top 5GHz speed of around 1201Mbps. While it falls short of the Nighthawk model place, it's still plenty of speed for most people and should be right in line with the sort of speeds you'll get with T-Mobile's top 5G speeds with carrier aggregation.
T-Mobile's version is powered by the Qualcomm SDX62, and while it isn't the most powerful chip you can get, it's adequate for T-Mobile's mid-band 5G network. This chip also helps bring the price lower than the Verizon variant so more people can upgrade to it.
Inseego MiFi X Pro 5G UW (Verizon)
Excellent C-band and mmWave support
Reasons to buy
+
Fast Verizon 5G with C-band and mmWave
+
Built-in gigabit Ethernet port
+
Solid Wi-Fi 6 connectivity
+
Large 5050mAh battery
Reasons to avoid
-
More expensive than the T-Mobile version
-
No external antenna support
The Verizon version of the Inseego MiFi X Pro 5G UW comes with a few upgrades compared to the T-Mobile version allowing it to make use of Verizon's large mmWave network. Verizon invested heavily in the ultra-fast mmWave 5G technology and as a result, quite a few urban areas are covered. This is one of the reasons why many Verizon devices support mmWave while those on other carriers skip it. It also explains this hotspot's higher price.
Powered by the high-end Qualcomm SDX65, this Inseego hotspot supports Wi-Fi 6 with a 2x2 SU-MIMO connection. While the 1201Mbps connection on 5GHz Wi-Fi this allows is quick enough for most people, it's not as fast as Verizon's fastest 5G speeds. Even so, with the Ethernet port and Wi-Fi, this is a very capable mobile hotspot for Verizon's 5G network.
Netgear Nighthawk M6
Unlocked flexibility
Reasons to buy
+
Fast AX3600 Wi-Fi 6 connection
+
Gigabit Ethernet
+
TS-9 antenna support
+
Certified with AT&T and T-Mobile
+
Not locked to a carrier
Reasons to avoid
-
No mmWave support
-
Ethernet is only gigabit
-
Very expensive
Even the best carriers have some dead zones and if you live or travel a lot in an RV, you've probably found some. The Netgear Nighthawk M6 is a fast and capable mobile hotspot that you can get unlocked. Getting a device unlocked means that you aren't stuck using one carrier. If you need better coverage, you can swap in a SIM for a different network. This hotspot is certified to work with AT&T and T-Mobile so if you want to be sure, stick to a carrier using one of those network.
The Nighthawk M6 has a lot in common with the M6 Pro on AT&T but falls short in a couple of areas. First, there's no mmWave support and the Qualcomm chipset takes a step back to the SDX62. It also only supports Wi-Fi 6 but this will be a nonissue to most people using this device. What may be a bigger deal is the gigabit Ethernet port. If you plug your Nighthawk M6 into another router, the best speed you'll get is 1Gbps. That's far from a hardship but with the M6 Pro proving that multi-gig mobile networking is a reality, its a bit of a shame.
Finally, it's worth noting that the unlocked variant of the Nighthawk M6 is very expensive. If you only plan to use it on AT&T, you could save quite a bit of cash by buying the AT&T version. This hotspot also support TS-9 antennas connections so you might be able to overcome coverage issue with an external antenna. If you really want the T-Mobile network in your pocket with the option to change as needed, the unlocked version is the way to go.
Get the right hotspot for your carrier
One thing to remember about mobile hotspots like this is they require a specific plan to use. So if you've signed up for one of the best cell phone plans with hotspot data, you'll need to share that connection from your phone. Not only that, but to get the most out of these hotspots, you'll need to have solid 5G coverage in your area. Still, with nationwide 5G networks on the big three carriers, there's a good chance you can get covered.
If you're ready for the upgrade, the Netgear Nighthawk M6 Pro is the best choice overall thanks to its unparalleled feature set and fast speeds. With an included 2.5Gbps Ethernet port and a fixed mode to run all the time, this hotspot is the fastest option available. If you don't need that much speed, you still have some strong options with the Inseego MiFi X Pro and the base Nighthawk M6.
Is a hotspot a better pick than 5G Home Wifi?
Both T-Mobile and Verizon offer home internet solutions using their 5G networks with unlimited data and fast speeds. The problem is that these services are only available in specific approved areas and cannot be moved at will. That means they're no good for boats or RVs.
On the other hand, if you're looking for home internet and simply don't have access to fiber-backed internet, 5G home internet on both Verizon and T-Mobile are excellent values with unlimited data and high speeds. These services also come with their own hardware so you won't need to invest in a depreciating hotspot to use it.
What is carrier aggregation?
With the latest 5G bands supported and modern Qualcomm chipsets, you would expect 5G hotspots to be blazing-fast. And they are, but only if you have the signal for it.
Connections on 5G use fairly narrow chunks of wireless spectrum called bands to make the most of the available spectrum and to avoid overlap. Like tuning a radio to your favorite station, each carrier has one or more bands for 5G. High-end phones and hotspots can connect to multiple at once using carrier aggregation for top speeds.
T-Mobile, for example, supports 3xCA on 5G. That means you can aggregate three T-Mobile 5G bands as a single data connection with lab results showing speeds in excess of 3Gbps. You've probably been using carrier aggregation for years on your phone with LTE without even knowing it. In fact, carrier aggregation is one of the main ways that LTE has gotten so fast over its lifetime, and is why it still manages to keep up with 5G in some places.
Be an expert in 5 minutes
Get the latest news from Android Central, your trusted companion in the world of Android
When Samuel is not writing about networking or 5G at Android Central, he spends most of his time researching computer components and obsessing over what CPU goes into the ultimate Windows 98 computer. It's the Pentium 3.