Can I buy a replacement charger for my Fossil or Skagen smartwatch?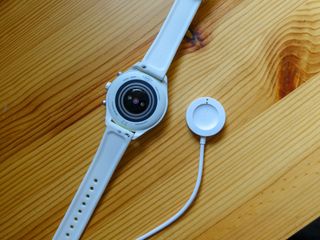 (Image credit: Android Central)
Best answer: Yes. Keep in mind that Skagen is a subsidiary of Fossil. That means the newer smartwatches in both of their respective lineups, including the Fossil Gen 4 and 5 models as well as the Skagen Falster 2 and 3 models, will work with the same charger. There are third-party options, too.
How to charge up Fossil and Skagen smartwatches
As you may already be aware, Fossil is a major player in the smartwatch market. If you're a fan of its wearables, then it's likely that you may eventually branch out into its other lineups. It can be frustrating to have to keep track of so many different chargers for your smartwatches, but fortunately, the Fossil Gen 4 and 5 charger also works for the Skagen Falster 2 and 3.
If you ever decide to make the switch from one to the other, your charger will work for your new watch. While they work just the same, there are separate listings on Amazon for the Fossil smartwatch charger and the Skagen smartwatch charger.
These replacement chargers will get the job done. Thanks to the rapid charging feature, you'll be able to reach 80% in under an hour. When you're getting ready in the morning, simply hook your Fossil or Skagen smartwatch up to the charger. By the time you're ready to head out the door, your wearable should be at or close to a full charge. As you may know, Wear OS devices usually get about 24 hours of battery life. Luckily the rapid feature makes daily charging a bit less painful.
What about third-party chargers for Fossil and Skagen smartwatches?
Maybe you'd prefer to charge your smartwatch on a charging stand. There are plenty of third-party options available if you're comfortable straying from the standard proprietary chargers. This one costs less and is compatible with a wide range of watches that fall under the Fossil umbrella. Whether you're sporting the Fossil Sport, Carlyle, Julianna, or Garrett, this convenient charging stand will juice it right up. It also works with the Skagen Falster 2 and 3, along with a long list of other wearables from Fossil, including Michael Kors, Diesel, and Kate Spade.
You might think that when you buy a third-party product, you'll have to sacrifice certain features. The good news is that the Powerhill charging stand gives you the premium experience that you're accustomed to. That's right, you'll still have the glorious rapid charging feature with this product. You'll have the same sturdy magnetic connection when your watch is charging on the stand, so you don't have to worry about it falling off. Plug the USB cord into your power source of choice and place your watch on the charging stand. It's that simple!
Get it from Fossil
Fossil Smartwatch Charger
Fossil rapid charging
If you own a Fossil smartwatch, this rapid charger will get your wearable juiced up in no time!
Get it from Skagen
Skagen Smartwatch Charger
Skagen rapid charging
If you're connected with Skagen, then you'll appreciate this rapid charger that will keep you in the loop.
Third-party
Fossil and Skagen Smartwatch Charging Stand
Third-party rapid charging
Do you prefer to take a stand with your charging habits? This charging stand from Powerhill lets your set your watch down and forget it.
Be an expert in 5 minutes
Get the latest news from Android Central, your trusted companion in the world of Android
Courtney Lynch is a freelance writer at Android Central. She's obsessed with all things health, fitness, and music. At any given time, she can be found checking out the latest and greatest gadgets while simultaneously petting her dog and sipping iced coffee.