Bringing your own phone to Google Fi: Top things you need to know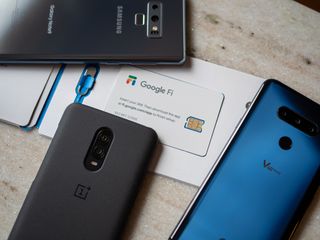 (Image credit: Android Central)
Bringing your own phone to Google Fi is easy, but there are a few things you should know before jumping in. Google Fi still markets and sells its own small set of smartphones that are "designed for Fi," but has also opened its doors, officially, to pretty much any of the best Android phones that want to be on its network. For many, this is the final barrier to drop for trying out Google Fi, as it was quite a bit of extra hassle to change phones just to try out a new network for a little while.
But unfortunately, there are still barriers to be found further down the road. Unlocked phones on Google Fi don't get all of the same features as its own certified phones, and what you do get depends on the specific phone you bring. Let's break down the differences to help you decide whether bringing your own phone to Google Fi is worth it.
Network Switching and 5G
International roaming, 5G, and network switching in the same plan
Google Fi is one of the best carriers for an Android phone, thanks to its great compatibility, strong network performance, and plenty of data.
Check device compatibility first
Before you start your transition to Google Fi, you need to know whether your phone will even work on the carrier. This one's pretty easy: if your phone is advertised as compatible with T-Mobile, it's compatible with Google Fi. Because Google Fi simply operates on the T-Mobile network, no further network bands or technology is required to use an unlocked phone on the carrier.
Google has a Fi network compatibility checker if you're unsure, but know that the compatibility checker isn't meant to be a complete list of all phones that are compatible — it's simply a subset of recent popular phones. But chances are, if you're using a phone designed for the North American market launched in the past few years, it's going to be compatible. That even includes most modern Verizon and Sprint phones, which still have the right GSM and LTE network bands for T-Mobile. Some international phones will work, too — just use Google's compatibility checker, or research the exact radio bands your phone has and compare them to T-Mobile's needs.
Many of the best phones for Google Fi are also some of the best phones in general. With the addition of Samsung's Galaxy S20 series and Note 20 series, you have some great options if you want to get full Google Fi compatibility.
Make sure your phone is unlocked
Once you've figured out that your phone is compatible with Google Fi, you need to check that it's SIM unlocked. If you purchased your phone from a carrier recently — or if you still owe money on a financing plan — there's a chance it isn't (yet) unlocked. You'll need to call the carrier (some have an online portal also) and request a SIM unlock code — sometimes that request will only be fulfilled if you've had the account open for several months and the phone is paid for in full.
If you already have your Google Fi SIM card, then you can simply put the SIM in your phone, and you'll find out immediately whether it's unlocked — you either have service, or you don't. If you have a friend who has a different carrier than you and wants to swap SIMs to test, that will accomplish the same goal.
How do I know if my phone is unlocked?
You (probably) only get T-Mobile's network
Google Fi bills its service as providing more value because it operates on not one but three mobile networks simultaneously: T-Mobile, Sprint, and US Cellular. That's true if you're using one of Fi's certified phones, but it isn't true when you bring your own device that's only compatible with Fi. Most unlocked phones with a Google Fi SIM inside will only access T-Mobile's network, which means you need to know if that network is strong where you spend most of your time. Google Fi has a coverage map that lets you select whether you're looking at coverage for "designed for Fi" or "compatible with Fi" phones — to check unlocked phone coverage, choose the latter. In most areas, the difference isn't huge — but check your specific location and see whether there are weak areas using just T-Mobile.
The only caveat here, of course, is if you bring your own "designed for Fi" phones to the carrier. Google maintains a list of supported phones that offer all of the advanced network switching capabilities offered by Google Fi, but the list isn't huge. It basically boils down to the Google Nexus 6, Google Pixel phones, the Samsung Galaxy S20 series, Note 20 series, and a handful of Motos and LGs. Check your specific phone to be sure.
Wi-Fi calling and the Google VPN are open to all
Until December 2019, you had to have a "designed for Fi" phone to get Google Fi's advanced networking features. Now, two of its most popular features are available for any Android phone listed on its compatibility list. By simply installing the Google Fi app, you get access to the Google VPN and Wi-Fi calling, which are both great for anyone who regularly runs into spotty service.
If you turn it on, the Google VPN routes all of your traffic through a VPN to keep you secure and help smooth out transitions between Wi-Fi and cellular coverage. It works in the background, and you won't notice a thing except a simpler data experience. Wi-Fi calling is something we take for granted on just about every phone nowadays, so it was a weak point of bringing an unlocked phone to Fi — but now, it works just like it does on any other carrier.
Get signed up
It's a pretty simple process to sign up for Google Fi. Mostly you need to make sure you have a Google Fi SIM card at the ready or a phone that supports an eSIM. This includes all current Pixel phones as well as newer iPhones. Still, for simplicity or easy device switching, you can still use a standard SIM.
If you're not sure how much data you'll need, you should be able to see how much you typically use with your last few phone bills. The flexible plan will work out cheaper for most people, but heavier users will want to stick with the unlimited plan. Don't worry too much about getting this right off the bat; you can easily upgrade later in the Google Fi app.
Network Switching and 5G
International roaming, 5G, and network switching in the same plan
Google Fi is one of the best carriers for an Android phone, thanks to its great compatibility, strong network performance, and plenty of data.
Sign up for Black Friday email alerts!
Get the hottest deals available in your inbox plus news, reviews, opinion, analysis and more from the Android Central team.
Andrew was an Executive Editor, U.S. at Android Central between 2012 and 2020.