Braven Stryde 360 review: Bluetooth and waterproof never sounded so good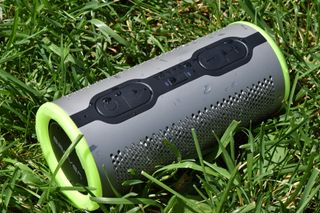 The Braven Stryde 360 is Braven's latest Bluetooth speaker offering from its "Active" series, which combines water resistance, excellent sound, and a price tag that's more than easy to swallow.
Here's my full review!
Audio quality
When I first unbox a Bluetooth speaker, I don't take stock of how it looks, the controls, or any other superfluous features. I immediately connect it to my phone and play my go-to test songs (generally any of my favorite songs of the moment that have wide dynamic range — this month it's One Good Piece Of Me by Big Wreck.
I was quite pleasantly surprised by how the Stryde 360 performed. It pumps out a rich, warm low end, thanks to its two passive radiators, which are located on each end of the speaker. Speakers of this size that favor bass generally overdo it and muddy up the rest of the mix, but the Stryde 360 provides a more-than-present midrange and high end, with crisp, clean treble. Many similar Bluetooth speakers also tend to become distorted at high volumes, but not this one (unless you pump your phone to max volume and the speaker to max volume, which is just silly if you want it to last longer than a day). If you like your music loud or need it loud for an outdoor party or what have you, the Stryde 360 will clearly pump out the jams without issue.
The big test, however, came in the shower. This is a water-resistant speaker; of course I'm going to use it in the shower. I have no tub, just a walk-in shower that's enclosed on all sides but the door. I've used other bass-favoring Bluetooth speakers, like the UE Wonderboom, which is a great speaker, but terrible for an enclosed shower — the bass muddies up everything. The Braven Stryde 360 performs exceptionally well in the shower. I stand it on an end, and since it has speakers on two sides, the mids and highs bounce off the shower walls, while the bass pumps out of the top and bottom, providing a great mix that's perfect for singing along.
Design
In a word: brilliant. The Stryde 360 is a sexy Bluetooth speaker looks at home on your desk, in the backyard, or by the pool. It comes in silver with green accents (the version I have) or a darker gray with red accents. Its cylindrical shape makes it perfect for toting along in your backpack's water bottle pocket, and it'll even fit in cup holders (like the ones that come on some pool floaties).
The rubber playback controls blend fairly seamlessly into the hard plastic body, and the ends have a ring of durable rubber so that you can stand your Stryde 360 up if your prefer. On the opposite side from the playback controls are two feet for standing and the very well-protected microUSB charging port, USB-A port, and 3.5mm auxiliary port. The rubber cover is even a little difficult to open, but I'd rather that than water damage.
All in all, it's a great-looking speaker that's clearly made for life, wherever it happens.
Features
For $100, you certainly get a lot with the Stryde 360. Playback control right on the speaker is a big thing for me, especially on one that I use in the shower (believe it or not, I have a couple Bluetooth speakers with only a power button — UGH). I hate having to constantly step out of the shower to change the song, drying my hands each time. Just hold down the volume up or volume down button to skip to the next track or previous track, respectively.
Voice control is another huge feature (though not uncommon to Bluetooth speakers), allowing you to use Google Assistant or Siri through the speaker itself. Take notes, change songs, make phone calls, whatever.
Battery life
Put it this way: I received the review unit over two weeks ago, charged it up the day I got it, and haven't had to charge it since. I use it in the shower almost every day, as does my wife. So yeah, battery life's pretty good.
The 2500mAh battery should power a party jam for the entire party and well into the night.
Should you buy it? Absolutely
For $100, you get more in the Braven Stryde 360 than you do in most other competitors around the same price or even higher. It sounds great, it looks slick, it has awesome features, and it's versatile to a fault (as far as something that plays music can be, anyway).
If you're looking for an excellent Bluetooth speaker that you can take with you anywhere, then I'd choose the Braven Stryde 360.
Sign up for Black Friday email alerts!
Get the hottest deals available in your inbox plus news, reviews, opinion, analysis and more from the Android Central team.
Mick is a writer and duty editor for Android Central. When he's not on the job, he can usually be found vacuuming up pet hair or trying to convince his wife that he needs more guitars.