Bose releases two new colored variants of the QuietComfort 20 noise cancelling headphones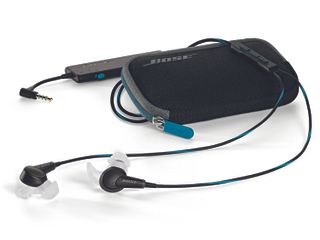 For those who aren't familiar with the headphones - which launched in 2013 - Bose has included noise reduction technology to provide a more immersive experience. It's pretty neat how the product cancels out external sounds by utilizing two microphones. The Bose QuietComfort 20 also come with volume and media playback controls, as well as a mic for taking calls.
The new versions in black or white have already gone on sale, and will set you back by £259.95.
Buy the QuietComfort 20 from Bose (opens in new tab) (UK)
Bose Noise Cancelling From an In-Ear Design, Now in New Colours
June 4th, 2015 -- Introduced in 2013, the remarkable Bose QuietComfort 20 Acoustic Noise Cancelling® headphones redefined performance for an in-ear headphone -- combining unprecedented noise reduction, audio performance, and comfort with an in-ear design that weighs just 44 grams and fits in your pocket. The QC20 headphones now come in two colours -- Black or White -- and two versions: one for select iPod, iPad and iPhone models, and a version for most Samsung Galaxy smartphones/tablets and Android™ devices. Both options feature an inline mic and remote that makes it easier to take calls and control your music.
"Bose QC20 is revolutionary," said Sean Garrett, vice president of the Bose Noise Reduction Technology Group. "No other headphone available delivers this kind of performance and versatility, and owners love it because they can have all the noise cancellation Bose is famous for, in a super-small headphone that sounds amazing, and can be worn comfortably for hours."
Over 35 years of ongoing research in noise reduction technology is integrated in the QC20 headphones. Two tiny microphones are placed in each earbud; one senses the sound approaching, the other measures the sound inside. The measurements are then sent to an exclusive digital electronic chip located in the control module on the headphone cord. The chip calculates an equal and opposite noise cancellation signal within a fraction of a millisecond. And the resulting noise reduction is dramatic; distractions are virtually unheard.
For music, Bose TriPort technology uses ports to increase the effective acoustic space of the earbud to reproduce deep lows, and remarkable clarity in vocals and instruments. Bose Active EQ tunes the frequency response for natural sound. So no matter what music you're listening to -- any genre -- it's powerful and clear, without artificial boosts or distortion.
The QuietComfort 20 headphones can be used in two ways, giving you control over what you hear and when. Block out the noisy world and enjoy your music, or, with the push of a button on the cord's Y-joint, the QC20 headphones switch to proprietary Aware mode, which keeps the music playing, but allows surroundings to be heard clearly -- like a gate announcement or horn beeping, all without removing your headphones.
Exclusive Bose StayHear+ tips provide a soft, secure fit and are barely felt -- with no need to force them into your ears. They sit at the entrance of the ear canal and feature a conical design that ensures a seal to passively block noise, and a custom acoustic enclosure to contribute to the active noise reduction.
The QC20 headphones include a rechargeable lithium-ion battery for up to 16 hours of use. If the battery dies, the music still plays on. And a USB charging cable is included.
"The QC20 can be used in more ways, more places, and more often than any other headphone out there," said Garrett. "It's one of those products that makes every day better."
The QuietComfort Story
In 2000, 22 years after Dr. Amar Bose's original noise cancellation research, Bose introduced the original QuietComfort Acoustic Noise Cancelling headphones, forever changing the consumer headphone category. In 2003, with advancements in noise reduction, audio quality and electronics, Bose unveiled the QuietComfort 2 Acoustic Noise Cancelling headphones, setting another standard for performance in an around-ear design. Three years later, Bose introduced its first on-ear noise cancelling headphones, the QuietComfort 3 Acoustic Noise Cancelling headphones, offering the line's renowned experience in a smaller design.
The pursuit for a better headphone continued, and in 2009, Bose debuted the QuietComfort 15 Acoustic Noise Cancelling headphones, which soon became -- and remained -- the industry standard. In 2013, Bose announced the QuietComfort 20 Acoustic Noise Cancelling headphones, featuring more U.S. patents than any Bose headphones ever made, and a level of noise reduction previously unattainable in an in-ear design. In 2014, the QuietComfort 25 Acoustic Noise Cancelling headphones were introduced, replacing the QuietComfort 15 headphones with even better noise-reduction and audio reproduction. Today, the pursuit for a better headphone continues at the labs of Bose Corporation, where engineers and designers at this very moment are writing the next chapter in the amazing QuietComfort story.
Pricing and Availability
The QC20 headphones come in two colour variants: Black or White. They're available beginning on June 4th, 2015, from Bose for £259.95 at Bose retail stores, authorised Bose dealers, and Bose.co.uk.
Android Central Newsletter
Get instant access to breaking news, the hottest reviews, great deals and helpful tips
overpriced and clunky. only fools will buy into this hype.

Wow....a bit of a strong opinion there. Do you own a pair or have some knowledge to share that would back up your statement?

I know a lot of students who use them when studying... The noise cancellation really is amazing.. The sound is eh, but no one comes close to bose on the noise cancellation front Posted via the Android Central App

best headphones I've ever used. Hands down. So unless you actually own a pair, you do not have a valid opinion.

Umm...it's Bose! Bose isn't "hype", Beats is most definitely hype! Posted via the Android Central App

Only fools would comment on something they have zero knowledge about.

only a fool would comment like this

I disagree. IMO these are one of the few that are worth it. it's nice to see people at my gym (the same guys that carry around a gallon of water and notepad) are beginning to realize how stupid they look wearing those ridiculous beats headphones. Posted via the Android Central App

Nothing better to do than troll 24/7? You must be from that Russian troll company I read about the other day.

You're thinking of Beats. Posted via BlackBerry Classic

So I guess I'm a fool for spending my money on a set of headphones that revolutionized the way we listen to our music. Hey I'll be a fool if that's what it takes. I have been a fan of Bose for over a decade now and i have never not once regretted spending my money on any one of there products. They have always met and exceeded my expectations. The QC 20i's are in no way bulky, they are extremely lite weight and the lithium ion battery delivers exceptional mah's for the tiny size. After it's all said and done I think you would be the fool to not want to invest your hard earned money in a product that will outperform anything else in the market. By the way i carry mine with me to work every day and most of the time I can't even feel them. If I'm a fool for wanting the best I guess I will continue being a fool.

I have the OG QC20's and I love them . They are pricey, but worth it to me especially while flying or trying to get some work done and i want to block everything else out.

I have the originals as well and while they are expensive, they are awesome if you fly a lot and they work well inside of a motorcycle helmet too. The difference is significant. The ear buds are very comfortable and they always stay in. I've owned Sennheisers and Sony noise cancelling headphones and these are my favorite from a performance and form factor perspective. They don't work as well as over the ear noise cancelling models, but that is to be expected and I'll accept that because they are easier to travel with due to size. I would not say they are hype.

Isn't it quite dangerous riding motorcycle blocking all traffic noise.....?? Just saying....

and illegal in most places.

Not illegal where I live. They dampen ambient noise, not eliminate completely. I can still hear the sound of things going on around me. I guarantee that even with my music playing at a moderate level, I can still hear what's going on around me better than most with there stereo thumping inside their car.

But they are inside a car. Be careful out there! Posted via the Android Central App

Yet doctor's recommend that you wear ear plugs while riding a motorcycle to protect your hearing. Just saying....

Ear plugs reduce, not eliminate, sound.

Active noise cancellation is very different from sound dampening.

I own a pair, the little battery pack thingy is a bit of pain, but it's way better than the other over ear models, I'm referring to size when travelling. This fits in my pocket, over ear ones do not. That aspect alone makes them great. Noise cancellation is amazing, well most noise cancelling technology is impressive.

Far better quality for far less cash out there. Posted via my gorgeous LG G2.
Android Central Newsletter
Get instant access to breaking news, the hottest reviews, great deals and helpful tips
Thank you for signing up to Android Central. You will receive a verification email shortly.
There was a problem. Please refresh the page and try again.