BlackBerry KEYone in Space Black comes exclusively to AT&T in the U.S.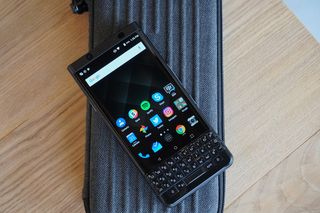 A few months after its release, the Blackberry KEYOne was updated with slightly better internals and an all black paint job, though only intended for the India. Soon, U.S. customers will be able to purchase the device.
AT&T has announced (opens in new tab) it will begin carrying a Space Black device starting September 1. Customers will be able to pick up the cool color for $16.67 per month for 30 months, totaling $500.
While the version sold in India had a bump to 4GB of RAM and 64GB of storage, the version sold by AT&T is just a snazzy new paint job. Like the original version, the black variant includes 3GB of RAM and 32GB of storage. The device uses the same Qualcomm Snapdragon 625 and software based on Android 7.1.1 as the standard version.
Would you be interested in the Blackberry KEYOne Special Edition? Let us know down below!
See at AT&T (opens in new tab)
Android Central Newsletter
Get instant access to breaking news, the hottest reviews, great deals and helpful tips
Total BS. VZW phone selection is terrible. Can't even get a good color Note8.

What colors are you not getting ?

Neither are any other U.S. carriers

I believe the Note 8 is currently limited to two colors in the USA. More will probably follow later.

Leave it to AT&T to snag an exclusive, and then fill it with bloat AND not give the spec bump.

Yeah.. That'll help sell a dying brand..

Good for the poor souls on AT&T. Been loving my keyone.

Love att great service here, retentions plan and I my internet is great here and I love GSM> Verizon sucks

Love the K1! Can't wait to finally have an AT&T version with enhanced features on it!

Still people buying or considering this? Probably very nice market of few thousands.

I like what I see from the k1, I hope they give the sequel a bit of a spec boost and improve multitasking and performance

Love my guy but, I agree. The phone is great but has the occasional hiccup and lag. Today it took a minute just to open the dunkin donuts app while the cashier stared at me like I was a moron.

I really want to see an upgraded KEYone with the new Snapdragon 630 SoC. Even better if it had an OLED screen, but that seems like a lot to ask.

So what will the Blackberry announcement be for IFA 2017? I really thought it would be the black upgraded keyone was coming to the US and the rest of the glob. Any ideas?

All 5 of you remaining BlackBerry fanboys must love this.

Nothing intelligent to say huh?

Wow this joke was old and overused like five years ago...

I don't really come to Android Central, but it sure is funny to see that even though the KEYone is running Android, people still find a reason not to like BlackBerry.

Exclusivity is a bummer. Hopefully it can be easily unlocked...

All the Blackberry haters out there, respect your elders, Blackberry and Motorola are pioneers in the phone game.

Looks like the Priv maybe finally getting replaced.

I still like my rotary phone in red with a long curly cord cant hack this baby
Android Central Newsletter
Get instant access to breaking news, the hottest reviews, great deals and helpful tips
Thank you for signing up to Android Central. You will receive a verification email shortly.
There was a problem. Please refresh the page and try again.