BlackBerry KEY2 Lite shown off in hands-on photo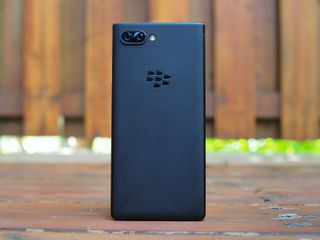 Even though the KEY2 was just released earlier this month in the U.S., that apparently hasn't stopped TCL from working on new BlackBerry hardware. Thanks to a new report, it looks like we'll soon be getting a BlackBerry KEY2 Lite.
Evan Blass took to Twitter on July 18 to share the photo to the right. Along with this, Blass says it's:
Those color options certainly sound exciting, but if the red variant shown here is anything to go by, it'll act more as an accent color than anything else (though we've yet to see how the paint job affects the front of the phone).
Also, seeing as how this will be a "lite" version of the KEY2, expect lower-end specs across the board and a more affordable price. The current KEY2 is powered by the Snapdragon 660 and costs $649, so maybe the KEY2 Lite will have a Snapdragon 429 or 439 with a $400 price tag? Who knows.
What are you hoping to see in the BlackBerry KEY2 Lite?
Joe Maring was a Senior Editor for Android Central between 2017 and 2021. You can reach him on Twitter at @JoeMaring1.
Damn, even at $400 for a 4 series SOC? That's expensive... even using an older gen 6 series would be better. they are definitely preying on those who want a physical keyboard and or crackberry nostalgia... lol

you will cry even BlackBerry give you one free

you want to try that again?

The keyboard does cost money, and the software that came with it. You think developing the software and the drivers is cheap?

So BlackBerry KEY2 Curve? I'd buy it.

The Key2 already has some pretty low end specs along with a below average screen and a low budget camera. How can BB release a phone with even lower specs? It doesn't sound like it will be aimed at business users, and it's obviously not designed for media consumption. What am I missing here?

The KEY 2 is already "lite" with its limited specs. The only thing they need to "lighten" up on is the ridiculous price. The OnePlus 6 is a better choice every time, even with the notch.

Hell, the Key2 is already a lite with a 600 series Snapdragon chip, Lol. 😂 Whoops, didn't see the other guy who essentially posted the same thing already. Oh well, remains true nonetheless.

I don't know why BB (TCL) can't just go all out on a flagship. Just make a Priv 2 or a Dtek70 (but change the damn name) and throw the kitchen sink at it. I LOVE BlackBerry phones but I don't even need the keyboard. There's enough to like about their phones without the PKB.

I would considered a Priv2, because I want the keyboard but I don't want to see it all the time. Heck, if they made the Key2 with the same 4.7 inch screen but with a sliding keyboard I would've bought it.

You specification junkies are missing the point, I'd rather have my two day battery life and no lag performance as I use my phone heavily all day for business use and still have 40%... Horses for courses...

Yeah, clearly the specheads are never gonna be happy with anything Blackberry Mobile does, let alone buy any of their phones even if it had all the latest specs. They also don't seem to understand that the phones may seem a bit pricey due to licensing costs to BB Ltd as well as the BB software. That means that they'll always be at a disadvantage to begin with Either way, their target customers know who they are. These phones aren't even competing with OnePlus. If you want to push buttons, there's no better/other way than BlackBerry Mobile's devices. I value the keyboard, which means I wouldn't take an iPhone 8/Note 9/Pixel 3 XL if it was given to me for FREE
Android Central Newsletter
Get the best of Android Central in in your inbox, every day!
Thank you for signing up to Android Central. You will receive a verification email shortly.
There was a problem. Please refresh the page and try again.