Best Writing Apps for Android in 2022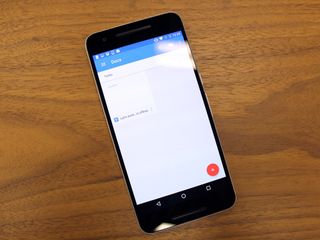 Whether you're writing essays for school, drafting updates for your blog, or just jotting notes, everybody needs a writing app. There's no shortage of them on the Play Store, and in theory it shouldn't be hard to find a good one — it's just a place to type, right?
Turns out there are quite a few useful features that you might want to look for when settling on a writing app. You probably want an app that syncs with other devices — Android or otherwise — so that you can pick up where you last left off. Diverse file support is good, too, for those times you need to export .doc files or PDFs.
Google Docs
Why you can trust Android Central Our expert reviewers spend hours testing and comparing products and services so you can choose the best for you. Find out more about how we test.
It's hard to argue with an app that comes pre-installed on most Android phones. Google Docs is an entirely cloud-based app that can be accessed from any machine that's signed into your Google account, and has full support for images, text formatting, and a wide array of file formats.
One of the best parts of Google Docs is its collaborative nature, with the ability to share your documents with others and even write simultaneously within the same file. You can even notate certain sections of a document with editor's comments for the other writers' reference. Best of all, it's completely free, without any in-app purchases or tiers to worry about.
Download: Google Docs (free) (opens in new tab)
Microsoft Word
Microsoft Word is another classic writing app, and it's one that you probably grew up using on your computer before smartphones were even around. Word works a lot like Google Docs, though it syncs to OneDrive rather than Google Drive (you can also set it to sync with Dropbox). The interface is familiar if you've used recent versions of Word on the desktop, and the app also serves as a PDF reader.
Some of the features, including custom headers/footers and file history, require an Office 365 subscription, so power users that need to meet specific formatting standards for, say, college essays, may not be able to get away with using Word for free. But for the majority of users, the free version should offer plenty of functionality and hold up to alternatives like Google Docs.
Download: Microsoft Word (free) (opens in new tab)
iA Writer
iA Writer is a fantastic writing app that focuses more on simplicity than formatting — though it does allow for the latter, as well. It features its own file browser for your documents, as well as the ability to sync your work to Google Drive or Dropbox, and best of all, it's cross-platform with support for iOS, Windows, and MacOS.
One of iA Writer's most unique features is its focus mode, which obscures the sentences you're not currently working on, but there's plenty of other great features like Markdown support, night mode, and the ability to publish directly to Medium. iA Writer is free on Android, but keep in mind that you'll need to shell out some cash to use it on your computer.
Download: iA Writer (free) (opens in new tab)
Evernote
The go-to for nearly every college student, Evernote is an immensely popular writing app that's also equal parts organizer, planner, document scanner, to-do list, and much, much more. The interface can be a bit overwhelming at times, but in return, you get a wealth of features unmatched by the competition.
Evernote syncs your notes and files within its own cloud service, and offers apps for almost every device you can think of, as well as a web interface. Like the other note-taking apps in this list, you can export your writings as PDFs or other file formats, and Evernote can import from PDFs as well. If you shell out for Evernote Premium, you'll benefit from things like unlimited device access, offline notes, PDF annotation, and much larger storage.
Download: Evernote (free) (opens in new tab)
Which is your favorite?
Do you swear by one of the writers listed above? Or have you been using something else throughout the years? Let us know in the comments!
Android Central Newsletter
Get instant access to breaking news, the hottest reviews, great deals and helpful tips
Hayato was a product reviewer and video editor for Android Central.
ONENOTE! Would love to see more features though.
For diaries I use Diarium! It's perfect and works on Windows and Android, IOS soon...

Onenote isn't really suited to writing, as in college essays, hence why it isn't included.

Ah, Evernote, how I loved thee... Until you jacked up your prices and stopped monthly billing.

Want to like Google docs for convenience, but the documents I work on daily have three columns on legal landscape and I can't seem to find an easy way to deal with that. I don't understand why a writing app wouldn't have native support for something as basic as columns?

I've been using JotterPad for the past few years. It's an excellent writing app that I have no hesitation in recommending.

For me it's Google Keep. That's just for simple note taking, I guess, but I rarely need to add much formatting to stuff jotted down on my phone. Plus, it syncs so nicely with the web.

Yup,Google Keep is where most my writing seems to start these days. If nothing else I can change the color of the note to make it easier on the eyes at night. I need a dark theme in Google Docs!

One Note, Squid, Foxit PDF. Squid is highly underrated, IMO, and is one of the best I've used. Even has Pen support on my Note 10.1. And unlike Evernote, you can unlock everything once (at least, you could, not sure now) and not have to pay a crazy subscription rate.

I've heard of Squid but never used it, I'll have to take a look at it.

Yeah, I thought they had one for W10, but I couldn't find it recently. I was thinking of Surface Pro to replace my Note 10.1, but I can't go without Squid, lol

I use Microsoft Word, or rather Office Mobile as in Word, Excel, PowerPoint, OneNote and Outlook, but then coming from Windows 10 Mobile and having an Office 365 subscription it's easy to see why.

Evernote by far. I wasn't happy when they raised the price but it seems most good apps have gone to a subscription model including some of the best alternatives to evernote.

WPS Office is my choice. I've been using it for several years and I have it on my phone, tablet, and laptop.

Totally agree, WPS. It's a bummer it's a subscription now, but can't live without it.

Well, brace for impact... I'm gonna start a campaign in the Android world to make editing on handheld flatscreens - for power-writers/editors - GREAT. I can say this with absolute confidence because I have achieved this aim in the IOS sphere (iPad mini and iPhone). For quickies, tweets and whatsapps, the current editing systems are fine (or good enough), but otherwise they reflect a mental subservience towards Microsoft (I call it the Whammy). The key is to CONNECT.
Break out of the stultifying whammy that has made editing such a sub-par experience as to 1. engender a whole new industry of external keyboards for supposedly "mobile" devices, or to constitute a deterrent to even trying to be productive on-the-go, or slouched on a couch, or waiting on line, or sitting al fresco in a bar.
Wrong wrong wrong... The different form factor requires a different approach (though even at a sit-on-your-butt computer, Connective Editing is wayyyyy snappier).
So with absolute and provable certainty, I give failing grades to them all in the Android Sphere which is otherwise wonderful and even preferable... but not for txt editing, no way and not by a long shot.
Hint... either they've got you attaching mobile devices to an external keyboard (also meaning a chair and a table) or they have you moving "thingamabobs", mini-handles... to highlight txt for deletion.
Miserable! Failing grades!
All the other stuff is fine and wonderful, I'm taking about the lowest, meat-and-potatoes level of txt editing. Not the bells and whistles. Pretend it's the late Seventies/early Eighties and computers are handheld devices... To cancel to the end of a period sentence, would they have invented tap-tap on first word, snag mini-handle to the right of the selected word, then with keen eye "caress" all the soon-to-be-doomed words with a finger to extend the highlighting all the way up to and EXCLUDING the "." (period in question) then release finger from screen and tap backspace? Or would they have cooked up something snappier?
Well I cooked up something snappier. And proposed it as a feature request that was easily implemented. I did it for myself because I'm a translator and I need editing power. Now no more finger-painting, or endless backspace-backspace-backspacing. Now I wanna see it on Android. So I'm gonna start my busting-chops campaign until someone sees the light.

I understand what you're saying and have those same issue with all the editing I do. So when it comes time to do a lot of word, phrase, or sentence selecting and manipulating in whatever writing app I use (WPS for the most part) I switch my keyboard to NextApp Technical Keyboard.

Hello wrbird,
Unfortunately to show you the editing system I mean, I would have to point you to an iOS product... which isn't really polite here at a place called Android Central. In any case, the editing app that implemented my feature request is called Notebooks 8.
The virtual keyboard you indicated (I checked it out) is fine and dandy... but my point is that highlighting to delete is unnecessary. A waste of precious time.
Consider:
MARY LOVES gagag bla bla Da Da woo woo JOHN
Okay... it needs to be fixed up to the obvious "MARY LOVES JOHN"
Standard approach... where do you begin the highlighting? You go "tap-tap" on "gagag", then you snag the mini-handle on the right side of "gagag" and you extend it all the way up to and EXCLUDING "JOHN"...
Question: where did you end the highlighting?
Answer: right in front of the value you want. In this case "JOHN".
Why did you end it there? Because by hitting BACKSPACE you will CONNECT "JOHN" to the cursor position.
You are CONNECTING... you are connecting by removing the garbage words.
I instead connect by... ehm... connecting. MARY LOVES J[§] gagag bla bla Da Da woo woo JOHN I write a "J" and hit the first of the two connect buttons that I've had implemented.
[§] checks the value immediately to the left of the cursor, hops back in place and then cancels rightward up to and INCLUDING that same value, case insensitive. So in two touches a "J" and a tap on [§] I've completed the task, with no need for highlighting.
Fast! Easy!
So to begin with, for me canceling to the first instance of any whatsoever punctuation mark or symbol, no matter how far down it might be in the text is only a two-tap charlie By the way... that first connect button, I mentioned... [§]...
It cancels word for word... most words have a space bar space in front and behind them. Therefore... QUICK REVIEW OF THE [§] instruction: [§] checks the value immediately to the left of the cursor, hops back in place and then cancels rightward up to and INCLUDING that same value, case insensitive. ...if the cursor is at the head of a word, [§] reads the space in front of it and cancels up to and including the space after it... effectively gobbling the word in the middle... at a single tap... and also consecutively like a semi-automatic tap-tap-tap
How does this compare with the present "native" Android and even iOS method of canceling a single word? Tap-tap to highlight, BACKSPACE to delete... no consecutive action?! BTW... always that first connect button, I mentioned... [§]...
It also cancels paragraph per paragraph at a single touch. How? Go to your desktop word processor - say MS Word or Libre Office or..... any of the big ones. And switch on the view non-printing symbols toggle... Look what there is right before and right after every paragraph... there is a pilcrow symbol. This: ¶ This means that if [§] is tapped at the head of a paragraph it will cancel that paragraph in one fell swoop and go on zapping further paragraphs with more taps... semi-automatic style (consecutive action) What's more... to cancel from anywhere in a paragraph to the end of that same paragraph, now only requires two touches... simply hit (RETURN) where you wish to end the paragraph followed by the [§] button. Moral of the story... editing in the Android Sphere is asleep. (For the most part it is also asleep in iOS)... but for scribes like me (I'm a translator of movie scripts)... well, I'm doing all my work on an 8 inch tablet... And my editing speed using [§] and also [=] (booster mode) makes editing on a handheld FASTER than what's normal on a computer.
Android Central Newsletter
Get instant access to breaking news, the hottest reviews, great deals and helpful tips
Thank you for signing up to Android Central. You will receive a verification email shortly.
There was a problem. Please refresh the page and try again.