Best wireless charging pads for Galaxy Note 7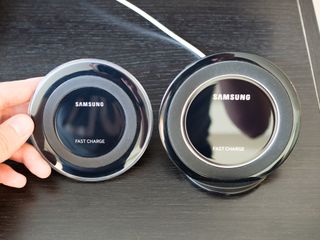 The Galaxy Note 7 has a big ol' 3500 mAh battery, but that doesn't necessarily mean it's going to last you all day if you push the phone hard. That huge 5.7-inch screen and high-end specs take a lot to power and you might need to charge up throughout your day.
A wireless charger lets you remain free of annoying cables, so you can just pick up your phone, do what you need to do, and put it right back on the charger. There are a ton of wireless charging stands, but not all of them are compatible with Samsung's Fast Charge.
We've rounded up the best of the best and all of these chargers are Fast Charge-enabled so that you don't have to wait around all day for a fill-up.
Note: For all of these charging stands and pads (except Samsung), you must use the wall adapter that came with your Note 7. Otherwise, you'll be getting regular Qi charging and not Fast Charge.
Samsung Fast Charge Qi wireless charging stand
Why you can trust Android Central Our expert reviewers spend hours testing and comparing products and services so you can choose the best for you. Find out more about how we test.
The best route to go when looking at proprietary charging methods is the manufacturer itself and Samsung's Fast Charge Qi wireless charging stand is the sure-fire way to true Fast Charging for your Note 7.
Samsung Fast Charge wireless charging stand review
This model is upright, so that you can keep an eye on your Note 7 and keep it on display without having to stop charging.
The Samsung Fast Charge stand even comes with a Fast Charge wall adapter, just in case you lost the one that came with your phone or would rather keep it by your bedside and have an extra to carry around with you.
See at Amazon (opens in new tab)
Seneo Fast Charge wireless stand
Seneo's stand is another great option that lets you keep using your Note 7 without having to interrupt charging. It's a larger charger (rhyme time!) than Samsung's, but that just means more support for your Note 7 and less rocking back and forth if you're using the S Pen or texting with your thumbs.
The nice part about this stand is the way the coils are placed – you can charge your Note 7 vertically or horizontally, so you can keep your movie or YouTube video while charging.
An excellent safety feature is the LED indicator which turns blue when the stand is receiving power and turns green when it begins charging your Note 7.
If you like your Note 7 to remain upright while charging so that you can remain productive, then check out Seneo's wireless stand.
See at Amazon (opens in new tab)
Pleson wireless charger
Pleson's wireless charger is your typical wireless charging fare in a stylish, clear package that has a sleep-friendly LED indicator that turns on to let you know your Note 7 is charging and turns off after 10 seconds.
The neatest thing about the LED indicator is that it tells you whether or not you're charging normally or Fast Charging. Blue is normal and a green indicator means Fast Charge.
This charger also features surge and short circuit protection, so you won't fry your big, beautiful, expensive phone.
If you like an unobtrusive wireless charging pad that allows you to make sure you're fast charging, check out the Pleson wireless charger.
See at Amazon (opens in new tab)
Nekteck Fast Charge wireless charger
Nekteck's Fast Charge wireless charging pad is your classic black wireless charging pad that reliably gets the job done.
It's got a rubber ring on the bottom so that it isn't slipping and sliding all over your desk or table and its LED indicator will let you know when your Note 7 is charging.
If you want a sharp-looking, reliable wireless charging pad, check out this one from Nekteck.
See at Amazon (opens in new tab)
Itian Qi charging stand
Itian's upright charging isn't just Fast-Charge compatible — it's only for Samsung phones with Fast Charge capability. That's probably a bit downside for some who may have other Qi phones now or in the future, and something to seriously keep in mind.
This is a 10W charger, so you'll want to be somewhat careful with it, but don't fear it. It does exactly what it's supposed to: Fast Charge your Note 7. It will only work if you place your phone on it vertically; horizontal is a no-go.
If you want an exclusively Fast Charging wireless charging stand, then Itian's stand is the only way to go.
See at Amazon (opens in new tab)
What keeps you charged?
Are you using an awesome Fast Charge wireless charger not mentioned here? Sound off in the comments below!
Mick is a writer and duty editor for Android Central. When he's not on the job, he can usually be found vacuuming up pet hair or trying to convince his wife that he needs more guitars.
Okay, I'll ask the admittedly dumb question. Do any of these wireless chargers work if you keep your phone in a folio wallet or some other case? I for one would love wireless charging but I keep my phone in a case. Wireless charging is completely useless to me if in order to use it I would need to take my phone out of its wallet or case. That would be a whole lot more of a hassle than to just plug my phone in.

Been using a fast wireless charger with a pretty heavy Spigen case on my Note 5 for a year and have had no issues charging wirelessly.

I use my s7 edge in a case with the Samsung fast charger and it works fine for me. Can't speak for the other options, but would think they work just as well.

What is the advantage with "Wireless" chargers over traditional plug in wall chargers? Isn't the "Wireless" charger plugged into a wall? You don't have anymore mobility with a wireless charger than you do with a fast charge, wall charger, right?

You won't wreck your USB port as quick and you don't have to turn the plug 3 times before it plugs in.

dont really have to worry about that with usbc. works either way. lol

best example, when working, I keep the phone on my toolbox, and i'm constantly picking my phone up and putting it back down. with a wireless charging pad, I can just pick up my phone, use it real quick, and set it back down. and when its down it will keep charging. if i was unplugging and plugging it back in all day long, it would add up to a considerable amount of work, not to mention how often I would wear out cables, let alone the connector on my phone. without wireless charging it would be such a hassle that I would bother plugging it it, then 3/4 through the day I have a dead phone... it is for everybody? no, not really, but for some its a huge benefit.

Its been years since i last plugged a cord to my phone in the car, it's so convenient and so much safer than fumbling for cords

hmmmmm never even though to use the wireless charger in the car.. nice. do you have it mounted?

I use my Note 5 with an OtterBox defender on the fast charger and it charges just as fast Posted via the Android Central App

It's battery is fast charge and should work. Mine does. Am using a Tumi and I don't have to take case off. Also have Samsung Sview on order and is compatible. You should not have an issue charging in its case Posted via the Android Central App

I have the Samsung one. Pretty nifty charger, really.

Surprised there was no mention of the Samsung wireless charging case. It's basically a wireless charging dock that is portable. I charge it up and keep it in my bag, when I'm running l low I pop that sucker on and get an extra 60%ish.

Yep the Samsung ones work, got mine free when I purchased my gs7edge. Kinda like to get one of the stand up ones once the price go's down and fast charging

Me and wife have 4 around the house/work. Two for free and two fast chargers more than 1/2 off on promotion. They are convenient but I wouldn't spend $50 for one.

Choetech and yootech fast wireless chargers are good

I'm afraid I'm actually having quite a difficult time with the Samsung fast charge stand. It seems very very Twitchy and needs to be aligned absolutely perfectly for the fast charge to come on. Sometimes it will go on for five minutes and then the LED will start to flash and the charge will stop. And forget about reaching for this thing in the middle of the night if you need it just a little bit it will fall right off the legend goes sliding between your nightstand in the bed. Overall it's been a very unreliable charger and I'm looking to try some of the other Alternatives that this site is talking about. Apologies for strange punctuation and capitalization this has been dictated by voice. Purple Monkey Dishwasher

I have the Samsung flat pad(non fast charging) one that I got for registering samsung pay on my Note 5. and had the same issues that you did. I upgraded last week to the Note 7 and decided to up my wireless charging game in the process. I bought the Seneo mentioned above and it's awesome. Fast charging, never any question of how/where to place it, even in a sleep addled middle of the night state. I recommend it. Way better(and cheaper) than the Samsung offering.

Any recommendations on Fast Wireless Car chargers?

Not too many options out there. The one hit on Amazon has very mixed reviews: https://www.amazon.com/dp/B018INZ10O/ref=cm_sw_su_dp?tag=hawk-future-20&...

I have the Seneo non-fast charge version and use it with both my M8 and Nexus 7 which are in cases. You can place your device on it horizontally or vertically. The M8 has an after market 'receiver' that is credit card sized and goes on the back between the case and the phone. Amazon has them for $8.99 and work great.

I bought this one that is supposed to be fast charging but I'm not sure it is. I can run navigation and video at the same time and not lose any battery... And if only doing one or the other I gain about 1% every 7 minutes or so. It could be the fault of my cigarette adapter. At any rate it is nice to pop it into a bracket I would have in the car anyway... And have it charge too.
dodocool Qi Wireless Car Mount Air Vent Car Holder 360° Degree Rotating for Samsung Galaxy S7 / S7 Edge / Note5 / S6 Edge Plus and Qi-enabled Devices
https://www.amazon.com/gp/aw/d/B01HBEY8Z0/ref=ya_aw_od_pi?ie=UTF8&psc=1&...

I picked up a couple of the Samsung Fast Charging stands on eBay last week - I haven't gotten either of them to slip into Fast Charge mode on my Note7. Gee, I hope they're not counterfeit. Notably, the bottom edge of the phone slips right off the hard plastic shelf. I engineered a strip of rubber on the shelf to increase the friction.

I'm always suspect about those charger on eBay there's a lot of knock off stuff on there. Got mine from Samsung direct no issues

I use the stand up fast charge from Samsung and my wife uses the lay down fast charge from Samsung
They work great on our Note 7s

I use the Tylt Vu wireless stand. I got it back when I got my Nexus 5. It may not charge fast wirelessly, but it's nice to have when you have it charging your phone overnight.

I have the Seneo charger and it works perfectly with my Note 7 that has a Spigen case. Phone reports wireless fast charging every time.

If any of you use wireless chargers at work so you unplug it and take it with you when you leave. I can see it getting stolen.

Better hide that sucker haha
Android Central Newsletter
Thank you for signing up to Android Central. You will receive a verification email shortly.
There was a problem. Please refresh the page and try again.