Best wireless charging pads for Galaxy Note 7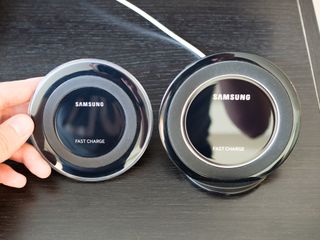 The Galaxy Note 7 has a big ol' 3500 mAh battery, but that doesn't necessarily mean it's going to last you all day if you push the phone hard. That huge 5.7-inch screen and high-end specs take a lot to power and you might need to charge up throughout your day.
A wireless charger lets you remain free of annoying cables, so you can just pick up your phone, do what you need to do, and put it right back on the charger. There are a ton of wireless charging stands, but not all of them are compatible with Samsung's Fast Charge.
We've rounded up the best of the best and all of these chargers are Fast Charge-enabled so that you don't have to wait around all day for a fill-up.
Note: For all of these charging stands and pads (except Samsung), you must use the wall adapter that came with your Note 7. Otherwise, you'll be getting regular Qi charging and not Fast Charge.
Samsung Fast Charge Qi wireless charging stand
Why you can trust Android Central Our expert reviewers spend hours testing and comparing products and services so you can choose the best for you. Find out more about how we test.
The best route to go when looking at proprietary charging methods is the manufacturer itself and Samsung's Fast Charge Qi wireless charging stand is the sure-fire way to true Fast Charging for your Note 7.
Samsung Fast Charge wireless charging stand review
This model is upright, so that you can keep an eye on your Note 7 and keep it on display without having to stop charging.
The Samsung Fast Charge stand even comes with a Fast Charge wall adapter, just in case you lost the one that came with your phone or would rather keep it by your bedside and have an extra to carry around with you.
Seneo Fast Charge wireless stand
Seneo's stand is another great option that lets you keep using your Note 7 without having to interrupt charging. It's a larger charger (rhyme time!) than Samsung's, but that just means more support for your Note 7 and less rocking back and forth if you're using the S Pen or texting with your thumbs.
The nice part about this stand is the way the coils are placed – you can charge your Note 7 vertically or horizontally, so you can keep your movie or YouTube video while charging.
An excellent safety feature is the LED indicator which turns blue when the stand is receiving power and turns green when it begins charging your Note 7.
If you like your Note 7 to remain upright while charging so that you can remain productive, then check out Seneo's wireless stand.
Pleson wireless charger
Pleson's wireless charger is your typical wireless charging fare in a stylish, clear package that has a sleep-friendly LED indicator that turns on to let you know your Note 7 is charging and turns off after 10 seconds.
The neatest thing about the LED indicator is that it tells you whether or not you're charging normally or Fast Charging. Blue is normal and a green indicator means Fast Charge.
This charger also features surge and short circuit protection, so you won't fry your big, beautiful, expensive phone.
If you like an unobtrusive wireless charging pad that allows you to make sure you're fast charging, check out the Pleson wireless charger.
Nekteck Fast Charge wireless charger
Nekteck's Fast Charge wireless charging pad is your classic black wireless charging pad that reliably gets the job done.
It's got a rubber ring on the bottom so that it isn't slipping and sliding all over your desk or table and its LED indicator will let you know when your Note 7 is charging.
If you want a sharp-looking, reliable wireless charging pad, check out this one from Nekteck.
Itian Qi charging stand
Itian's upright charging isn't just Fast-Charge compatible — it's only for Samsung phones with Fast Charge capability. That's probably a bit downside for some who may have other Qi phones now or in the future, and something to seriously keep in mind.
This is a 10W charger, so you'll want to be somewhat careful with it, but don't fear it. It does exactly what it's supposed to: Fast Charge your Note 7. It will only work if you place your phone on it vertically; horizontal is a no-go.
If you want an exclusively Fast Charging wireless charging stand, then Itian's stand is the only way to go.
What keeps you charged?
Are you using an awesome Fast Charge wireless charger not mentioned here? Sound off in the comments below!
Be an expert in 5 minutes
Get the latest news from Android Central, your trusted companion in the world of Android
Mick is a writer and duty editor for Android Central. When he's not on the job, he can usually be found vacuuming up pet hair or trying to convince his wife that he needs more guitars.