Best Wall Chargers for Android Phones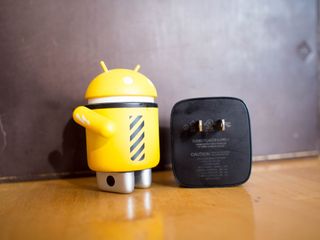 Real talk: Android phone quick-charging standards are kind of a mess. Sure, just about anything which can supply power over USB will juice up your phone to full power, given enough time. But identifying the thing that'll let you charge your phone as fast as possible — even if it's packaged with your phone in the box — isn't always easy. Sometimes you need a special charger. Sometimes a special cable. Sometimes both!
Fortunately, we've rounded up a handful of the best go-to chargers for some of the most popular brands. Reads on to find out how to power up as fast as humanly possible.
Best charger for Samsung, LG, HTC, Sony, Moto (inc. Nexus 6)
(and other Qualcomm Quick Charge phones)
For phones using Qualcomm Quick Charge, we recommend Aukey's dual-port Quick Charge 3.0 plug. It supports the latest rapid-charging standard used in LG, HTC, Sony and Moto phones, and is backwards-compatible with Quick Charge 2.0 (branded as "Adaptive Fast Charging" in Samsung phones.)
This charger has two Quick Charge 3.0-capable ports, so you can charge two devices at full speed simultaneously!
See at Amazon (opens in new tab)
Best charger for OnePlus 3 / 3T
If you're rocking a OnePlus 3 or 3T, you'll want to use the company's Dash Charge setup for maximum energization, and the best place to get hold of the proprietary charger (and cable) is OnePlus's own storefront.
Remember you'll need both the Dash Charge wall plug and USB-C to USB-A charging cable for Dash Charge to work as intended.
OnePlus's Dash Power Bundle includes both necessary components, with the choice of 100cm or 150cm leads.
See at OnePlus (opens in new tab)
Best charger for Huawei phones
The latest Huawei handsets like the Mate 9 use Huawei SuperCharge — a new charging standard that requires Huawei's own proprietary cable and charging brick — that's the one bundled in the box.
At present this isn't readily available online, but the earlier Huawei Fast Charger — supported by Huawei P9/P9 Plus, Honor 8 and similar phones — is up for sale on Amazon, and will charge supported phones at up to 9V/2.1A. That's not SuperCharge territory, but still pretty darn fast.
See at Amazon (opens in new tab)
Best charger for Google Nexus 5X/6P/Pixel/Pixel XL
The past couple of generations of Google phones are right at home of the USB-PD charging standard. The last generation of Nexuses will charge at 5A/3V, while the Pixels also support that, in addition 9V/2A through USB-PD.
The easiest way to get a reliable fast charging experience on these phones is to just stump up the cash for Google's 18W power adapter, which can provide both generations of phone with enough juice to quickly reach a full charge.
See at Google Store (opens in new tab)
What's your go-to charging method? USB? Wireless? Quick Charge? Hand crank? Psychic induction? Shout out in the comments and let us know!
Alex was with Android Central for over a decade, producing written and video content for the site, and served as global Executive Editor from 2016 to 2022.
Here's the best play possible: Only buy phones that support USB 3 Type C with USB PD. Then only buy accessories that support USB 3 Type C with USB PD.

If there was a way to give 100 up votes, I would.

If Aukey came out the top recommendation for a USB 3.0 charger I seriously question how much impartial research went into this article. What about Tronsmart, Anker RavPower or Choetech, all of which are better IMHO. Aukey cant even make a descent USB cable, let alone a charger.

What' wrong with Aukey? Got sources? I use them for all of my third party chargers and have had 0 issues. No batteries have blown up on my watch! Or smartphone ;)

See my reply further down, had a bad experience with Aukey usb cables. To be fair I do have an Aukey quick charger which I got before the cables and it was ok.....Till the quick charge port died.

I purchased a Tronsmart Qualcomm 2.0 Quick Charger about 9 months ago and it has never failed me. And the cord hasn't frayed either. Unlike my Samsung cords. Galaxy S6/GalaxyS7 .

I use Sony uch12w for my Xperia xz ❤️❤️

Ideally, I'd like get a dual USB-C charger with 30W PD on both ports with QC 4.0 on both ports. I think that might keep me current for a few years.

Picked up a AUKEY yesterday. Looking forward to seeing how it does. Unfortunately it didn't come with a cable. Now I need to find a couple of good quality cable's with some decent length. Any suggestions would be appreciated

If it was supposed to email them. They will send you one. Excellent support.

Anker cables, certainly not Aukey ones. I bought a pack of 5 Aukey micro USB cables, every single one failed within a couple of months. With most of them the micro USB connector was poor fitting an eventually bent & snapped off. Will not buy Aukey again.

Wtf are you guys doing to your cables? You might want to consider wireless if you're going thru cables like this. And ADC, you gotta mention all chargers tested otherwise I'm assuming someone wrote this in five minutes to take up space.

This is an article (while appreciated) that should not need to be written. When everyone creates their own standard, it is no longer a standard. <relavent xkdc> I currently have 3 'fast charging' standards in my house and it's just not convenient for consumers. Like others said I do hope USB Type C 3.0 PD becomes the standard across hardware (not just Android, but windows tablets, small laptops also). I don't think there is much consumers can do besides vote with their wallet.
Android Central Newsletter
Get the best of Android Central in in your inbox, every day!
Thank you for signing up to Android Central. You will receive a verification email shortly.
There was a problem. Please refresh the page and try again.