Best Straight Talk Wireless Phones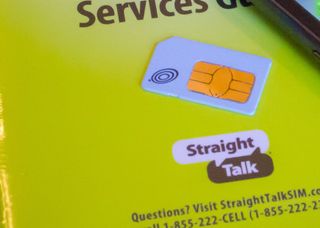 (Image credit: Android Central)
Considering switching your wireless service over to Straight Talk, but don't know what phones they offer? We're here to help!
Straight Talk's website requires you to enter your zip code to find out which devices are best-suited for the services available in your area. Having said that, we've generally found the same list of devices should be available just about everywhere.
We've broken down the best devices available to buy through Straight Talk. Make sure to check out our reviews and news sections to learn more about each of these, and when you're ready to take the plunge, we've included links to buy directly from Straight Talk Wireless.
Samsung Galaxy S8
Why you can trust Android Central Our expert reviewers spend hours testing and comparing products and services so you can choose the best for you. Find out more about how we test.
Whether you're on a top-end postpaid plan or a super-cheap prepaid plan, you can have the same great phone experience with the Galaxy S8 or larger Galaxy S8+. You've surely heard about the Galaxy S8 by now, with its sleek and slim body, big bright display and top-notch internal specs. It has one of the best cameras available, and all of Samsung's core features like waterproofing and wireless charging.
The Galaxy S8 can do just about anything you'd want right out of the box, which is exactly what most people are looking for. Just be willing to pay for it — the Galaxy S8 is $659 at Straight Talk, while the larger Galaxy S8+ is $759.
Want an in-depth breakdown? Be sure to read our full review.
See at Straight Talk (opens in new tab)
Samsung Galaxy J7 Sky Pro
It isn't the sexy high-end Galaxy S8, but the Galaxy J series has always managed to bring a little bit of that Galaxy flair to a super-low price point. The Galaxy J7 Sky Pro is just a Straight Talk specific model of the more general Galaxy J7, and it is going to get the job done without breaking the bank.
You get a 5.5-inch HD display, an 8MP camera, 16GB of storage and a body that has the looks of many other Samsung phones at a fraction of the cost. A 3300mAh battery inside is actually bigger than the Galaxy S8, meaning it should offer great battery life considering its lower resolution display.
See at Straight Talk (opens in new tab)
Bring your own device
Straight Talk may not offer a phone that fits your budget or feature desires, and if that's the case you can consider bringing a phone to the carrier instead. Before ou do, you'll have to confirm whether your device is compatible with Straight Talk (opens in new tab) — most GSM/LTE phones are compatible.
For some good phone choices, you can check out our list of best unlocked Android phones!
Update July 2017: The list has been updated with the latest phones from Straight Talk, with the Galaxy S8 coming in at the top and a very affordable Galaxy J7 Sky Pro at the bottom.
Andrew was an Executive Editor, U.S. at Android Central between 2012 and 2020.
I use my Nexus 6P with ST. All gravy. Posted from my Nexus 6P.

Best phone is BYOP in my opinion if you can afford to buy yourself a decent phone rather than mess around with the carrier branded phones.

BYOD is the best option because for people like me,im gonna go on Craigslist or swappa and buy one of last year's flagships for cheap and go to town. Posted via the Android Central App

My byod Asus zenfone2 has been great. When I signed up I got a moto g for cheap but it really didn't cut the mustard. Posted via the Android Central App

Moto X Pure works great on straight talk with a Verizon sim, just don't expect voice and data to work at the same time. Data is also throttled on 4G to about 6 mbps. The Sony Xperia Z3 Compact works with straight talk on At&t and T-Mobile networks and 4G isn't throttled, data and voice work simultaneously too! Posted via the Android Central App

Thanks for the info. I have been contemplating using Straight Talk with my Verizon branded LG G4.
I heard you can use Verizon phones with GSM carriers but I'm not sure what bands with with which carrier signals. Posted via the Android Central App

Your G4 will work best with T-Mobile, but not that good if you live in a market with Band 12. AT&T Galaxy S7 Onyx Black with Unlimited Data

Thanks! I'll check out the T-Mobile coverage map in my area. Posted via the Android Central App

I don't mean to be rude, but this article needs some more research done. The first gen Moto E is crap for any price from straight talk. And the other phones are just the high end obvious phones that anyone could just throw on a screen for click bait. This article is completely missing the point of Straight Talk in the first place too. Straight Talk users are budget conscious if nothing else. The ZTE Max Duo is one of the best ST phones Ive seen for its price point. It's got marshmallow, 16GB storage (not a bragging point, but for prepaid it's a big deal), Snapdragon 617, FHD screen, USB type C with QC, all for $200. that should be on this list. The Moto E on ST is actually still on KitKat as well, and ST doesnt do any form of OTAs, so it's stuck there. Just a crap click bait article. All there is to it.

Bought an Honor 5X. Using an AT&T SIM. Excellent for the money, IMHO.

Just talk to me straight....let it all out.

Buy a Nexus then get on Google Fi. I made the switch from ST and it's exponentially better. Plus the 6p is really not expensive for what you get.

Do not buy the Straight Talk version of anything if you want software updates! Repeat DO NOT BUY STRAIGHT TALK BRANDED IF YOU'RE EXPECTING UPDATES. I got my gf a S3 a while back and it never got an update. If you're going to get ST bring your own unlocked phone is the best option. Posted from my Nexus 7 2013
Android Central Newsletter
Thank you for signing up to Android Central. You will receive a verification email shortly.
There was a problem. Please refresh the page and try again.