Best replacement bands for Samsung Gear S2 in 2022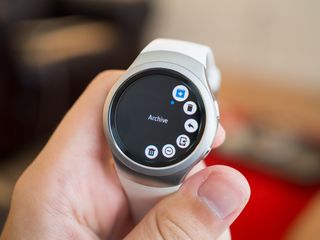 (Image credit: Android Central)
It's true that the Samsung Gear S2 is a few years old now, but if you still love your wearable — or you don't want to spend hundreds of dollars on an upgrade — you can make your watch feel brand new without breaking the bank. The price of replacement bands is surprisingly low, so you can completely revamp the look of your smartwatch at a price that's affordable. We've gathered up some of the best Samsung Gear S2 replacement bands for you to choose from.
Best Samsung Gear S2 replacement bands: Which is right for you?
As you scroll through and try to determine which is the best Samsung Gear S2 replacement band for your needs, you'll want to consider a few key factors. Most importantly, think about your daily activity above all else. If you're solely shopping for a band that can handle your intense workouts but also serves as a day-to-day band, we're partial to the V-Moro silicone bands. They're soft, durable, colorful, and fairly priced.
For extreme comfort that's also functional, we'd recommend you go with the Fintie soft nylon woven band. It offers the level of strength you need for various types of exercise while also feeling nice against your skin. Not to mention, these bands fit a wide range of wrist sizes, so it's easy to achieve that perfect fit that feels great on your wrist.
Any option on this list will serve your Android smartwatch well, and there's plenty more where that came from. No matter which Samsung Gear S2 replacement band you choose, we hope it's everything you wanted and more!
Courtney Lynch is a freelance writer at Android Central. She's obsessed with all things health, fitness, and music. At any given time, she can be found checking out the latest and greatest gadgets while simultaneously petting her dog and sipping iced coffee.
Android Central Newsletter
Get the best of Android Central in in your inbox, every day!
Thank you for signing up to Android Central. You will receive a verification email shortly.
There was a problem. Please refresh the page and try again.