Best outdoor security cameras 2022
No need to guess which one's the best — here are some excellent outdoor security solutions.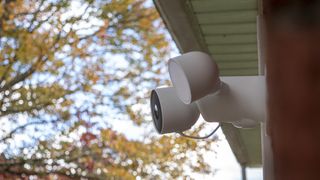 (Image credit: Nicholas Sutrich / Android Central)
Whether you're building a complete DIY home security system or you just want a single outdoor cam to protect your yard, consider carefully what features you'll actually need. Do you want a spotlight to scare off intruders or subtler IR night vision? Wired, battery-powered, or solar power? Is 1080p resolution enough? And is one security brand better than the rest? We're here to help you decide, starting with the best outdoor security cameras on the market right now in every category.
Eufy Security Floodlight Cam
Single payment
These powerful floodlights deliver 2,500 lumens each, brightly illuminating whatever is within range. They attach to a 1080p weatherproof camera with local storage and a loud, 100dB alarm to scare off intruders. The Eufy Floodlight Cam also connects to your Alexa or Google Assistant smart home. While most security cams need a subscription for AI person detection and smart alerts, Eufy offers this out of the box for free. That'll save you a costly monthly subscription! Like the Ring Cam, this needs an outdoor junction box.
Arlo Pro 3 Floodlight Camera
Wireless luminescence
Arlo sells wire-free floodlight cams, a big perk if you want to place them far away from a junction box. The Arlo Pro 3 Floodlight shoots in 2K HDR at 160º FOV with enhanced color night vision and 2000 lumens of brightness, giving you clearer footage than most 1080p floodlight cams. You can even jump up to 3000 lumens if you buy the 25-foot USB charging cable. It also works with Alexa & Google Assistant and has a built-in siren. You'll want to subscribe to Arlo Smart for intelligent alerts and cloud storage.
Ring - Floodlight Cam Plus Outdoor Wired 1080p Surveillance Camera
Bright floodlights
The Ring Floodlight Cam is a good pick if you want a quality security camera/lighting combination with great Amazon Alexa integration. There's 2-way audio to speak to whoever is on the other side of the lens and the ability to activate a siren to ward off intruders. The two floodlights shine at 1,800 lumens, casting a bright light on your chosen area. The camera is weather-resistant, and it also has infrared vision for low light/nighttime conditions. The Floodlight Cam is wired, so you will need a junction box to connect to.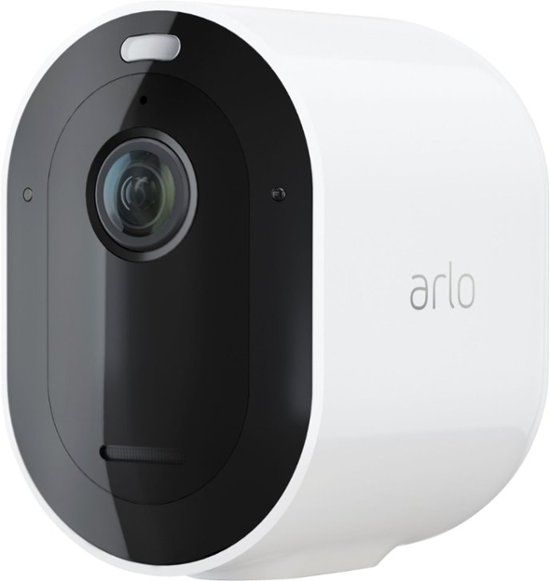 More subtle protection
Floodlights draw more power and more attention to themselves while also costing more; you may instead want a simple spotlight cam that still captures bright footage. The Arlo Pro 4 (like the Pro 3 Floodlight) records in 2K HDR at 160º FOV, with a rechargeable battery lasting up to 6 months per charge. It connects directly to your wi-fi network without a hub, but be prepared to pay for cloud storage and AI detection. Also, check out the Arlo Essential for cheaper 1080p recordings or the Arlo Ultra 2 for a 4K upgrade.
Foscam G4 Outdoor Security Camera
Human detection option
As well as offering motion detection, the Foscam Outdoor camera can be set to human-only detection, which minimizes unwanted alerts from flying debris, falling leaves, or an animal passing by. It is weatherproof, has a night vision range up to 66 feet, and has a 112-degree angle view. You get 7 days of free cloud storage included, and there's also the option of using a microSD card up to 128GB. It's one of the best outdoor cameras that won't cost as much as its rivals.
(opens in new tab)
Intelligent imaging
The Nest Cam Outdoor set the standard for smart security cameras and still holds up today. Since we were unimpressed with the Nest Cam (2021), fans of Google should consider sticking with the older model. This 1080p camera hits 8X zoom at 130º FOV, has two-way audio with motion and sound detection, waterproofing, and intelligent alerts through a Nest Aware subscription. You can see the past 3 hours of alerts by default but need a subscription for more. It has a 25-foot power cable, so you won't need to worry about battery life but will need to find a nearby box or outlet.
Ring Spotlight Cam Battery
Versatile placement
You can buy the Ring Spotlight Cam with Battery, Wired, Solar, or a Mount for hardwiring to an electrical box. The battery option can last up to 6 months per charge, and you can buy multiple packs to swap in a full charge quickly — or you can keep it constantly charged with solar panels. Regardless of what works for you, you'll get a reliable cam with 140º horizontal FOV, two-way audio, a siren, Works with Alexa support, weather resistance, and smart detection with a subscription.
Affordable protection
The EZVIZ security camera has a 360-degree swivel base, allowing you to position it at the best possible angle for your home. As is typical with these security cameras, you will be alerted once the camera detects motion, but it will also sound off a siren and activate strobe lights. The camera has night vision and is weatherproof and dustproof. There are two focal lenses to choose from, one that gives you a broader view and another that locks in for a closer look. This camera includes a free month of cloud storage as well as a microSD slot for nonstop recording.
Storage and people detection
These IP67 weatherproof security cams have batteries that last a full year on a charge and are easy to set up and recharge. They offer free video storage and, unlike the old model, don't require a hub to connect to your home's Wi-Fi. Eufy also offers free on-device human detection, which will help cut down on those false motion alerts.
Longest battery life
Reolink Argus PT 2K
These wire-free Blink cameras are rated to last two years on two AA batteries, so you can mount them wherever without worrying about constant recharges. Otherwise, you'll get weather resistance, two-way audio, and local USB drive storage through the included hub. It has no spotlight, so it'll rely entirely on IR night vision for better or worse. You'll have to pay for cloud storage, and it lacks the sound detection or AI person detection of other cameras. There's a reason this is more affordable than other outdoor cameras.
See it all
If you have more than one area you want to surveil but don't want to buy several cameras, the Reolink Argus PT 2K will do the job. With a 360-degree swivel pan-tilt motor and the ability to zoom in clearly, thanks to the ultra-crisp 2K resolution. Reolink offers free person and vehicle detection along with onboard storage with a built-in SD card slot. There is an external antenna for improved connectivity and a solar panel accessory so you don't have to worry about recharging the battery.
The floodlight helps
Why you can trust Android Central Our expert reviewers spend hours testing and comparing products and services so you can choose the best for you. Find out more about how we test.
When choosing the best outdoor security cameras for protecting your home, decide in advance where you'll want to place them and whether or not you have the budget to make your cameras more intimidating. A floodlight camera or spotlight camera will alert someone that they're being recorded and hopefully drive them off — but it could also help the intruder spot and deactivate the camera.
So you'll want a camera you can mount high enough that robbers will have trouble reaching it. For wired cameras, you'll need to hardwire them to a junction box or to find a nearby outlet that someone can't easily access to unplug the camera; for wireless cameras, you'll want a cam that'll last long enough that you won't have to break out a ladder to replace the battery pack every week.
Our favorite is the Eufy Floodlight Camera, which can replace most outdoor light fixtures and will add an excellent camera to keep an eye on your property. Eufy doesn't make you pay for AI detection or storage, meaning the purchase price of the camera is a one-time deal, unlike many other popular smart camera brands.
If you cannot hardwire the floodlight camera to your particular position of choice, both Arlo and Blink offer compelling battery-powered alternatives that'll get the job done and last a long time on a single charge. Otherwise, if you've already got a Ring camera system, it's always best to stick to the Ring ecosystem for maximum compatibility with Ring's app and the routines available to its interlinked products. Blink and Ring unveiled new products during Amazon's Devices & Services 2022 event on September 28 2022. After we get some time to test those products, we'll update this article should any of them warrant a spot.
Just choose carefully because if you also plan to buy some of the best indoor security cameras or a smart video doorbell, you'll likely want to buy all of them from a single brand. That way, you can check all of the footage from the same app, and a single subscription would give you cloud storage and AI detection for all of them.
As a note, we've recently removed Wyze cameras from our recommended list of best outdoor security cameras because of significant security issues (opens in new tab) that were recently found. While these flaws have been fixed, the company's deceptive practices over a period of three years have caused us to lose trust in its products.